Sugar-Binding Profiles of Chitin-Binding Lectins from the Hevein Family: A Comprehensive Study
1
Biotechnology Research Institute for Drug Discovery, National Institute of Advanced Industrial Science and Technology, AIST Tsukuba Central 2, 1-1-1, Umezono, Tsukuba, Ibaraki 305-8568, Japan
2
Tokyo Metropolitan Institute of Gerontology, 35-2 Sakae-cho, Itabashi-ku, Tokyo 173-0015, Japan
*
Author to whom correspondence should be addressed.
Academic Editor: Els Van Damme
Received: 28 April 2017 / Revised: 18 May 2017 / Accepted: 21 May 2017 / Published: 30 May 2017
Abstract
Chitin-binding lectins form the hevein family in plants, which are defined by the presence of single or multiple structurally conserved GlcNAc (
N
-acetylglucosamine)-binding domains. Although they have been used as probes for chito-oligosaccharides, their detailed specificities remain to be investigated. In this study, we analyzed six chitin-binding lectins, DSA, LEL, PWM, STL, UDA, and WGA, by quantitative frontal affinity chromatography. Some novel features were evident: WGA showed almost comparable affinity for pyridylaminated chitotriose and chitotetraose, while LEL and UDA showed much weaker affinity, and DSA, PWM, and STL had no substantial affinity for the former. WGA showed selective affinity for hybrid-type
N
-glycans harboring a bisecting GlcNAc residue. UDA showed extensive binding to high-mannose type
N
-glycans, with affinity increasing with the number of Man residues. DSA showed the highest affinity for highly branched
N
-glycans consisting of type II LacNAc (
N
-acetyllactosamine). Further, multivalent features of these lectins were investigated by using glycoconjugate and lectin microarrays. The lectins showed substantial binding to immobilized LacNAc as well as chito-oligosaccharides, although the extents to which they bound varied among them. WGA showed strong binding to heavily sialylated glycoproteins. The above observations will help interpret lectin-glycoprotein interactions in histochemical studies and glyco-biomarker investigations.
View Full-Text
►

▼

Figures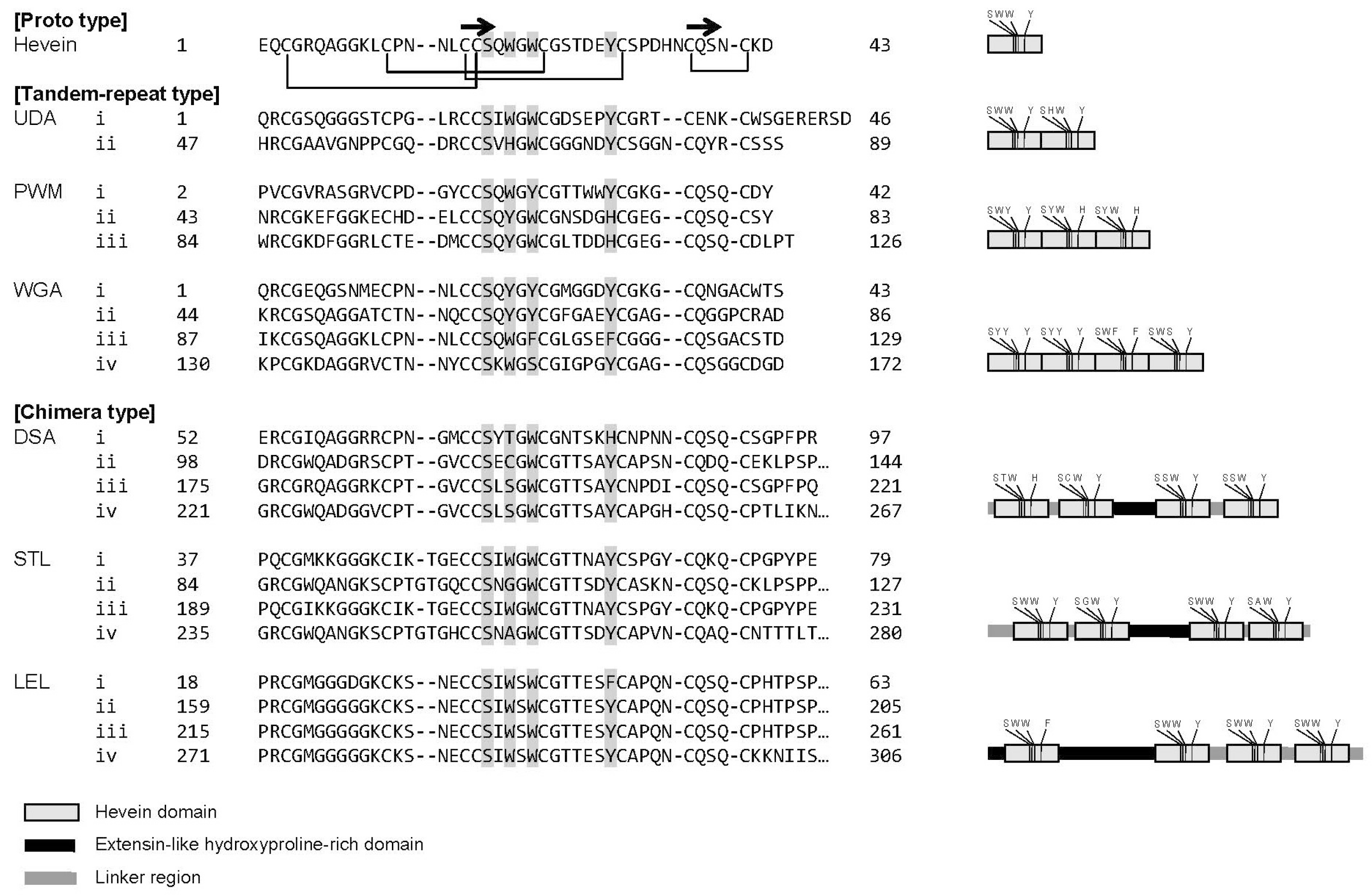 Figure 1
This is an open access article distributed under the
Creative Commons Attribution License
which permits unrestricted use, distribution, and reproduction in any medium, provided the original work is properly cited (CC BY 4.0).

Share & Cite This Article
MDPI and ACS Style
Itakura, Y.; Nakamura-Tsuruta, S.; Kominami, J.; Tateno, H.; Hirabayashi, J. Sugar-Binding Profiles of Chitin-Binding Lectins from the Hevein Family: A Comprehensive Study. Int. J. Mol. Sci. 2017, 18, 1160.
Note that from the first issue of 2016, MDPI journals use article numbers instead of page numbers. See further details here.
Related Articles
Comments
[Return to top]