Open Access This article is
freely available
re-usable
Article
Extracellular Vesicles Released by Oxidatively Injured or Intact C2C12 Myotubes Promote Distinct Responses Converging toward Myogenesis
Department of Biomolecular Sciences, University of Urbino Carlo Bo, Via I Maggetti, 26, 61029 Urbino, Italy
*
Author to whom correspondence should be addressed.
Received: 18 October 2017 / Accepted: 19 November 2017 / Published: 22 November 2017
Abstract
:
Myogenic differentiation is triggered, among other situations, in response to muscle damage for regenerative purposes. It has been shown that during myogenic differentiation, myotubes release extracellular vesicles (EVs) which participate in the signalling pattern of the microenvironment. Here we investigated whether EVs released by myotubes exposed or not to mild oxidative stress modulate the behaviour of targeted differentiating myoblasts and macrophages to promote myogenesis. We found that EVs released by oxidatively challenged myotubes (H2O2-EVs) are characterized by an increased loading of nucleic acids, mainly DNA. In addition, incubation of myoblasts with H2O2-EVs resulted in a significant decrease of myotube diameter, myogenin mRNA levels and myosin heavy chain expression along with an upregulation of proliferating cell nuclear antigen: these effects collectively lead to an increase of recipient myoblast proliferation. Notably, the EVs from untreated myotubes induced an opposite trend in myoblasts, that is, a slight pro-differentiation effect. Finally, H2O2-EVs were capable of eliciting an increased interleukin 6 mRNA expression in RAW264.7 macrophages. Notably, this is the first demonstration that myotubes communicate with surrounding macrophages via EV release. Collectively, the data reported herein suggest that myotubes, depending on their conditions, release EVs carrying differential signals which could contribute to finely and coherently orchestrate the muscle regeneration process.
Keywords:
exosomes; extracellular vesicles; oxidative stress; myogenic differentiation; intercellular communication; C2C12; H
2
O
2
1. Introduction
The aim of this study was to investigate whether the release of extracellular vesicles from oxidatively challenged myotubes in the microenvironment could modify the behaviour of surrounding myoblasts and macrophages, two of the key players in the muscle niche.
Herein we present new evidence that EVs from control or oxidatively stressed myotubes exert differential effects on the recipient, differentiating myoblasts and showing a tendency to modulate an inflammatory response in RAW264.7 macrophages. These new findings will help to shed light on the mechanisms underlining intercellular communication during muscle regeneration and repair.
3. Discussion
Although the deleterious effects of reactive oxygen species on muscle homeostasis are well documented, to the best of our knowledge there are very few data in the literature specifically dealing with the modulation of the muscle stem cell niche by means of EVs under oxidative stress.
Our data obtained analysing the effect of EVs released by normal or stressed myotubes confirm and further extend this view.
In parallel, equally in line with current evidence, we also show that Ctrl-EVs favour myogenic differentiation as assayed with multiple and integrated approaches.
These two sets of data suggest that, depending on the conditions of the releasing myotubes, EVs may carry specific and distinct signals to surrounding cells, thus contributing to the fine tuning of "microenvironment instructions".
Although our data do not provide a mechanistic breakthrough, a tempting scenario of the condition-dependent effects described herein might point to myogenin downregulation—which favours the maintenance of a proliferative phenotype—and IL-6 overexpression—which promotes myogenic and repair responses.
Given the pathophysiological implications of these events, further studies aimed at elucidating the mechanisms responsible for these effects will be needed and deserve consideration.
4. Materials and Methods
4.1. Cell Cultures, H2O2 Treatement, Viability and Wound Healing Assays
RAW264.7 cells and C2C12 mouse adherent myoblasts were cultured in Dulbecco's Modified Eagle Medium(DMEM) supplemented with 10% heat-inactivated fetal bovine serum (FBS), 2 mM glutamine, penicillin (100 U/mL) and streptomycin (100 μg/mL), and maintained in a 5% CO
2
atmosphere at 37 °C. To induce myogenic differentiation of C2C12 myoblasts, when about 80–90% cell confluence was attained, the 10% fetal bovine serum was changed with 2% horse serum, as previously described [
63
]. After 5 days of differentiation, C2C12 myotubes were oxidatively challenged with 0.3 mM H
2
O
2
for 1 h in fresh serum-free RPMI 1640 medium. Cells were then extensively washed with phosphate buffered saline (PBS) (8 g/L NaCl, 1.15 g/L Na
2
HPO
4
, 0.2 g/L KH
2
PO
4
, 0.2 g/L KCl) and incubated in serum-free DMEM for 18 h. To assess cell viability, the membrane-permeable dye calcein AM was prepared as a stock solution of 10 mM in dimethylsulfoxide and used at a concentration of 0.1 µM in serum-free DMEM. Cells were incubated with calcein AM working solution at 37 °C in the dark for 30 min, and washed in PBS for immediate analysis of calcein fluorescence retention in cells using Fluoroskan Ascent FL (Thermo, Waltham, MA, USA). Results are expressed as percent fluorescence versus control samples. For the wound healing assay, confluent C2C12 cells, wounded with a sterile blade, were incubated for 18 h at 37 °C, 5% CO
2
, and the recolonization was quantified by light microscopy (Zeiss, Oberkochen, Germany).
4.2. Extracellular Vesicle Isolation
Conditioned medium from 5 × 10
7
cells was collected 18 h after H
2
O
2
treatment. Extracellular vesicles were purified by centrifugation for 15 min at 1000×
g
and then for 15 min at 2000×
g
to eliminate cell debris. Supernatants were further centrifuged for 20 min at 18,000×
g
. The resulting supernatants were pelleted by ultracentrifugation at 110,000×
g
for 70 min. The EV pellets were washed in 3 mL PBS, centrifuged again and resuspended in PBS.
4.3. Nanoparticle Tracking Analysis
EVs were diluted to approximately 1 mL of PBS, loaded into the sample chamber of an LM10 unit (Nanosight, Malvern, UK) and three videos of either 30 or 60 s were recorded of each sample. Analysis was performed with NTA 3.1 software (Nanosight) and data are presented as the mean ± SD of the three video recordings. When samples contained high numbers of particles, they were diluted before analysis and the relative concentration was then calculated according to the dilution factor. Control 100 and 400 nm beads were supplied by Malvern Instruments Ltd. (Malvern, UK).
4.4. Transmission Electron Microscopy
For a detailed morphological analysis, specimens were processed with transmission electron microscopy observation using the conventional negative staining procedure. EVs isolated from C2C12 culture media were adsorbed to formvar carbon-coated 200 mesh grids (Agar Scientific Ltd., Stansted, UK) for 2 min, and gently washed with filtered PBS. EVs on grids were immediately fixed with 2.5% glutaraldehyde for 1 min. The grids were incubated with 2% (
w
/
v
) sodium phosphotungstate for 1 min and the liquid excess was removed with filter paper. After negative staining, specimens were observed by means of a Philips CM10 transmission electron microscope at 80 kV.
4.5. Nucleic Acid Quantification and DNase1 Digestion
The DNA and total RNA contained within EVs were quantified using Quant-iT™ PicoGreen™ dsDNA Assay Kit and Quant-iT™ RiboGreen™ RNA Assay Kit, respectively, according to the manufacturer's instructions. The presence of DNA enwrapped within EVs was confirmed by DNase1 digestion (Promega, Madison, WI, USA) for 15 min at 37 °C with or without 3 rounds of 10 s sonication.
4.6. Western Blotting Analysis
Protein extracts were obtained from the organic phase after Qiazol cell lysis following Qiagen User Protocol RY16 May-04. The protein pellet was dissolved in ISOT buffer (8 M urea, 4% CHAPS (3-[(3-Cholamidopropyl)dimethylammonio]-1-propanesulfonate hydrate), 65 mM DTE (1,4-Dithioerythritol), 40 mM Tris base and added with SIGMAFAST™ Protease Inhibitor Cocktail (Sigma-Aldrich, Milan, Italy)) and sonicated for 5 s on ice. For electrophoresis, samples containing 10–30 µg were mixed with the Laemmli sample buffer 4× (1:4 ratio) and loaded onto 10% SDS–PAGE gels. The proteins were then blotted to a PVDF (Polyvinylidene difluoride) membrane (Thermo). Primary antibodies were used against CD63 (1:500 dilution, clone sc-5275 (MX-49.129.5) Santa Cruz, CA, USA), Tsg101 (1:1000 dilution, clone Sigma-Aldrich T5701) and calnexin (1:2000 dilution, clone Sigma-Aldrich C4731). Primary antibodies were incubated overnight at 4 °C followed by washing and the application of secondary HRP-conjugated antibody (Pierce, Waltham, MA, USA), and the immune complexes were visualized using the Clarity and/or Clarity Max (Bio-Rad, Milan, Italy), and the obtained auto-radiographic films were quantified using ImageJ software.
4.7. Immunofluorescence Assays and Myotube Analysis
Cells were fixed for 15 min at room temperature using 4% formaldehyde/PBS and permeabilized in 0.5% Triton X-100/PBS for 4 min. Expression of MyHC was assayed using the mouse monoclonal antibody ascite against myosin (MF20, obtained from DSHB) at the 1:2 dilution and incubated for 1 h at 37 °C followed by a 30-min incubation at 37 °C with 1:100 fluorescein-conjugated goat anti-mouse IgG (Biolegend, San Diego, CA, USA). Cells were stained with DAPI (2-(4-amidinophenyl)-1
H
-indole-6-carboxamidine) for nuclear visualization and mounted in Mowiol 4-88 (Sigma-Aldrich). Images were acquired with IM50 software (Leica, Wetzlar, Germany) using a DC300F digital camera connected to a Leica microscope. Fusion index was determined by counting the number of nuclei in differentiated myotubes and expressed as a percentage of the total number of nuclei. For each experimental condition, 1000 nuclei were counted in three independent cultures. Myotube size was estimated measuring the diameter of at least 100 myotubes using ImageJ software. The average diameter per myotube was calculated as the mean of five measurements taken along the length of the myotube.
4.8. Gene Expression Analysis
Total RNA was extracted from differentiating C2C12 myoblasts and RAW264.7 macrophages. The RNA purification was performed using the E.Z.N.A.
®
Total RNA Kit I (Omega Bio-tek, Norcross, GA, USA) according to the manufacturer's instructions; to eliminate contaminant DNA, DNase I digestion (Ambion, Paisley, UK) was performed. cDNA was obtained using the Maxima Reverse Transcriptase kit (Thermo). Real-time PCR amplifications were conducted using Sensi-FAST SYBR Green (Bioline USA Inc., Taunton, MA, USA), with 300 nM primers. Specific primers used: myogenin (MyoG-F: 5′-GCA CTG GAG TTC GGT CCC AA-3′ and MyoG-R: 5′-TTG TGG GCG TCT GTA GGG TC-3′); TNFα (TNFα-F: 5′-GCT CTT CTG TCT ACT GAA CTT CGG-3′ and TNFα-R: 5′-ATG ATC TGA GTG TGA GGG TCT GG-3′); IL-6 (IL-6-F: 5′-AGC CAG AGT CCT TCA GAG AGA TAC-3′ and IL-6-R: 5′-AAT TGG ATG GTC TTG GTC CTT AGC-3′); IL-1β (IL-1β-F: 5′-TGA CGT TCC CAT TAG ACA ACT G-3′ and IL-1β-R: 5′-CCG TCT TTC ATT ACA CAG GAC A-3′); interferon beta 1 (IFN1β) (IFN1β-F: 5′-TCC AAG AAA GGA CGA ACA TTC-3′ and IFN1β-R: 5′-TGA GGA CAT CTC CCA CGT CAA-3′); inducible nitric oxide synthase (iNOS) (iNOS-F: 5′-CCC TTC CGA AGT TTC TGG CAG CAG C-3′ and iNOS-R: 5′-CCA AAG CCA CGA GGC TCT GAC AGC C-3′); mannose membrane receptor (MMR) (MMR-F: 5′-CAT GAG GCT TCT CCT GCT TCT G-3′ and MMR-R: 5′-TTG CCG TCT GAA CTG AGA TGG-3′); S16 (S16-F: 5′-TGA AGG GTG GTG GAC ATG TG-3′ and S16-R: 5′-AAT AAG CTA CCA GGG CCT TTG A-3′); and GAPDH (GAPDH-F: 5′-TCA ACG GCA CAG TCA AGG-3′ and GAPDH-R: 5′-ACT CCA CGA CAT ACT CAG C-3′). Thermocycling was conducted using a LightCycler 480 (Roche, Basel, Switzerland) and started by a 2 min incubation at 95 °C, followed by 40 cycles (95 °C for 5 s; 60 °C for 5 s; 72 °C for 10 s). Each reaction was conducted in triplicate, and melt-curve analysis was used to confirm the specificity of each amplification and lack of primer dimers. Relative quantification of mRNA expression levels was performed according to the Δ
C
q
method, and the expression levels of GAPDH and S16 were used as a reference [
64
].
4.9. Statistical Analysis
Statistical analyses were performed using GraphPad Prim version 6 statistical software (GraphPad Software, San Diego, CA, USA). Unless noted otherwise, the results are expressed as the mean ± SD. The statistically significant differences between the mean values recorded for each experimental condition was calculated by Student's
t
-test or ANOVA analysis (Tukey's multiple comparison test was used as post-hoc) and
p
-values are indicated where appropriate in the figures and their legends. Statistical significance was indicated as follows: *
p
< 0.05; **
p
< 0.01; ***
p
< 0.001.
5. Conclusions
Within the muscular niche, after a damaging/stressing situation, different cells characterized by different lineages or by specific conditions, that is, normal or stressed, regenerate. Among these cells, normal or oxidatively injured myotubes play a pivotal role and indeed they release distinct EVs carrying a complex range of signals directed to the surrounding cells. The EV-associated signals, by virtue of their specificity and diversity, are likely to contribute to finely orchestrate the regeneration process in a cooperative and concurring manner.
Acknowledgments
We thank Emanuela Polidori for many stimulating discussions. We are grateful to our laboratory members for their continuous support. We apologize to all colleagues whose work could not be cited as a result of space limitations. This work has been supported by Ministry of Health Project GR-2011-02350264 title "Study of the role of extracellular vesicles in promoting myogenic differentiation" to Michele Guescini.
Author Contributions
Michele Guescini and Vilberto Stocchi conceived and designed the experiments. Michele Guescini, Serena Maggio, Paola Ceccaroli and Michela Battistelli performed the experiments. Michele Guescini, Giosuè Annibalini and Giovanni Piccoli analyzed the data; Michele Guescini and Piero Sestili wrote the paper. Vilberto Stocchi revised the manuscript.
Conflicts of Interest
The authors declare no conflict of interest.

Figure 1.
Exposure of myotubes to oxidative stress. C2C12 myotubes were treated with 0.3 mM H
2
O
2
for 1 h and then extracellular vesicles (EVs) were collected after 18 h of recovery (blue arrow) (
a
); cell viability was evaluated after the collection of EVs using calcein AM, the results are represented as mean ± standard deviation (SD);
n
= 3 (
b
).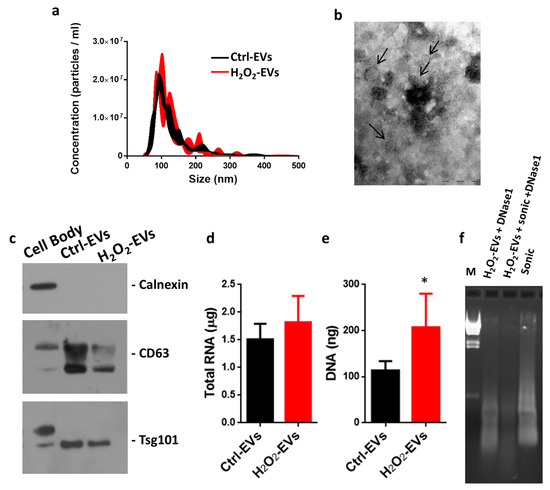 Figure 2.
Characterization of EVs released by myotubes following oxidative challenge. EVs released by oxidatively injured (H
2
O
2
-EVs) and intact (Ctrl-EVs) C2C12 myotubes were analysed and counted using a nanoparticle tracking assay, and results are represented as mean ± SEM;
n
= 4 (
a
); transmission electron microscopy analysis of EVs released by oxidatively injured myotubes, the arrows indicate the presence of small vesicles of about 30–100 nm in diameter (bar 200 nm) (
b
); Western blot analysis of myotube cell bodies, Ctrl-EVs and H
2
O
2
-EVs; blots were probed with antibodies against calnexin, CD63 and Tsg101 (
c
); total RNA (
d
) and DNA (
e
) contained in EVs were quantified using RiboGreen™ and PicoGreen™ (molecular probes), respectively; results are represented as mean ± SD;
n
= 3; *
p
< 0.05. The DNA carried by H
2
O
2
-EVs was analyzed using electrophoresis migration after DNase1 digestion with and without disruption of the membranous envelope by sonication (
f
).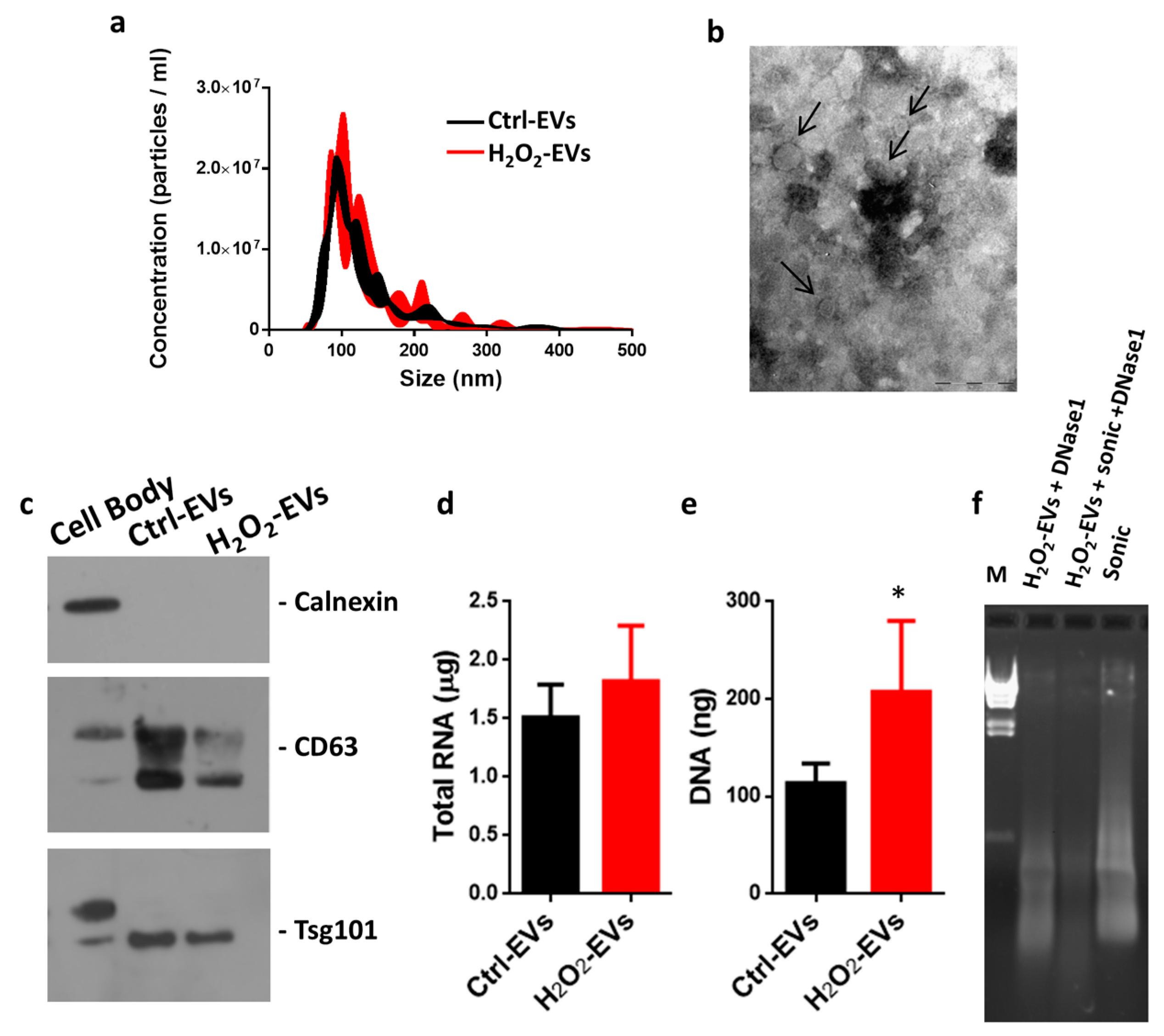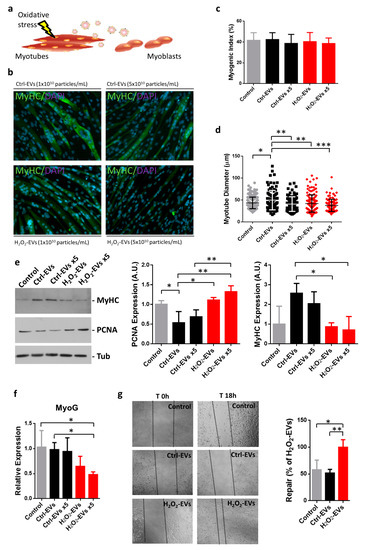 Figure 3.
Treatments of myoblasts with EVs released by myotubes following oxidative challenge. Schematic representation of myoblast treatments with EVs (
a
); myoblasts were treated using 1 × 10
10
particles/mL (indicated as Ctrl-EVs or H
2
O
2
-EVs) or using 5 × 10
10
particles/mL (indicated as Ctrl-EVs × 5 or H
2
O
2
-EVs × 5). Immunofluorescence analysis was performed 4 days after EV treatments (
b
); the obtained differentiation index (
c
), and the myotube size (
d
), were reported (
n
= 3, see Materials and Methods section). Myosin heavy chain (MyHC), proliferating cell nuclear antigen (PCNA) and tubulin (Tub) protein expression (
e
) and myogenin (MyoG) mRNA expression (
f
) analyses were carried out 24 h after EV addition; the results are represented as mean ± SD;
n
= 3; *
p
< 0.05; **
p
< 0.01; ***
p
< 0.001. Migration of C2C12 cells after wounding: confluent cultures of C2C12 myoblasts were wounded with a sterile blade (
T
= 0 h), deprived of serum and treated with Ctrl-EVs or H
2
O
2
-EVs for 18 h (
T
= 18 h), then recolonization was quantified by light microscopy (magnification 40×; Zeiss) and reported as percentage of the higher one; the results are represented as mean ± SD (
n
= 4); *
p
< 0.05; **
p
< 0.01 (
g
).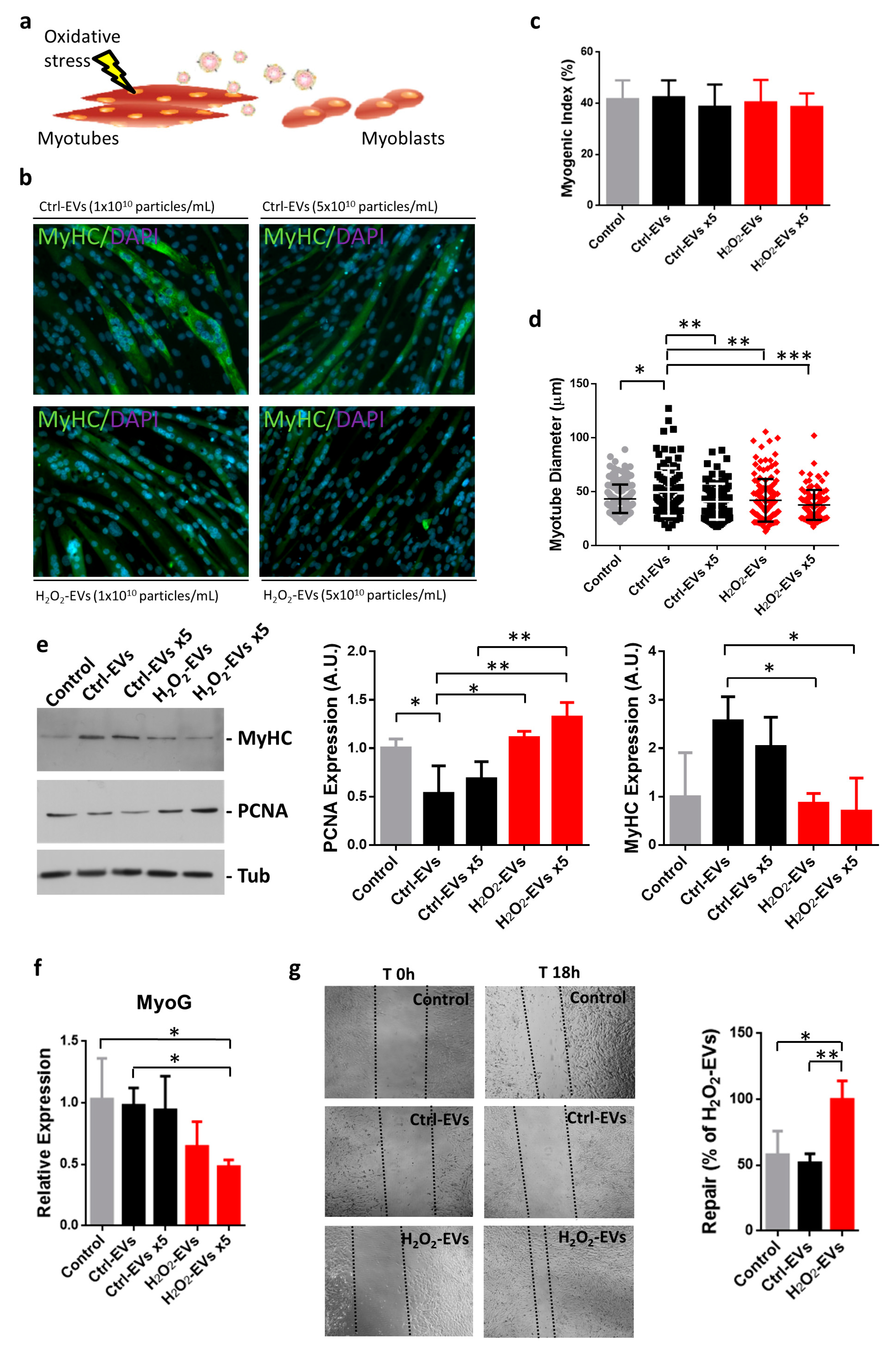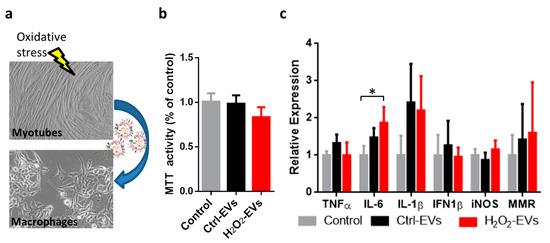 Figure 4.
Treatments of RAW264.7 macrophages with EVs released by myotubes following oxidative challenge. The blue arrow indicates the addition of myotube-derived EVs to RAW264.7 cells. RAW264.7 macrophages were treated using 1 × 10
10
particles/mL from control (Ctrl-EVs) or oxidatively injured (H
2
O
2
-EVs) myotubes (
a
); MTT cell viability assay (
b
) and mRNA expression (
c
) analyses were performed 24 h after EV treatments. The results are represented as mean ± SD;
n
= 4; *
p
< 0.05.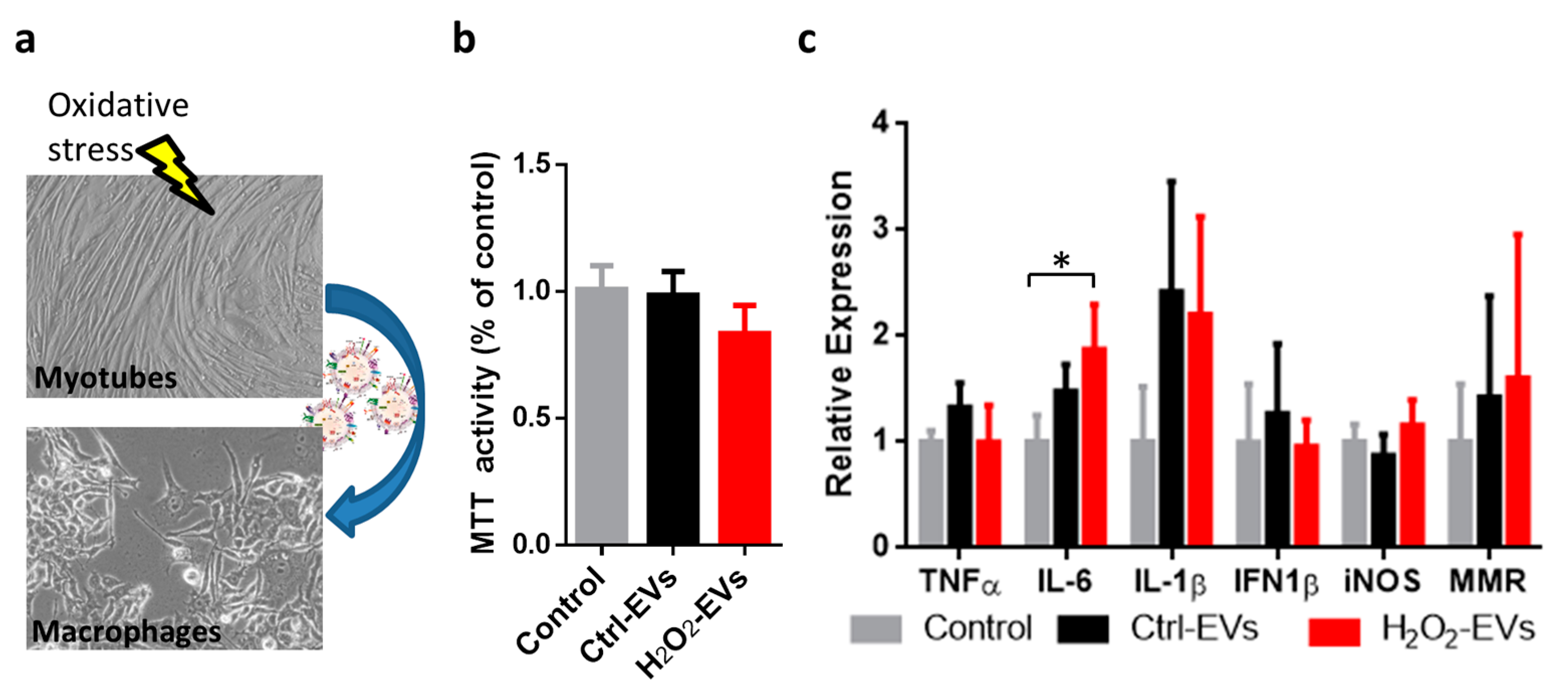 © 2017 by the authors. Licensee MDPI, Basel, Switzerland. This article is an open access article distributed under the terms and conditions of the Creative Commons Attribution (CC BY) license (http://creativecommons.org/licenses/by/4.0/).