Changes of Cerebral and/or Peripheral Adenosine A1 Receptor and IGF-I Concentrations under Extended Sleep Duration in Rats
1
Institut de Recherche Biomédicale des Armées (IRBA), Département Neurosciences et Contraintes Opérationnelles, 91223 Brétigny sur Orge, France
2
Equipe d'accueil EA7330 VIFASOM, Université Paris Descartes, Hôtel Dieu, (Vigilance Fatigue et Sommeil), 75004 Paris, France
3
Laboratoire de Physiologie de l'Exercice, Université de Lyon, 42000 Saint Etienne, France
4
ESPCI ParisTech, Laboratoire Plasticité du Cerveau, 75005 Paris, France
5
Centre du Sommeil et de la Vigilance, Hôtel Dieu, APHP, 75004 Paris, France
*
Author to whom correspondence should be addressed.
Received: 5 October 2017 / Revised: 10 November 2017 / Accepted: 14 November 2017 / Published: 17 November 2017
Abstract
Extended sleep improves sustained attention and reduces sleep pressure in humans. Downregulation of adenosine A
1
receptor (A
1
R) and modulation of the neurotrophic factor insulin growth factor-1 (IGF-I) in brain structures controlling attentional capacities could be involved. In the frontal cortex and hippocampus of rats, we measured adenosine A
1
R and IGF-I protein concentrations after photoperiod-induced sleep extension. Two groups of twelve rats were adapted over 14 days to a habitual (CON) 12:12 light–dark (LD) schedule and an extended (EXT) 16:8 LD schedule. IGF-I content was also measured in plasma, liver, and skeletal muscle. In EXT, compared to CON rats, A
1
R content in the frontal cortex was significantly lower (
p
< 0.05), while IGF-I content was higher (
p
< 0.001), and no significant change was observed in the hippocampus. IGF-I content in plasma and muscle was higher (
p
< 0.001 and
p
< 0.01), while it was lower in liver (
p
< 0.001). The absolute weight and weight gain were higher in EXT rats (
p
< 0.01). These data suggest that 14 days under a 16:8 LD photoperiod respectively down- and upregulated cortical A
1
R and IGF-I levels. This photoperiod induced an anabolic profile with increased weight gain and circulating and muscular IGF-I levels. An extension of sleep duration might favor cerebral and peripheral anabolism, which may help attentional and physical capacities.
View Full-Text
►

▼

Figures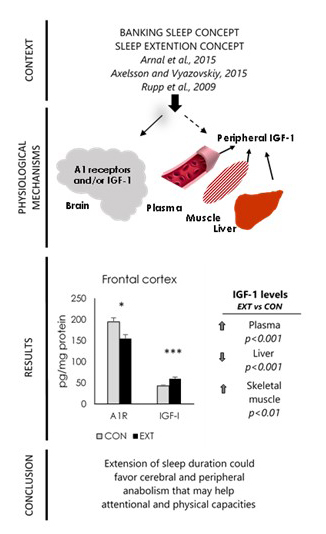 Graphical abstract
This is an open access article distributed under the
Creative Commons Attribution License
which permits unrestricted use, distribution, and reproduction in any medium, provided the original work is properly cited (CC BY 4.0).

Share & Cite This Article
MDPI and ACS Style
Chennaoui, M.; Arnal, P.J.; Dorey, R.; Sauvet, F.; Ciret, S.; Gallopin, T.; Leger, D.; Drogou, C.; Gomez-Merino, D. Changes of Cerebral and/or Peripheral Adenosine A1 Receptor and IGF-I Concentrations under Extended Sleep Duration in Rats. Int. J. Mol. Sci. 2017, 18, 2439.
Note that from the first issue of 2016, MDPI journals use article numbers instead of page numbers. See further details here.
Related Articles
Comments
[Return to top]