Open Access This article is
freely available
re-usable
Review
Dynamic Reorganization of the Cytoskeleton during Apoptosis: The Two Coffins Hypothesis
1
Centro Andaluz de Biología del Desarrollo (CABD), and Centro de Investigación Biomédica en Red: Enfermedades Raras, Instituto de Salud Carlos III, Consejo Superior de Investigaciones Científicas, Universidad Pablo de, Carretera de Utrera Km 1, 41013 Sevilla, Spain
2
Grupo de Neurodesarrollo, Unidad de Gestión de Pediatría, Instituto de Biomedicina de Sevilla (IBIS), Hospital Universitario Virgen del Rocío, 41013 Sevilla, Spain
*
Author to whom correspondence should be addressed.
Received: 14 October 2017 / Accepted: 9 November 2017 / Published: 11 November 2017
Abstract
:
During apoptosis, cells undergo characteristic morphological changes in which the cytoskeleton plays an active role. The cytoskeleton rearrangements have been mainly attributed to actinomyosin ring contraction, while microtubule and intermediate filaments are depolymerized at early stages of apoptosis. However, recent results have shown that microtubules are reorganized during the execution phase of apoptosis forming an apoptotic microtubule network (AMN). Evidence suggests that AMN is required to maintain plasma membrane integrity and cell morphology during the execution phase of apoptosis. The new "two coffins" hypothesis proposes that both AMN and apoptotic cells can adopt two morphological patterns, round or irregular, which result from different cytoskeleton kinetic reorganization during the execution phase of apoptosis induced by genotoxic agents. In addition, round and irregular-shaped apoptosis showed different biological properties with respect to AMN maintenance, plasma membrane integrity and phagocyte responses. These findings suggest that knowing the type of apoptosis may be important to predict how fast apoptotic cells undergo secondary necrosis and the subsequent immune response. From a pathological point of view, round-shaped apoptosis can be seen as a physiological and controlled type of apoptosis, while irregular-shaped apoptosis can be considered as a pathological type of cell death closer to necrosis.
Keywords:
apoptosis; apoptotic microtubule network; microtubules; actin filaments; genotoxic drugs
1. Introduction: An Overview of Apoptosis
2. Genotoxic Cell Response and Cytoskeleton
In the context of human disease, cancer is one of the most outstanding pathologies, in which apoptosis plays a major role. Evading apoptosis has been shown to be a hallmark of cancer as tumour progression is linked, not only to cell proliferation, but also to death insensitivity [
20
]. Despite being one of its main causes, apoptosis has been traditionally used as a target for cancer treatment [
21
]. Typical therapies involve genotoxic drugs (chemotherapy or ionising radiation) with the aim of targeting cell proliferation [
22
]. Many of the cytotoxic agents commonly used to treat cancer patients such as alkylating agents, platinum drugs, antimetabolites, topoisomerase poisons and ionising radiation cause high levels of DNA damage [
23
]. However, to prevent the transmission of damaged DNA during cell division, cells activate the DNA damage response (DDR) which depends on DNA damage repair pathways as well as cell cycle checkpoint activation to arrest the cell cycle [
24
]. If DNA damage is irreparable cells may signal for senescence (growth arrest), apoptosis or other pathways leading to cell death [
25
]. The DDR enables cells to detect damage, recruit multi-protein complexes at these foci and activate downstream signalling [
26
]. Depending on the extent of DNA damage, the DDR distinguishes between repairable and non-repairable DNA damage, and controls different cellular responses such as transient cell cycle arrest and DNA repair, senescence or cell death [
27
].
Central components of the DDR machinery are the phosphoinositide 3-kinase related kinases ATM (Ataxia-telangiectasia-mutated) and ATR (ataxia telangiectasia and Rad3-related). ATM responds mainly to double-strand break (DSBs), whereas ATR is activated by single-strand break (ssDNA) and stalled replication forks [
28
]. When ATM and ATR are recruited to sites of damage, they target many substrates, including downstream kinases such as checkpoint kinases Chk2 and Chk1, regulatory proteins such as p53, and scaffolding proteins such as BRCA1 and BRCA2 (breast cancer 1 and 2). Once these proteins are activated, they regulate the function of downstream effector proteins such as p21, Cdc25A and cyclin-dependent kinases (CDKs). Phosphorylation of p53 at serine 46 serves as a pro-apoptotic mark that induces the transcription of apoptotic genes such as BAX (BCL2 Associated X), PUMA (p53 upregulated modulator of apoptosis), NOXA and p53AIP1 (p53-regulated apoptosis-inducing protein 1) that finally activate the cell death pathway via the mitochondrial, intrinsic pathway [
29
]. However, p53 can also act in a transcription-independent mode targeting mitochondria and inducing BAX activation and mitochondrial outer membrane permeabilization (MOMP) [
30
].
The DDR response also includes cytoskeleton reorganizations. Thus, following DNA damage RhoA (Ras homolog gene family, member A) specific guanine nucleotide exchange factor (GEFs) such as neuroepithelioma transforming gene 1 (Net1) get activated [
31
], leading to a Fen1 dependent activation of the RhoA/ROCK (Rho-associated protein kinase) axis [
32
], which controls the organization of the actin cytoskeleton [
33
]. Net1 is a RhoA specific GEF that is frequently overexpressed in human cancer [
34
]. It has been reported that DNA damage activates Net1 to control RhoA- and p38 MAPK-mediated cell survival pathways in response to DNA damage [
35
]. In adherent cells, the cellular response to DNA damage involves Net1 dephosphorylation and translocation from the nucleus to the cytosol where it activates RhoA GTPase [
36
]. In turn, Rho A activation controls actin filaments reorganization through the activation of ROCK and MLC (myosin light chain) phosphorylation and actinomyosin contractility [
37
]. Knock down of Net1 by RNAi prevents RhoA activation, inhibits the formation of stress fibres and enhances cell death [
36
]. This indicates that Net1 activation is required for RhoA mediated response to genotoxic stress and that cytoskeleton reorganization may play an important role in DDR. The Net1 and the RhoA dependent signals also converge in the activation of mitogen-activated protein kinase p38 (p38 MAPK) and its downstream target MAPK-activated protein kinase 2 (MK2) [
36
].
The importance of cytoskeleton reorganization during DDR and its role in genotoxic resistance or apoptosis induction is not completely understood and needs further research.
3. Cytoskeleton Rearrangements during the Execution Phase of Apoptosis
The execution phase of apoptosis is denoted by cell contraction, plasma membrane blebbing, chromatin condensation and DNA fragmentation [
38
]. To achieve such dramatic morphological changes, apoptotic cells make profound cytoskeleton reorganizations, and caspase-mediated digestion of cytoskeleton proteins ensures the proper dismantlement of the dying cell during this process [
39
].
The eukaryotic cytoskeleton is mainly composed of actin filaments, microtubules and intermediate filaments. These three constituents act coordinately to increase tensile strength, allow cell motility, maintain plasma integrity, participate in cell division, contribute to cell morphology and provide a network for cellular transport [
40
]. Classically, it has been accepted that microtubules and intermediate filaments are disorganized at the onset of the execution phase [
38
], while the actin cytoskeleton is responsible for cell remodelling during this phase [
41
]. At later stages, it has been observed that microtubules are reorganized [
42
,
43
], giving rise to the apoptotic microtubule network (AMN), a structure that sustains apoptotic cell morphology and maintains plasma membrane integrity [
44
,
45
] and participates in the dispersion of cellular and nuclear fragments [
41
,
46
]. However, this model has recently been expanded by new evidence that supports the hypothesis that genotoxic drugs induce two dose-dependent types of apoptosis characterized by different cytoskeleton rearrangement kinetics depending on caspase activation timing (
Figure 1
) [
47
]. Thus, "slow" or round-shaped apoptosis is characterized by late caspase activation, slow actinomyosin ring contraction, plasma membrane blebbing, cell detachment, microtubules remodelling, and formation of a round-shaped AMN and apoptotic cell morphology. In contrast, "fast" or irregular–shaped apoptosis is characterized by early caspase activation, initial microtubules depolymerisation, fast actinomyosin ring contraction without cell detachment, and formation of an irregular-shaped AMN and apoptotic cell morphology which frequently shows apoptotic membrane protrusions or microtubule spikes. Both round and irregular AMN have been observed during apoptosis induced by a variety of genotoxic agents (camptothecin, doxorubicin, teniposide and cisplatin) in several cell lines (H460, HeLa, MCF7 and LLCPK-1α) [
47
].
How do cells undergo round or irregular-shaped apoptosis after the exposition to apoptosis inducers such as chemotherapeutic compounds? In part, genotoxic agent concentration and cell cycle phase determine the cell response [
47
]. First, round and irregular AMNs are dependent on the concentration of the apoptotic stimulus. At low concentrations of genotoxic agent, cells undergo slow apoptosis and display a rounded AMN, whereas at higher concentrations, cells undergo fast apoptosis and show an irregular AMN. It is reasonable to infer that treatment with low doses of chemotherapeutic agents induces a slower cell death than that produced by high doses which can rapidly activate caspases by the intrinsic pathway. Second, apoptotic and AMN morphology are also dependent on the cell cycle phase. Thus, cells in G1 undergo round-shaped apoptosis while cells in G2/M undergo irregular-shaped apoptosis, irrespective of the concentration of the genotoxic agent [
47
]. Induction of tumour cell death by chemotherapeutic modalities often occurs in a cell cycle-dependent manner. Thus, it has been observed that several regulatory proteins involved in tumour chemosensitivity and apoptosis are expressed periodically during cell cycle progression [
48
,
49
,
50
]. Experimental studies have previously shown that apoptotic cell death can occur either fast (~min) or very slow (~h) [
51
]. Results from the Monte Carlo study also showed two types of apoptosis that can switch from slow (~h) to fast (~min), as the strength of an apoptotic stimulus increases [
52
]. Traditionally, slow apoptosis can be initially considered as a caspase-independent cell death in which caspases may be activated at late stages [
53
]. However, more research is needed to clarify the mechanisms behind the cell cycle dependency of cytoskeleton reorganization during apoptosis.
3.1. Reorganization of Microtubules during Apoptosis
3.2. Reorganization of Actin Cytoskeleton during Apoptosis
3.3. Reorganization of Intermediate Filaments during Apoptosis
Intermediate filaments that help maintain the integrity of tissues and cells are disrupted early at the onset of apoptosis by the action of caspases. The intermediate filament cleavage cause fragmentation and aggregation, and the breaking of the nuclear lamins facilitates nuclear disintegration [
84
,
85
,
86
].
The influence of intermediate filaments (IF) proteins on the cytoskeleton reorganization kinetics that lead to round of irregular-shaped apoptosis has not been investigated yet, so this review will only focus on the current knowledge of the role of microtubules and actin filaments during apoptosis.
4. Modulation of Round and Irregular-Shaped Apoptosis
As irregular-shaped apoptosis is dependent on early caspase activation, inhibition of caspases by z-VAD (benzyloxycarbonyl-valine-alanine-aspartate-fluoromethylketone) prevents both microtubules depolymerisation and ROCK1 and NET1 cleavage, allowing a slow actinomyosin ring contraction and, consequently, apoptotic cells adopt a round-shaped morphology [
47
].
On the other hand, inhibition of actinomyosin ring contraction by C3-transferase, a RhoA inhibitor, or Y27632, a ROCK inhibitor, induce early caspase activation and apoptotic cells adopt an irregular morphology [
47
]. On the contrary, activation of actinomyosin ring contraction by lysophosphatidic acid (LPA), a RhoA activator, induces apoptotic cells with round-shaped AMN [
47
]. These findings indicate that round- and irregular-shaped apoptosis can be modulated by specific inhibitors or activators of the NET1-RhoA-ROCK-MLC pathway.
5. Biological Implications of the "Two Coffins" Model in Apoptosis
In a metaphorical sense, AMN can be considered as an intracellular "coffin" that protects the plasma membrane and confines the degradative processes of apoptotic cells. According to the proposed hypothesis, cells undergoing apoptosis can actually exhibit two types of "coffins" with kinetically different cytoskeleton reorganizations and distinctive properties with respect to resistance of apoptotic cells to undergo secondary necrosis and the ability of being phagocytosed.
6. Conclusions and Future Perspectives
During the execution phase of apoptosis, the apoptotic microtubule network (AMN) adopts two different morphological patterns, round and irregular. Irrespective of different cytoskeletal rearrangements kinetics, AMN is required to maintain plasma membrane integrity and cell morphology during the execution phase of apoptosis.
The NET1/RhoA/ROCK1/MLC phosphorylation/actinomyosin contraction signalling pathway operates when apoptosis is induced by low concentrations of genotoxic drugs, promoting round-shaped apoptosis. In contrast, early caspase activation in response to high concentrations of genotoxic drugs (that induces NET 1 and ROCK1 cleavage) disrupts this signalling pathway and promotes irregular-shaped apoptosis.
Round- and irregular-shaped apoptosis are also dependent on cell cycle phase. Thus, cells in G1 undergo round-shaped apoptosis while cells in G2/M undergo irregular-shaped apoptosis, irrespective of the concentration of the genotoxic agent.
Round- and irregular-shaped apoptosis present different biological significance. Thus, round-shaped AMN makes apoptotic cells more resistant to secondary necrosis and less pro-inflammatory than irregular-shaped AMN.
It would be interesting to explore whether these two types of apoptotic cells are present in different physiological or pathological situations, and whether they have distinct signalling roles or produce different types of signalling molecules. Furthermore, the knowledge and modulation of round and irregular apoptosis may be important for deciding better therapeutic options and predicting the subsequent immune response.
Acknowledgments
This work was supported by PI16/00786 grant, Instituto de Salud Carlos III, Spain and Fondo Europeo de Desarrollo Regional (FEDER-Unión Europea), and by AEPMI (Asociación de Enfermos de Patología Mitocondrial) and ENACH (Asociación de Enfermos de Neurodegeneración con Acumulación Cerebral de Hierro).
Author Contributions
Suleva Povea-Cabello, Manuel Oropesa-Ávila and Patricia de la Cruz-Ojeda wrote the whole manuscript; Marina Villanueva-Paz, Mario de la Mata, Juan Miguel Suárez-Rivero, Mónica Álvarez-Córdoba, Irene Villalón-García, David Cotán contributed to the literature search; Patricia Ybot-González and José A. Sánchez-Alcázar revised and approved the manuscript.
Conflicts of Interest
The authors declare no conflict of interest.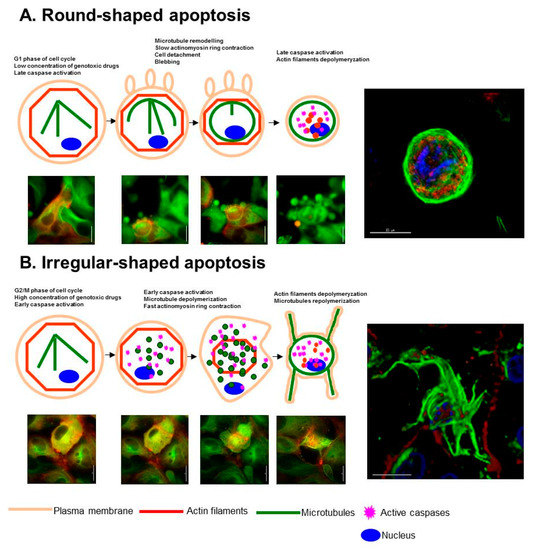 Figure 1. Schematic representation of the reorganization of actin filaments and microtubules during round (A) and irregular (B) -shaped apoptosis. Brown = plasma membrane; Blue = nucleus; Green = microtubules; Red = actin filaments; Pink = active caspases. Representative sequential images of round and irregular-shaped apoptosis in LLCPK-1α cells expressing GFP-αtubulin and pdsRed-monomer-actin are also included. Apoptosis was induced by camptothecin treatment. Right panels, immunofluorescence microscopy of round and irregular H460 apoptotic cells. Green = anti-α-tubulin: Red = anti-actin; Blue = Hoechst staining for nuclei. Scale bar= 15 µm.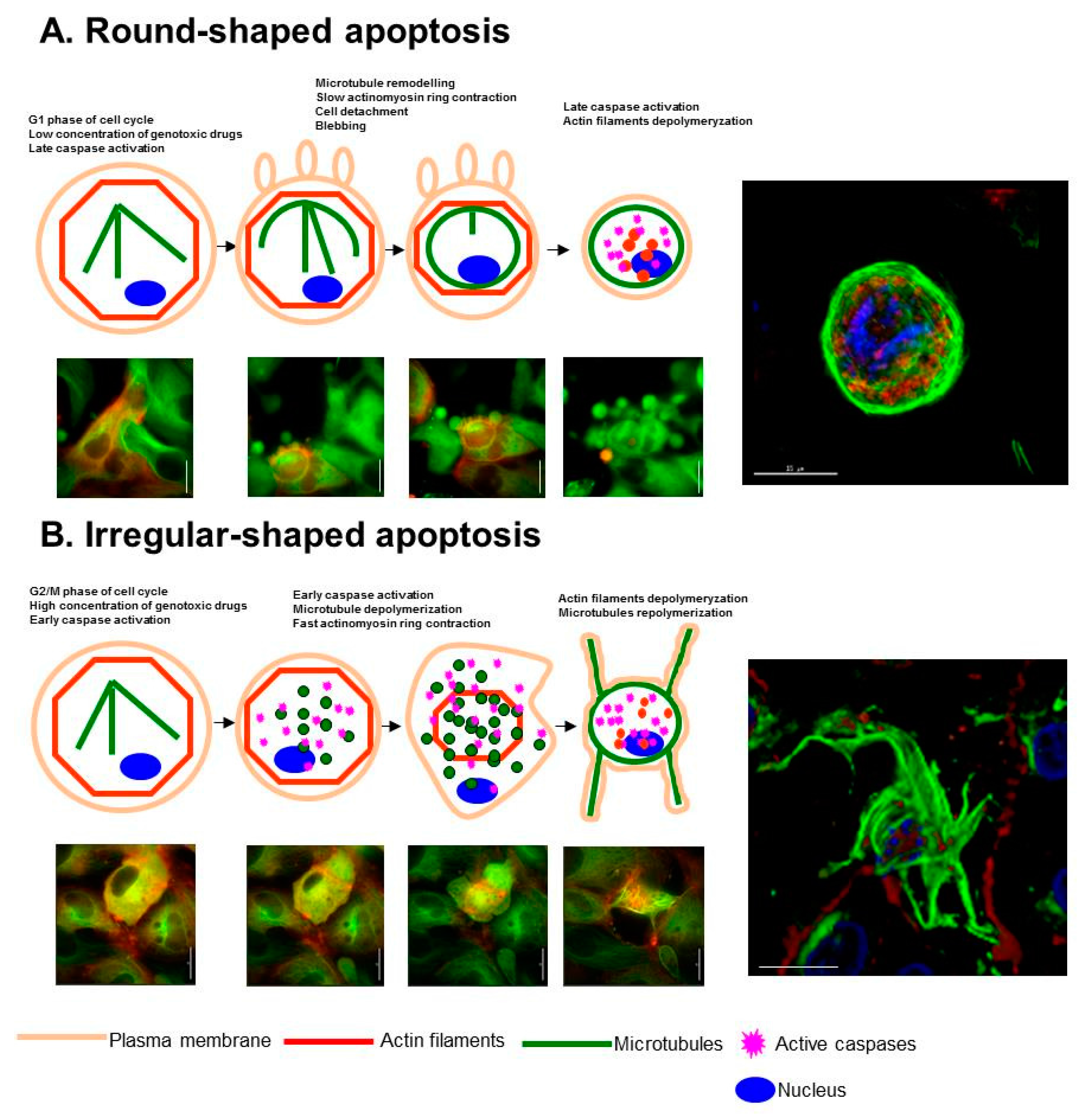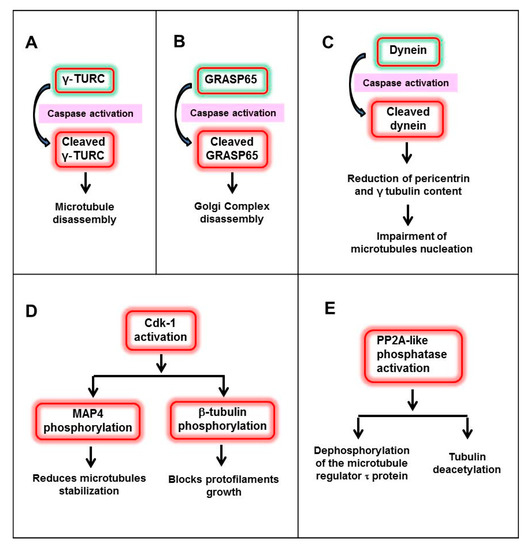 Figure 2. Molecular mechanisms involved in microtubules depolymerisation during the initial stages of irregular-shaped apoptosis: Cleavage of γ-TURC (A); cleavage of pericentriolar proteins such as GRASP65 (B); cleavage of dynein, a microtubule motor protein (C); activation of Cdk1, a kinase which regulates several microtubule effectors (D); and PP2A-like phosphatase activation which induces dephosphorylation of the microtubule regulator τ protein and tubulin deacetylation (E).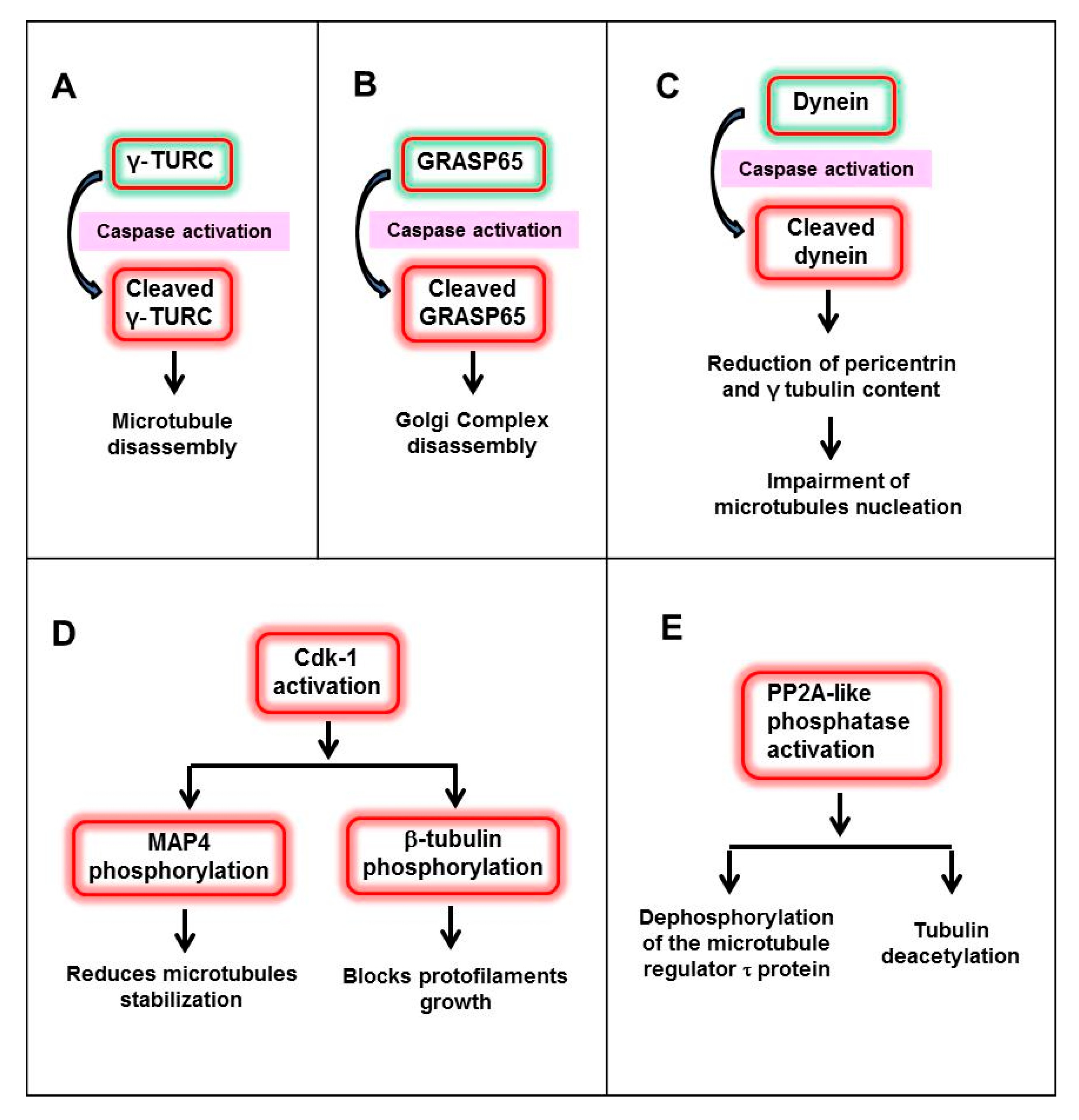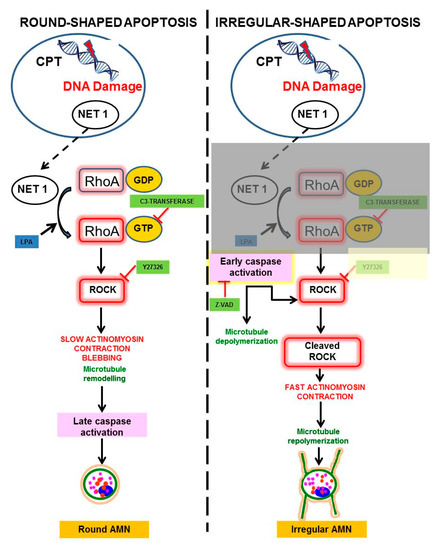 Figure 3. Schematic representation of signalling pathways involved in cytoskeleton reorganizations in round and irregular apoptosis. T arrow=inhibition; dashed arrow= translocation from nucleus to cytosol; solid arrow=activation; shaded area= disruption by caspases.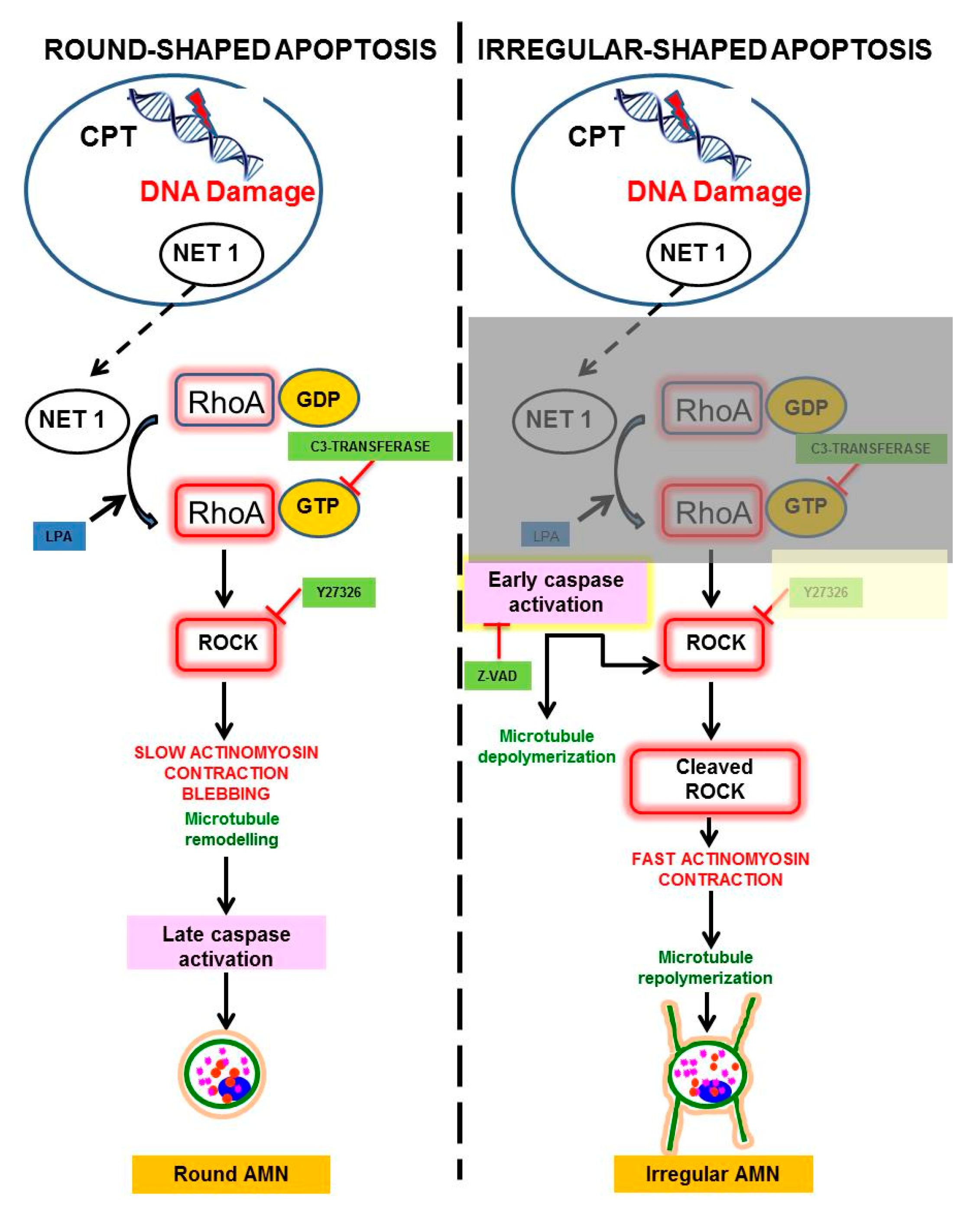 © 2017 by the authors. Licensee MDPI, Basel, Switzerland. This article is an open access article distributed under the terms and conditions of the Creative Commons Attribution (CC BY) license (http://creativecommons.org/licenses/by/4.0/).