Open Access This article is
freely available
re-usable
Review
Collateral Damage Intended—Cancer-Associated Fibroblasts and Vasculature Are Potential Targets in Cancer Therapy
Institute of Physiological Chemistry and Pathobiochemistry, Münster University Hospital, 48149 Münster, Germany
*
Authors to whom correspondence should be addressed.
Received: 28 September 2017 / Accepted: 2 November 2017 / Published: 7 November 2017
Abstract
:
After oncogenic transformation, tumor cells rewire their metabolism to obtain sufficient energy and biochemical building blocks for cell proliferation, even under hypoxic conditions. Glucose and glutamine become their major limiting nutritional demands. Instead of being autonomous, tumor cells change their immediate environment not only by their metabolites but also by mediators, such as juxtacrine cell contacts, chemokines and other cytokines. Thus, the tumor cells shape their microenvironment as well as induce resident cells, such as fibroblasts and endothelial cells (ECs), to support them. Fibroblasts differentiate into cancer-associated fibroblasts (CAFs), which produce a qualitatively and quantitatively different extracellular matrix (ECM). By their contractile power, they exert tensile forces onto this ECM, leading to increased intratumoral pressure. Moreover, along with enhanced cross-linkage of the ECM components, CAFs thus stiffen the ECM. Attracted by tumor cell- and CAF-secreted vascular endothelial growth factor (VEGF), ECs sprout from pre-existing blood vessels during tumor-induced angiogenesis. Tumor vessels are distinct from EC-lined vessels, because tumor cells integrate into the endothelium or even mimic and replace it in vasculogenic mimicry (VM) vessels. Not only the VM vessels but also the characteristically malformed EC-lined tumor vessels are typical for tumor tissue and may represent promising targets in cancer therapy.
Keywords:
abnormal tumor vasculature; anti-angiogenesis; cancer-associated fibroblasts; endothelial cell–tumor cell interaction; targeted tumor therapy; tumor neovascularization; tumor metabolism; tumor stroma; tumor vessel disruption; vasculogenic mimicry
1. Introduction
In the last few decades, tumor therapy has made appreciable progress. In addition to surgical intervention, radio- and chemotherapy have significantly increased survival of tumor patients. Most recently, immunotherapy directed against immune checkpoint inhibitors has been improved and advanced to first line therapy for different cancers [
1
,
2
].
While the oncogenically transformed tumor cell has been and will continue to be the focus of cancer therapy, an increasing number of publications in recent years has also shed light on cells in the vicinity of tumor cells and their role in tumor progression. Stromal fibroblasts, endothelial cells (ECs) and immune cells belong to this cellular environment. They are not unaffected bystanders, but their behavior changes in response to neighboring tumor cells. Thus, they may support growth and progression of cancer cells which eventually subvert the resident cells. This review highlights metabolic alterations and intercellular communication of tumor cells and their neighboring stromal fibroblasts and ECs. In addition, immune cells, such as macrophages, granulocytes, and leukocytes, are affected in a solid tumor and in turn affect tumor growth. These immunological aspects have been excellently reviewed elsewhere [
3
] and will not be covered here. This review focuses on fibrotic and vascular phenomena within growing solid tumor tissue.
2. Setting the Stage: Cancer Cells Determine the Tumor Microenvironment via Metabolites and Cytokines, via Cell–Matrix and Cell–Cell Contacts
2.1. Metabolic Reprogramming of Cancer Cells
2.2. Cohesion, Adhesion and Soluble Mediators in the Communication between Tumor Cells
3. Stromal Fibroblasts, the Immediate Neighbors of Tumor Cells
The TME constitutes a very complex niche, with extreme importance for the maintenance and progression of the tumor cells [
45
]. It consists of two components: cells and the ECM. The tumor stroma, or "reactive stroma" comprises three important cell groups [
19
,
46
]: CAFs (described in more detail in this section), angiogenic vascular cells (discussed in the next section) and infiltrating immune cells [
3
]. The pro-tumorigenic TME is characterized by an increased deposition and an altered composition of the ECM, by higher microvessel density, and by the activation of cancer-recruited stromal cells [
46
]. However, the TME differs between tumors, with diverse tumor stroma composition and different portions and activation states of stromal cells and it may alter during tumor progression, due to the evolving environmental conditions and oncogenic signals from growing tumors [
47
]. Differences in the TME are also observed within the same tumor, with disparities between the invasive edge and the tumor core, in line with the metabolic alterations, such as the availability of oxygen and nutrients [
47
]. Additionally, the presence of different cell types producing specific growth factors influences the tumor cells differently [
48
]. Finally, mechanical aspects of the tumor stroma, such as stiffness of the ECM and interstitial fluid pressure, play a crucial role in the TME [
46
,
49
]. As complex and diverse as it is, the TME dictates the fate of the tumor by providing survival and expansion signals, by setting the selection criteria of mutant subclones and by creating tumor cell heterogeneity, thereby posing an enormous challenge in cancer therapy [
48
].
3.1. CAFs Are Crucial for the Maintenance of a Pro-Tumorigenic TME
3.2. ECM Is a Means of Communication in the TME and Signals via Distinct Parameters: Qualitative and Quantitative Composition, Cross-Linkage of Supramolecular Structures, Tensional Status and Degradation
4. Interactions of Cancer Cells with Endothelial Cells
4.1. Tumor Vascularization
Angiogenesis, vasculogenesis and vessel-based metastasis are controlled by cancer-endothelial cell (CEC) interactions. Different molecular modes of action underlying CEC interactions can be distinguished: (i) chemokine- and soluble factor-mediated interactions; (ii) tumor-endothelial communication via extracellular vesicles; and (iii) biomechanical (physical) interactions by, e.g., gap junctions and adheren junctions.
4.2. Soluble Factors Mediate CEC Interactions during Angiogenesis and Vasculogenesis
Tumor cell-secreted growth factors influence the TME and attract ECs. Such factors usually activate receptor kinases or ion channels to trigger an intracellular response. The most important endothelial growth and survival factors are the VEGFs. The VEGF family consists of five members (VEGF-A, -B, -C, and -D, and placental growth factor) that can bind to three tyrosine kinase receptors (VEGFR-1, -2, and -3) [
188
]. VEGF-A is the most significant inducer of local angiogenesis. Chronic VEGF stimulation in tumors promotes excessive sprouting and branching by tip cells leading to irregularities in the tumor endothelium and loss of its barrier function [
189
]. Almost all tumors express VEGF-A as essential growth factor in pathological angiogenesis. Furthermore, it is the prime elicitor of the angiogenic switch [
190
].
Originally identified as mediators of inflammatory diseases, chemokines link tumor and stromal cell communication networks to induce a proper microenvironment for tumor growth and metastasis [
191
]. Chemokines are a family of small cytokines secreted by cells. They bind to G protein-coupled chemokine receptors on target cells. CXCL12 is the most important CXC chemokine and is implicated in cancer cell extravasation and metastasis [
192
,
193
]. It is found in many tissues and in serum. Expressed by stromal cells of distant organs, CXCL12 promotes metastasis by attracting cancer cells and stimulating cancer cell extravasation, migration, and adhesion to ECM and to stromal cells. On cancer cells, it binds to and signals via CXC chemokine receptors type 4 (CXCR4) and 7 (CXCR7). A simultaneous and enhanced expression of CXCL12 and CXCR4 has been found in many cancers, such as breast [
194
], gastric [
195
], pancreatic [
196
,
197
], ovarian [
198
,
199
], cervical [
200
] and oral squamous cell carcinoma [
191
]. CXCL12 promotes the attachment of prostate cancer and breast cancer cells to ECs, and increases their transendothelial migration in vitro. Murakami et al. also demonstrated that ectopic expression of CXCR4 has similar effects on melanoma cells in vitro, and that it enhances lung metastasis in vivo [
201
].
Micro RNAs (miRNAs) are also significant regulators of angiogenesis and tumor metastasis. They are short (20–24 nucleotides) non-coding endogenous RNAs that occur in multicellular organisms and can influence the expression of many genes by post-transcriptional silencing or by causing the degradation of their mRNAs. miRNAs, which are frequently deregulated in many types of cancer, facilitate tumor growth, invasion, angiogenesis, and immune evasion through controlling translation of their target mRNAs [
202
,
203
]. For instance, in ECs co-cultured with hepatocellular carcinoma cells, three miRNAs, miR-146a, miR-181a*, and miR-140-5p, are upregulated, whereas miR-302c is downregulated [
204
]. Upregulation of miR-146a promotes EC migration and proliferation, as well as tumor growth and vascularization [
204
]. Furthermore, miRNAs can selectively be exported from cells in membrane-bound vesicles (exosomes and MPs), lipoproteins, and other ribonucleoprotein complexes. The content of these vesicles/particles varies with and corresponds to the (patho)physiological state distinct signature of the secreting cell. After the uptake of exosomal miRNAs by neighboring or distant cells, these miRNAs modulate the gene expression in the recipient cell [
205
]. Zhuang et al. have demonstrated that, via microvesicles, miR-9 transfers information from cancer to ECs. Thus, miR-9 supports angiogenesis and tumor growth [
206
].
4.3. Direct Tumor Cell–Endothelial Cell Interaction and Integration of Tumor Cells in Mosaic Vessels
Fifteen percent of vessels in xenografted and spontaneous human colon carcinomas have been reported to be of a mosaic type (
Figure 3
F) [
207
]. It is not yet clear whether these abnormal vessel structures are formed by cancer cells which integrate into the EC layer of the vessel wall or whether they arise by apoptosis of ECs and exposure of underlying cancer cells. Along with their incorporation into tumor blood vessels, cancer cells undergo epithelial–mesenchymal transition and acquire endothelial characteristics. The interaction between endothelial-like cancer cells (EndCC) and ECs, blood components, and inflammatory signals procures the differentiation of cancer cells into EndCCs. EndCCs interact with neighboring ECs, but they also possess migratory and invasive properties [
208
]. By biomechanical interaction of breast cancer cells with the endothelium, ECs stimulate proliferation, survival, and stemness of breast cancer cells and thus metastatic dissemination [
209
].
Gap junctions are special channels through the plasma membrane that directly connect the cytoplasms of neighboring cells and thus mediate short-range and direct intercellular communication which is necessary for proper tissue development and homeostasis [
210
]. They consist of transmembrane proteins of the connexin family [
210
] and allow free diffusion of small molecules and ions, and also the transport of miRNAs and small interfering RNA (siRNA) silencing signals [
211
,
212
] between cells. Altered expression of gap junction proteins is an important step in carcinogenesis [
213
]. Moreover, connexins play a crucial role in the direct cellular communication between cancer cells and ECs [
214
,
215
,
216
,
217
]. Extravasating breast cancer cells induce in ECs tyrosine phosphorylation of connexin 43 which facilitates further tumor cell extravasation [
218
]. The gap junction inhibitor, oleamide, significantly decreases homotypic communication between cancer cells and also heterotypic interaction between cancer cells and-ECs. Oleamide treatment in vitro attenuates the expression levels of several angiogenic factors, such as VEGF, HIF-1α, CXCR4, Cx26, Cx43, and MMP-9, presumably via an impaired connexin-mediated intercellular communication [
219
].
ECs are tightly connected via VE-cadherin-containing adherens junctions [
220
,
221
,
222
]. VE-cadherin's C-terminus is linked via β-catenin or plakoglobin to the actin cytoskeleton [
223
]. Blocking VE-cadherin by monoclonal antibodies inhibits angiogenesis, tumor growth, and metastasis [
224
]. Endothelial barrier integrity depends on differential phosphorylation of six out of nine tyrosine residues in the cytoplasmic tail of VE-cadherin [
225
,
226
]. Especially phosphorylation of Y658 and Y731 decreases vessel tightness [
227
]. Different cancer types vary with respect to VE-cadherin phosphorylation in neighboring ECs, which differentially affects cancer metastasis [
228
,
229
,
230
].
5. Tumor Cells Imitating Endothelial Cells in Vasculogenic Mimicry Vessels
Vasculogenic Mimicry and Its Molecular Phenotypes
6. Perspective: New Cancer Therapies Targeting Tumor Vasculature and CAFs
6.1. Anti-Angiogenesis and Normalization of the Tumor Vasculature
6.2. VM Channels Are a Promising New Therapeutic Target
6.3. Therapeutic Potential of Targeting CAFs
As CAFs are such central players in the tumor stroma, understanding the effect of CAFs on therapy and the development of a CAF-directed remedial treatment are of utmost importance as well. Indeed, CAFs affect irradiation therapy, as damaged or irradiated CAFs support tumor cell growth stronger than non-treated CAFs, possibly through up-regulation of cMet expression or its phosphorylation and MAP kinase activity in cancer cells [
401
]. Moreover, tumor stromal CAFs contribute to an increased intratumoral interstitial pressure, due to their potential to contract and to exert force on the ECM, thus compressing the interstitial space. This eventually results in attenuating therapeutic efficiency [
46
]. The interaction between cancer cells and CAFs can also reduce cytotoxic effects of chemotherapeutic drugs such as cisplatin by cell–cell adhesion through N-cadherin that activates the survival-promoting protein kinase B (PKB)/AKT and blocks pro-apoptotic Bad [
402
]. However, a clinical trial in which the Hedgehog signaling pathway was targeted and the tumor-induced mesenchyme activation was affected, did not show any therapeutic benefit [
48
].
7. Conclusions
As invasive cancer rates worldwide are continually increasing due to increased life expectancy, changes in lifestyle and nutrition, and environmental factors, cancer treatment is of prime importance. VM, albeit usually viewed as a negative prognostic marker, may constitute a potential new target for anti–angiogenic therapy [
261
,
363
]. VM and CAFs are not only passive bystanders but also active players within the tumor stroma, which contribute to tumor progression and dissemination. A better understanding of their molecular phenotypes and of their supportive roles for cancer cells are indispensable for pharmacological intervention, to resolve the burning issues of resistance to chemotherapeutic drugs and anti–angiogenic therapies, and to develop multimodal anti-angiogenic, anti-VM, and anti-proliferative strategies [
138
]. While tumors frequently develop resistance to anti–angiogenic drugs, new strategies that combine an anti–angiogenic therapy with a VM- or CAF-targeting approach may improve treatment success.
Acknowledgments
The authors thank the Deutsche Forschungsgemeinschaft (SFB1009, A09) and the Wilhelm Sander-Stiftung (grant 2016.113.1) for financial support. Moreover, this work was supported by financial funding from the People Programme (Marie Curie Actions) of the European Union's Seventh Framework Programme FP7/2007-2013/under REA grant agreement No. 316610 (Marie Curie-Initial Training Network CAFFEIN). The authors sincerely apologize to authors of important work not cited here for reasons of space limitation.
Conflicts of Interest
The authors declare no conflict of interest.
Abbreviations
Akt
Protein kinase B
AMOTL1
Angiomotin-like protein 1
ARF
ADP ribosylation factor
αSMA
α-Smooth muscle actin
Bcl-2
B-cell lymphoma 2
bFGF
Basic fibroblast growth factor
BM
Basement membrane
Bmi1
B lymphoma Mo-MLV insertion region 1 homolog
BMP
Bone morphogenetic protein
CAF
Cancer-associated fibroblast
CD
Cluster of differentiation
CEC
Cancer-endothelial cell interaction
CHI3L1
Chitinase-3-like protein 1
CSC
Cancer stem-like cell
cMET
Hepatocyte growth factor receptor
c-Myc
Cellular Myelocytomatose (transcription factor)
COX-2
Cyclooxygenase-2
CXC
Cysteine-any amino acid-cyteine motif
CXCL12
C-X-C motif chemokine 12 = stromal cell-derived factor 1 (SDF-1)
CXCR4
C-X-C chemokine receptor type 4
DKK1
Dickkopf-related protein 1
EC
Endothelial cell
ECM
Extracellular matrix
EDA
Extra-domain A fibronectin splice variant
EDB
Extra-domain B fibronectin splice variant
EDG-1
Endothelial differentiation sphingolipid G-protein receptor-1
EGCG
(−)-Epigallocatechin gallate
EGF(R)
Epidermal growth factor (receptor)
EMMPRIN
Extracellular matrix metalloproteinase inducer
EMT
Epithelial–mesenchymal transition
EndCC
Endothelial like cancer cell
EPC
Endothelial progenitor cell
EphA2
Erythropoietin-producing human hepatocellular (EPH) receptor A2
Erk
Extracellular signal–regulated kinase
FAK
Focal adhesion kinase
FGF(R)
Fibroblast growth factor (receptor)
GAPDH
Glyceraldehyde 3-phosphate dehydrogenase
Glc
Glucose
Gln
Glutamine
GLUT2
Glucose transporter type 2
GSH
Glutathione
HGF(R)
Hepatocyte growth factor (receptor), cMet
HIF
Hypoxia-inducible factor
HRE
Hypoxia-response element
IL
Interleukin
Jnk
c-Jun N-terminal kinase
KDM4b
Lysine-specific demethylase 4B
KIDINS220
Kinase D-interacting substrate of 220 kDa
KiSS-1
Kisspeptin
LAMC2
Laminin subunit γ2
Lam5g2
Laminin-332 γ2chain
LOX
lysyl oxidase
MACC1
Metastasis associated in colon cancer-1
MALAT1
Metastasis-associated lung adenocarcinoma transcript 1
MCP1
Monocyte chemotactic protein
Mig-7
Migration-inducing gene 7
miR
Micro RNA
MMP
Matrix metalloproteinase
MP
Microparticle
MRI
Magnetic resonance imaging
MTDH
Metadherin
NADPH + H+
Nicotinamide adenine dinucleotide phosphate
NFκB
Nuclear factor κ-light-chain-enhancer of activated B cells
NICD
Notch intracellular domain
NRP1
Neuropilin-1
p130Cas
Cellular apoptosis susceptibility protein of 130 kDa
PAS
Periodic acid Schiff
PDGF
Platelet-derived growth factor
PEP
Phosphoenolpyruvate
PI3K
Phosphatidylinositol-4,5-bisphosphate 3-kinase
PK-M2
pyruvate kinase isoform M2
PPEE

Paris polyphylla

ethanol extract
Prdx2
Peroxiredoxin-2
PRRX1
Paired-related homeobox transcription factor 1
ROCK
Rho-associated protein kinase
Rab
Ras superfamily of monomeric G protein
Rac1
Ras-related C3 botulinum toxin substrate
RANKL
Receptor activator of nuclear factor κ-B ligand
Ras
Rat sarcoma protein
ROCK
Rho-associated protein kinase
ROS
Reactive oxygen species
Smad
Small body size/mothers against decapentaplegic protein
SNAI
snail family transcriptional repressor
TAM
Tumor-associated macrophage
TCA
Tricarboxylic acid
TF
Tissue factor
TFPI1
Tissue factor pathway inhibitor
TGFβ1
Transforming growth factor-β1
TIE
Tyrosine kinase with immunoglobulin-like and EGF-like domains
TME
Tumor microenvironment
TNFα
Tumor necrosis factor α
VEGF(R)
Vascular endothelial growth factor (receptor)
VM
Vasculogenic mimicry
WHO
World Health Organization
Wnt
Wingless-related integration site
YAP
Yes-associated protein
YKL-40
Human cartilage glycoprotein HC-gp39, Chitinase-3-like protein 1, CHI3L1
ZEB
Zinc finger E-box-binding homeobox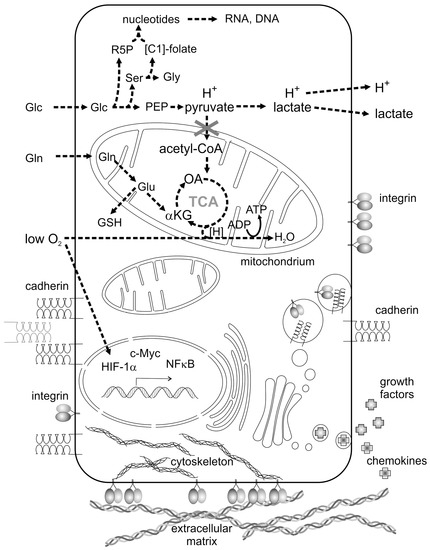 Figure 1. Metabolic reprogramming and an altered intercellular communication are hallmarks of cancer cells. Enhanced demands of glucose (Glc) and glutamine (Gln) as well as low supply of oxygen are characteristic features of cancer cell metabolism. They activate distinct transcription factors, such as hypoxia-inducible factor 1α (HIF-1α), cellular Myelocytomatose (c-Myc) and nuclear factor κ-light-chain-enhancer of activated B cells (NFκB), and upregulate expression of glycolytic and glutaminolytic key enzymes. Aerobic glycolysis leads to a high lactate concentration and a low pH of the tumor microenvironment (TME). Glycolytic metabolites stimulate the pentose phosphate pathway to produce ribose-5-phosphate (R5P) and the production of the amino acids serine (Ser) and glycine (Gly), thereby filling the tetrahydrofolate pool of C1-groups ([C1]-folate). The tricarboxylic acid (TCA) cycle is fueled by glutamine (Gln) via glutamate (Glu) and α-ketoglutarate (αKG). Glutamate is also converted to glutathione (GSH), an intracellular redox buffer. Metabolites, phosphoenolpyruvate and oxaloacetate are abbreviated to PEP and OA, respectively. Membrane-bound cell adhesion molecules (e.g., integrins) and cell–cell contact molecules (e.g., cadherin), as well as secreted and soluble growth factors and chemokines are other key communicator molecules between cancer cells and their neighboring stromal cells. Cell adhesion molecules bind to the extracellular matrix (ECM) and sense its rigidity and mechanical forces.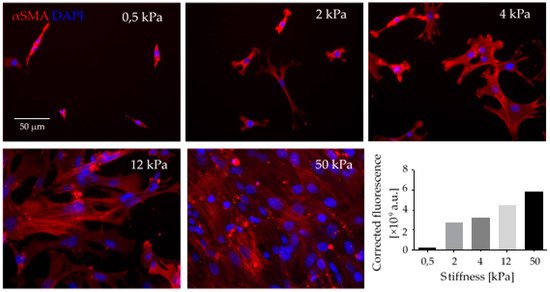 Figure 2. Mechanical stiffness of ECM is a crucial factor in CAF differentiation. Fibroblasts seeded in collagen-I coated polyacrylamide gels of defined stiffness (elastic modulus is given in kPa) exhibited increased adhesion and increased formation of α-Smooth muscle actin (αSMA)-rich stress fibers (red fluorescence). αSMA immunostaining was quantified as total corrected fluorescence. This experiment reflects in vivo conditions, where the stiff scaffold of desmoplastic ECM contributes to CAF differentiation, together with soluble factors such as TGFβ that are stored bound to ECM fibers and released when CAFs exert force on those fibers. Upon differentiation, CAFs change their morphology and express different biomarkers, such as αSMA stress fibers (red fluorescence). CAFs proliferate at higher rate, exhibit a secretory phenotype and enhanced contractibility; thus, they play an essential role in forming the TME. Scale Bar = 50 μm.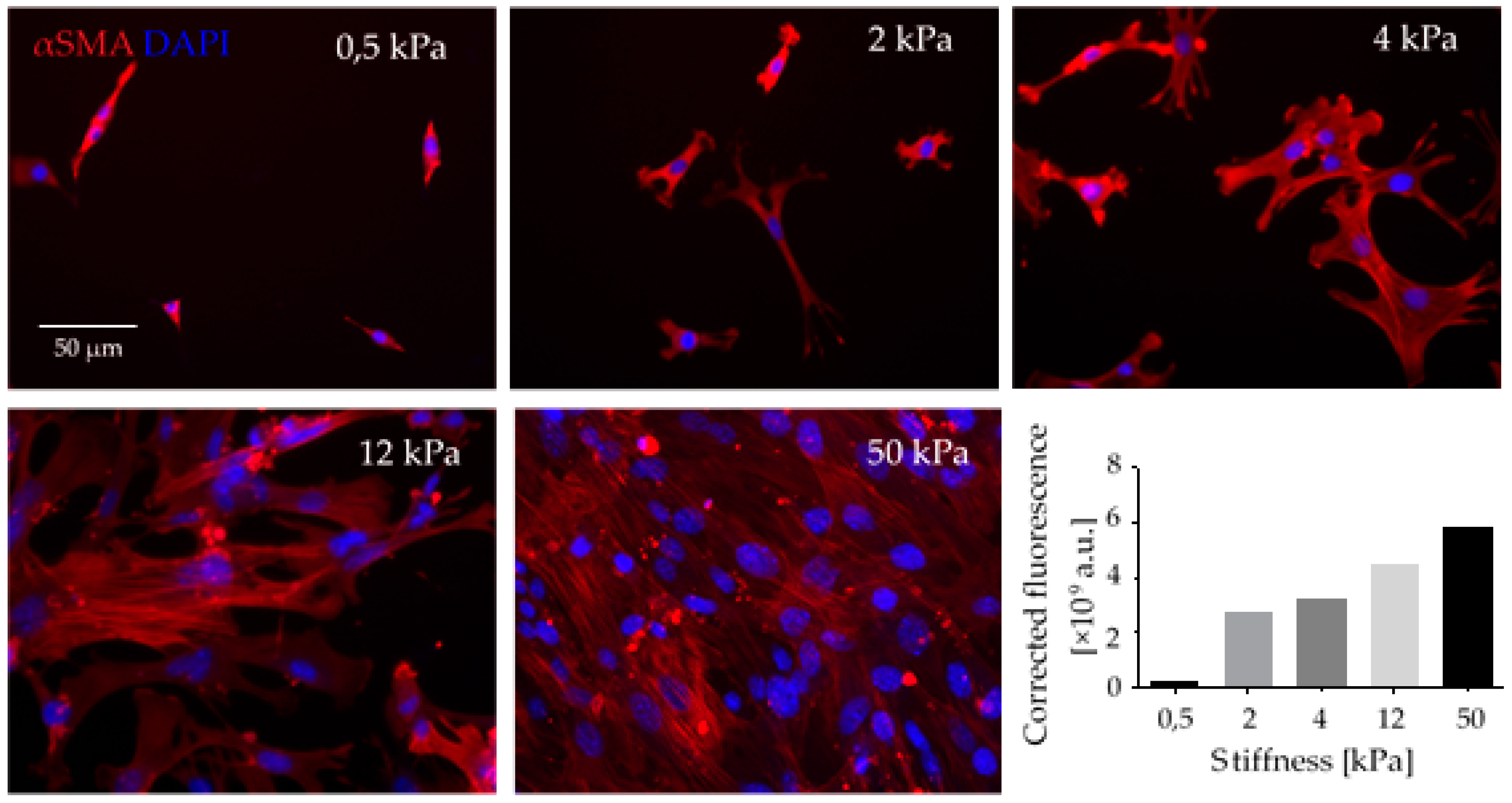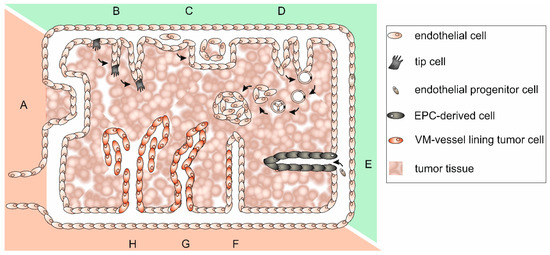 Figure 3. Different types of vascularization allow the blood supply of tumor tissue. Different types of vascularization can occur simultaneously and even merge: (A) co-option of preexisting vessels; (B) sprouting angiogenesis of endothelial cells; (C) intussusceptive angiogenesis; (D) glomeruloid angiogenesis; (E) vasculogenesis by recruitment of bone marrow-derived endothelial progenitor cells (EPCs); (F) in mosaic vessels, patches of tumor cells insert into the endothelium; (G) tubular type vasculogenic mimicry (VM) of tumor cells; and (H) patterned type VM of tumor cells. While angiogenesis (B–D), and vasculogenesis (E) depend on proliferation of ECs and bone marrow-derived EPCs, vessel co-option and VM (F–H) are EC proliferation-independent ways to support tumor growth. The recruitment of bone marrow-derived EPCs from distant parts of the body impairs radiation therapy, while vessel co-option and VM are unassailable to anti-angiogenic therapy. Vascularization mechanisms that are susceptible to anti-angiogenic therapy are highlighted in green, those that are insusceptible in red.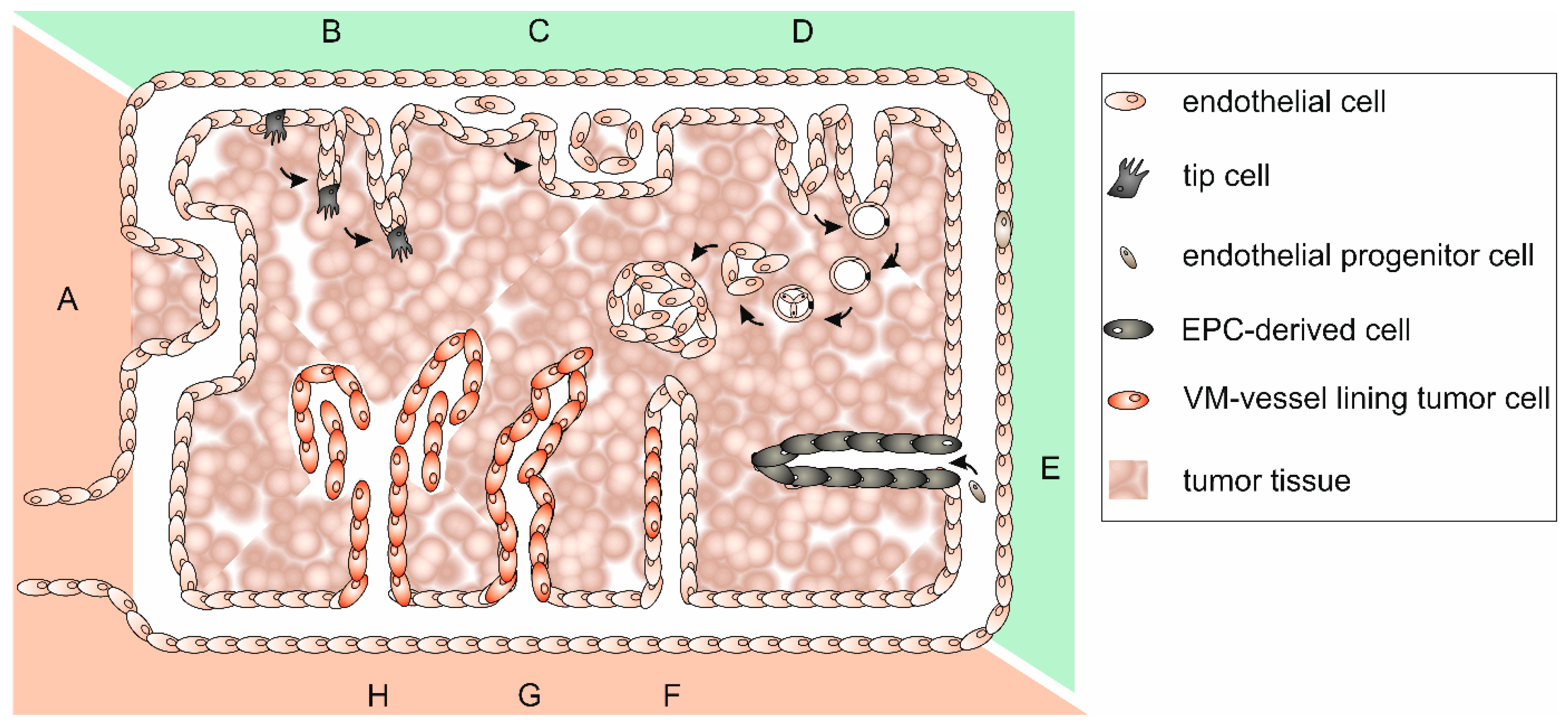 Figure 4. Vasculogenic mimicry of cancer cells lining tumor vessels. CD31-negative/PAS-positive VM channels in a HT1080 xenograft mouse tumor model were visualized by consecutive immunostaining and histochemical staining of the same cryosection: (A,C) normal CD31-positive blood vessels are labeled in green; and (B,C) CD31-negative VM channels are detectable by PAS staining. Nuclei are stained blue. (A) Cryosections were first immunostained and photographed; (B) subsequently, histochemically PAS-stained and photographed again; and (C) then the images were overlaid to demonstrate numerous CD31-negative/periodic acid Schiff (PAS)-positive VM channels (arrows). Representative images are shown.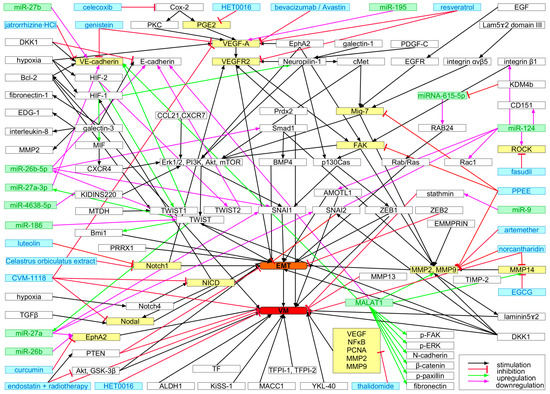 Figure 5. Molecular phenotype-defining signaling pathways in vasculogenic mimicry (VM). Signaling molecules that have been targeted to inhibit VM are highlighted in yellow and targeting compounds are marked in blue. Regulatory miRNAs are labeled green. EMT (highlighted in orange), which is pivotal for VM, and VM (highlighted in red) are the focal points in which all these signaling pathways converge. For details and references, see text.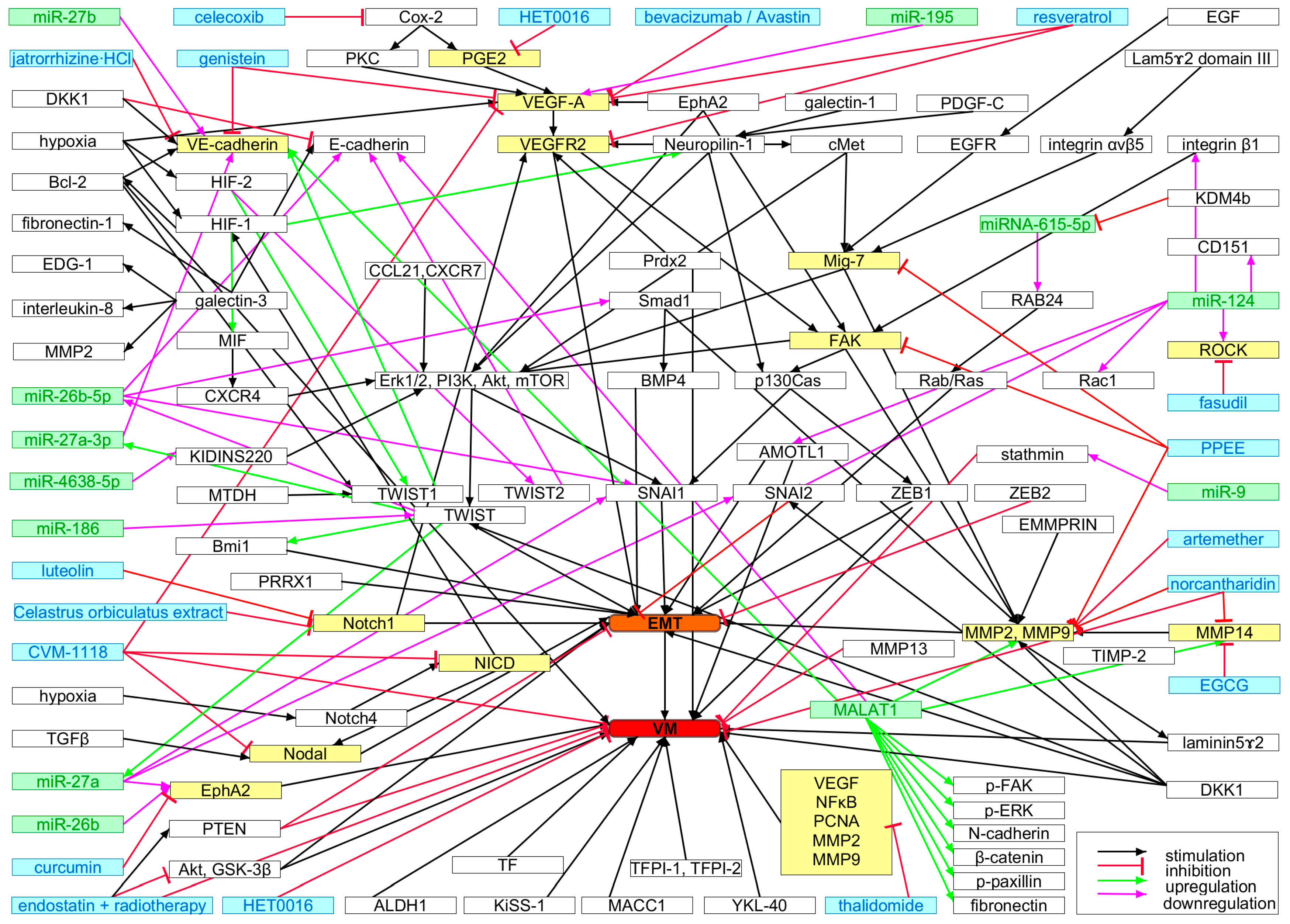 © 2017 by the authors. Licensee MDPI, Basel, Switzerland. This article is an open access article distributed under the terms and conditions of the Creative Commons Attribution (CC BY) license (http://creativecommons.org/licenses/by/4.0/).