A Mini-Review on the Effect of Docosahexaenoic Acid (DHA) on Cerulein-Induced and Hypertriglyceridemic Acute Pancreatitis
Department of Food and Nutrition, Brian Korea 21 PLUS Project, College of Human Ecology, Yonsei University, Seoul 03722, Korea
*
Author to whom correspondence should be addressed.
Received: 20 September 2017 / Revised: 21 October 2017 / Accepted: 23 October 2017 / Published: 25 October 2017
Abstract
Acute pancreatitis refers to the sudden inflammation of the pancreas. It is associated with premature activation and release of digestive enzymes into the pancreatic interstitium and systemic circulation, resulting in pancreatic tissue autodigestion and multiple organ dysfunction, as well as with increased cytokine production, ultimately leading to deleterious local and systemic effects. Although mechanisms involved in pathogenesis of acute pancreatitis have not been completely elucidated, oxidative stress is regarded as a major risk factor. In human acute pancreatitis, lipid peroxide levels in pancreatic tissues increase. Docosahexaenoic acid (DHA), an omega-3 polyunsaturated fatty acid (C22:6n-3), exerts anti-inflammatory and antioxidant effects on various cells. Previous studies have shown that DHA activates peroxisome proliferator-activated receptor-γ and induces catalase, which inhibits oxidative stress-mediated inflammatory signaling required for cytokine expression in experimental acute pancreatitis using cerulein. Cerulein, a cholecystokinin analog, induces intra-acinar activation of trypsinogen in the pancreas, which results in human acute pancreatitis-like symptoms. Therefore, DHA supplementation may be beneficial for preventing or inhibiting acute pancreatitis development. Since DHA reduces serum triglyceride levels, addition of DHA to lipid-lowering drugs like statins has been investigated to reduce hypertriglyceridemic acute pancreatitis. However, high DHA concentrations increase cytosolic Ca
2+
, which activates protein kinase C and may induce hyperlipidemic acute pancreatitis. In this review, effect of DHA on cerulein-induced and hypertriglyceridemic acute pancreatitis has been discussed. The relation of high concentration of DHA to hyperlipidemic acute pancreatitis has been included.
View Full-Text
►

▼

Figures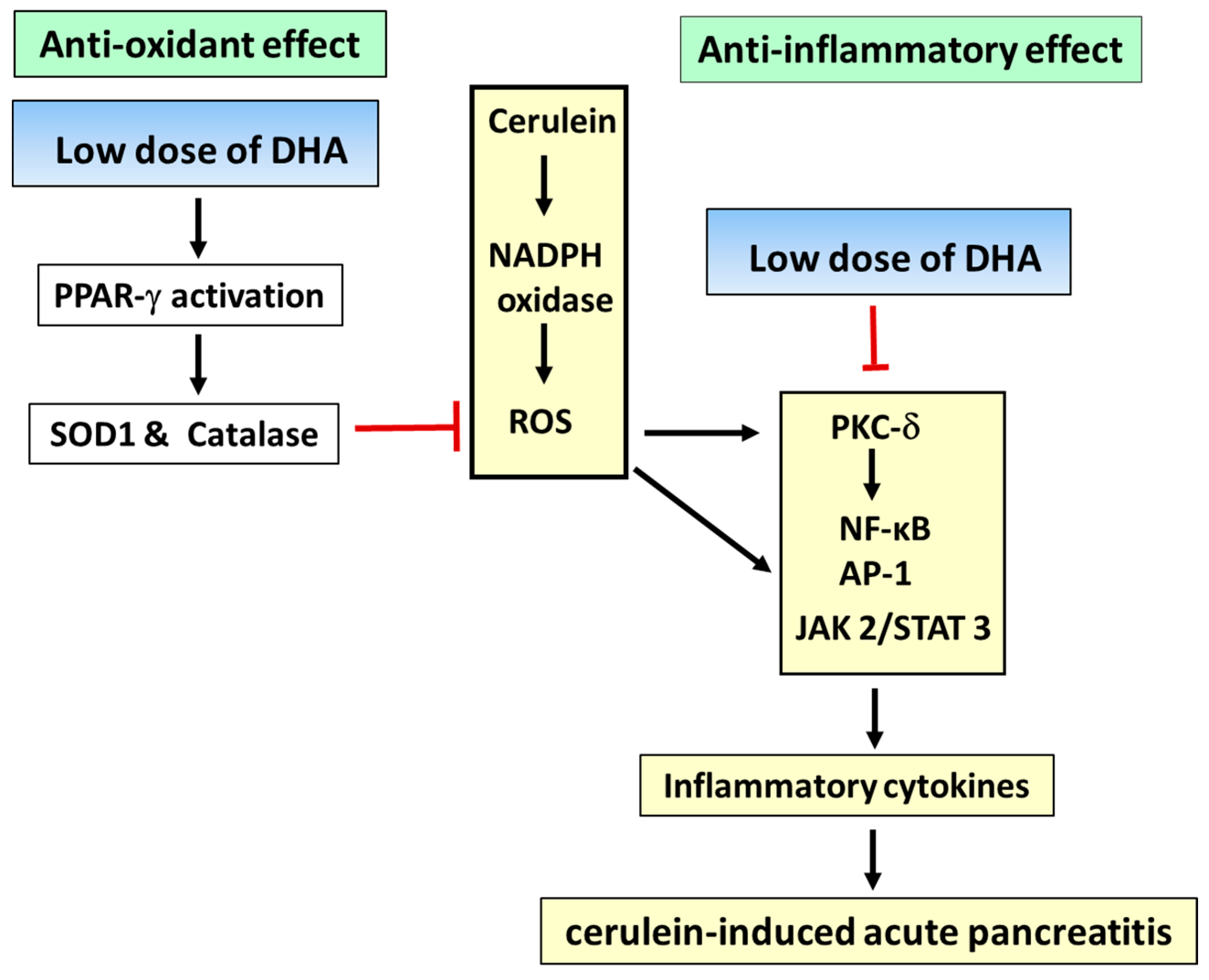 Figure 1
This is an open access article distributed under the
Creative Commons Attribution License
which permits unrestricted use, distribution, and reproduction in any medium, provided the original work is properly cited (CC BY 4.0).

Share & Cite This Article
MDPI and ACS Style
Jeong, Y.K.; Kim, H. A Mini-Review on the Effect of Docosahexaenoic Acid (DHA) on Cerulein-Induced and Hypertriglyceridemic Acute Pancreatitis. Int. J. Mol. Sci. 2017, 18, 2239.
Note that from the first issue of 2016, MDPI journals use article numbers instead of page numbers. See further details here.
Related Articles
Comments
[Return to top]