Molecular and Biochemical Analysis of Two Rice Flavonoid 3'-Hydroxylase to Evaluate Their Roles in Flavonoid Biosynthesis in Rice Grain
1
National Institute of Agricultural Science, Rural Development Administration, JeonJu 54874, Korea
2
Division of Life Sciences, College of Life Sciences and Bioengineering, Incheon National University, Incheon 22012, Korea
3
Department of Genetic Engineering and Graduate School of Biotechnology, Kyung Hee University, Yongin 17104, Korea
*
Author to whom correspondence should be addressed.
Academic Editor: Marcello Iriti
Received: 16 August 2016 / Revised: 16 August 2016 / Accepted: 8 September 2016 / Published: 13 September 2016
Abstract
Anthocyanins and proanthocyanidins, the major flavonoids in black and red rice grains, respectively, are mainly derived from 3′,4′-dihydroxylated leucocyanidin. 3′-Hydroxylation of flavonoids in rice is catalyzed by flavonoid 3′-hydroxylase (F3′H: EC 1.14.13.21). We isolated cDNA clones of the two rice
F3′H
genes (
CYP75B3
and
CYP75B4
) from Korean varieties of white, black, and red rice. Sequence analysis revealed allelic variants of each gene containing one or two amino acid substitutions. Heterologous expression in yeast demonstrated that CYP75B3 preferred kaempferol to other substrates, and had a low preference for dihydrokaempferol. CYP75B4 exhibited a higher preference for apigenin than for other substrates. CYP75B3 from black rice showed an approximately two-fold increase in catalytic efficiencies for naringenin and dihydrokaempferol compared to CYP75B3s from white and red rice. The F3′H activity of CYP75B3 was much higher than that of CYP75B4. Gene expression analysis showed that
CYP75B3
,
CYP75B4
, and most other flavonoid pathway genes were predominantly expressed in the developing seeds of black rice, but not in those of white and red rice, which is consistent with the pigmentation patterns of the seeds. The expression levels of
CYP75B4
were relatively higher than those of
CYP75B3
in the developing seeds, leaves, and roots of white rice.
View Full-Text
►

▼

Figures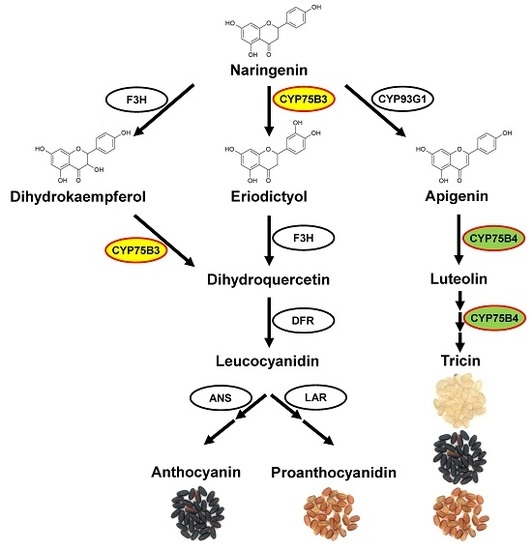 Graphical abstract
This is an open access article distributed under the
Creative Commons Attribution License
which permits unrestricted use, distribution, and reproduction in any medium, provided the original work is properly cited (CC BY 4.0).

Share & Cite This Article
MDPI and ACS Style
Park, S.; Choi, M.J.; Lee, J.Y.; Kim, J.K.; Ha, S.-H.; Lim, S.-H. Molecular and Biochemical Analysis of Two Rice Flavonoid 3'-Hydroxylase to Evaluate Their Roles in Flavonoid Biosynthesis in Rice Grain. Int. J. Mol. Sci. 2016, 17, 1549.
Note that from the first issue of 2016, MDPI journals use article numbers instead of page numbers. See further details here.
Related Articles
Comments
[Return to top]