Physiological and Pathogenic Roles of Prolyl Isomerase Pin1 in Metabolic Regulations via Multiple Signal Transduction Pathway Modulations
1
Department of Medical Science, Graduate School of Medicine, University of Hiroshima, 1-2-3 Kasumi, Minami-ku, Hiroshima City, Hiroshima 734-8551, Japan
2
Division of Neurology, Respirology, Endocrinology and Metabolism, Department of Internal Medicine, Faculty of Medicine, University of Miyazaki, 5200 Kihara, Kiyotake, Miyazaki 889-1692, Japan
3
Division of Diabetes and Metabolic Diseases, Nihon University School of Medicine, Itabashi, Tokyo 173-8610, Japan
4
Department of Endocrinology and Diabetes, School of Medicine, Saitama Medical University, Moroyama, Saitama 350-0495, Japan
5
Division of Diabetes and Metabolism, The Institute for Adult Diseases, Asahi Life Foundation, Chuo-ku, Tokyo 103-0002, Japan
*
Author to whom correspondence should be addressed.
Academic Editor: Atsushi Matsuzawa
Received: 16 July 2016 / Revised: 15 August 2016 / Accepted: 30 August 2016 / Published: 7 September 2016
Abstract
Prolyl isomerases are divided into three groups, the FKBP family, Cyclophilin and the Parvulin family (Pin1 and Par14). Among these isomerases, Pin1 is a unique prolyl isomerase binding to the motif including pSer/pThr-Pro that is phosphorylated by kinases. Once bound, Pin1 modulates the enzymatic activity, protein stability or subcellular localization of target proteins by changing the
cis
- and
trans
-formations of proline. Several studies have examined the roles of Pin1 in the pathogenesis of cancers and Alzheimer's disease. On the other hand, recent studies have newly demonstrated Pin1 to be involved in regulating glucose and lipid metabolism. Interestingly, while Pin1 expression is markedly increased by high-fat diet feeding, Pin1 KO mice are resistant to diet-induced obesity, non-alcoholic steatohepatitis and diabetic vascular dysfunction. These phenomena result from the binding of Pin1 to several key factors regulating metabolic functions, which include insulin receptor substrate-1, AMPK, Crtc2 and NF-κB p65. In this review, we focus on recent advances in elucidating the physiological roles of Pin1 as well as the pathogenesis of disorders involving this isomerase, from the viewpoint of the relationships between signal transductions and metabolic functions.
View Full-Text
►

▼

Figures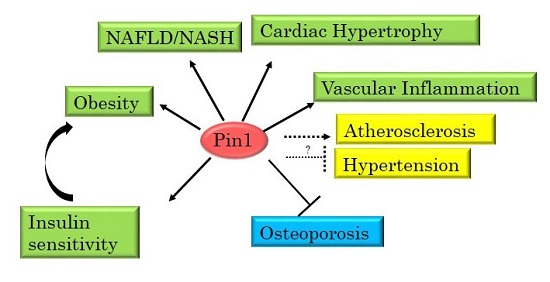 Graphical abstract
This is an open access article distributed under the
Creative Commons Attribution License
which permits unrestricted use, distribution, and reproduction in any medium, provided the original work is properly cited (CC BY 4.0).

Share & Cite This Article
MDPI and ACS Style
Nakatsu, Y.; Matsunaga, Y.; Yamamotoya, T.; Ueda, K.; Inoue, Y.; Mori, K.; Sakoda, H.; Fujishiro, M.; Ono, H.; Kushiyama, A.; Asano, T. Physiological and Pathogenic Roles of Prolyl Isomerase Pin1 in Metabolic Regulations via Multiple Signal Transduction Pathway Modulations. Int. J. Mol. Sci. 2016, 17, 1495.
Note that from the first issue of 2016, MDPI journals use article numbers instead of page numbers. See further details here.
Related Articles
Comments
[Return to top]