Programming Effects of Prenatal Glucocorticoid Exposure with a Postnatal High-Fat Diet in Diabetes Mellitus
1
Department of Pediatrics, Chang Gung Memorial Hospital-Kaohsiung Medical Center, Chang Gung University, College of Medicine, Kaohsiung 833, Taiwan
2
Department of Medical Administration, Pu-Li Christian Hospital, Pu-Li, Nantou 545, Taiwan
3
Department of Applied Chemistry, National Chi-Nan University, Pu-Li, Nantou 545, Taiwan
*
Authors to whom correspondence should be addressed.
†
These authors contributed equally to this work.
Academic Editor: Toshiro Arai
Received: 23 February 2016 / Revised: 24 March 2016 / Accepted: 1 April 2016 / Published: 8 April 2016
Abstract
Increasing evidence has shown that many chronic diseases originate from early life, even before birth, through what are termed as fetal programming effects. Glucocorticoids are frequently used prenatally to accelerate the maturation of the lungs of premature infants. High-fat diets are associated with insulin resistance, but the effects of prenatal glucocorticoid exposure plus a postnatal high-fat diet in diabetes mellitus remain unclear. We administered pregnant Sprague-Dawley rats' intraperitoneal dexamethasone (0.1 mg/kg body weight) or vehicle at gestational days 14–20. Male offspring were administered a normal or high-fat diet starting from weaning. We assessed the effects of prenatal steroid exposure plus postnatal high-fat diet on the liver, pancreas, muscle and fat at postnatal day 120. At 15 and 30 min, sugar levels were higher in the dexamethasone plus high-fat diet (DHF) group than the vehicle plus high-fat diet (VHF) group in the intraperitoneal glucose tolerance test (IPGTT). Serum insulin levels at 15, 30 and 60 min were significantly higher in the VHF group than in the vehicle and normal diet group. Liver insulin receptor and adenosine monophosphate-activated protein kinase mRNA expressions and protein levels were lower in the DHF group. Insulin receptor and insulin receptor substrate-1 mRNA expressions were lower in the epididymal adipose tissue in the VHF and DHF groups. "Programming" of liver or epididymal adipose tissue resulted from prenatal events. Prenatal steroid exposure worsened insulin resistance in animals fed a high-fat diet.
View Full-Text
►

▼

Figures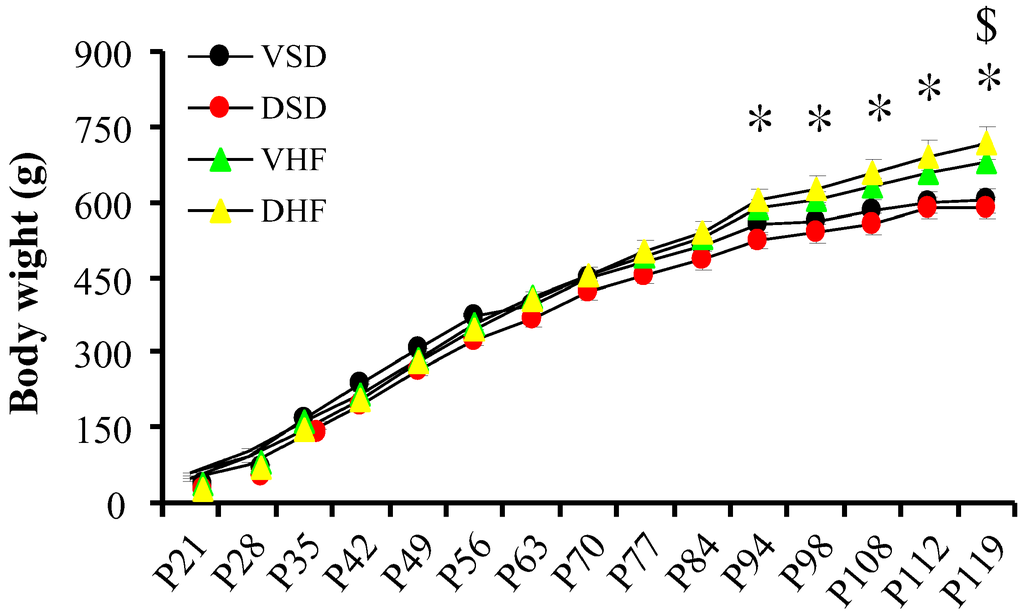 Figure 1
This is an open access article distributed under the
Creative Commons Attribution License
which permits unrestricted use, distribution, and reproduction in any medium, provided the original work is properly cited (CC BY 4.0).

Share & Cite This Article
MDPI and ACS Style
Sheen, J.-M.; Hsieh, C.-S.; Tain, Y.-L.; Li, S.-W.; Yu, H.-R.; Chen, C.-C.; Tiao, M.-M.; Chen, Y.-C.; Huang, L.-T. Programming Effects of Prenatal Glucocorticoid Exposure with a Postnatal High-Fat Diet in Diabetes Mellitus. Int. J. Mol. Sci. 2016, 17, 533.
Note that from the first issue of 2016, MDPI journals use article numbers instead of page numbers. See further details here.
Related Articles
Comments
[Return to top]