Benzyl Isothiocyanate Inhibits Prostate Cancer Development in the Transgenic Adenocarcinoma Mouse Prostate (TRAMP) Model, Which Is Associated with the Induction of Cell Cycle G1 Arrest
1
Department of Food Science and Nutrition, Hallym University, Chuncheon 200-702, Korea
2
WCU Biomodulation Major, Department of Agricultural Biotechnology and Center for Food and Bioconvergence, Seoul National University, Seoul 151-921, Korea
3
The Hormel Institute, University of Minnesota, Austin, MN 55912, USA
4
Advanced Institutes of Convergence Technology, Seoul National University, Suwon 443-270, Korea
5
Key Laboratory for Medical Molecular Diagnostics of Guangdong Province, Dongguan Scientific Research Center, Guangdong Medical University, Dongguan, Guangdong 523808, China
6
Department of Molecular Medicine, School of Medicine, Lee Gil Ya Cancer and Diabetes Institute, Gachon University, Incheon 406-799, Korea
7
Research Institute of Agriculture and Life Sciences, Seoul National University, Seoul 151-742, Korea
*
Author to whom correspondence should be addressed.
†
These authors contributed equally to this work.
Academic Editor: Gopinadhan Paliyath
Received: 10 January 2016 / Revised: 13 February 2016 / Accepted: 17 February 2016 / Published: 22 February 2016
Abstract
Benzyl isothiocyanate (BITC) is a hydrolysis product of glucotropaeolin, a compound found in cruciferous vegetables, and has been shown to have anti-tumor properties. In the present study, we investigated whether BITC inhibits the development of prostate cancer in the transgenic adenocarcinoma mouse prostate (TRAMP) mice. Five-week old, male TRAMP mice and their nontransgenic littermates were gavage-fed with 0, 5, or 10 mg/kg of BITC every day for 19 weeks. The weight of the genitourinary tract increased markedly in TRAMP mice and this increase was suppressed significantly by BITC feeding. H and E staining of the dorsolateral lobes of the prostate demonstrated that well-differentiated carcinoma (WDC) was a predominant feature in the TRAMP mice. The number of lobes with WDC was reduced by BITC feeding while that of lobes with prostatic intraepithelial neoplasia was increased. BITC feeding reduced the number of cells expressing Ki67 (a proliferation marker), cyclin A, cyclin D1, and cyclin-dependent kinase (CDK)2 in the prostatic tissue.
In vitro
cell culture results revealed that BITC decreased DNA synthesis, as well as CDK2 and CDK4 activity in TRAMP-C2 mouse prostate cancer cells. These results indicate that inhibition of cell cycle progression contributes to the inhibition of prostate cancer development in TRAMP mice treated with BITC.
View Full-Text
►

▼

Figures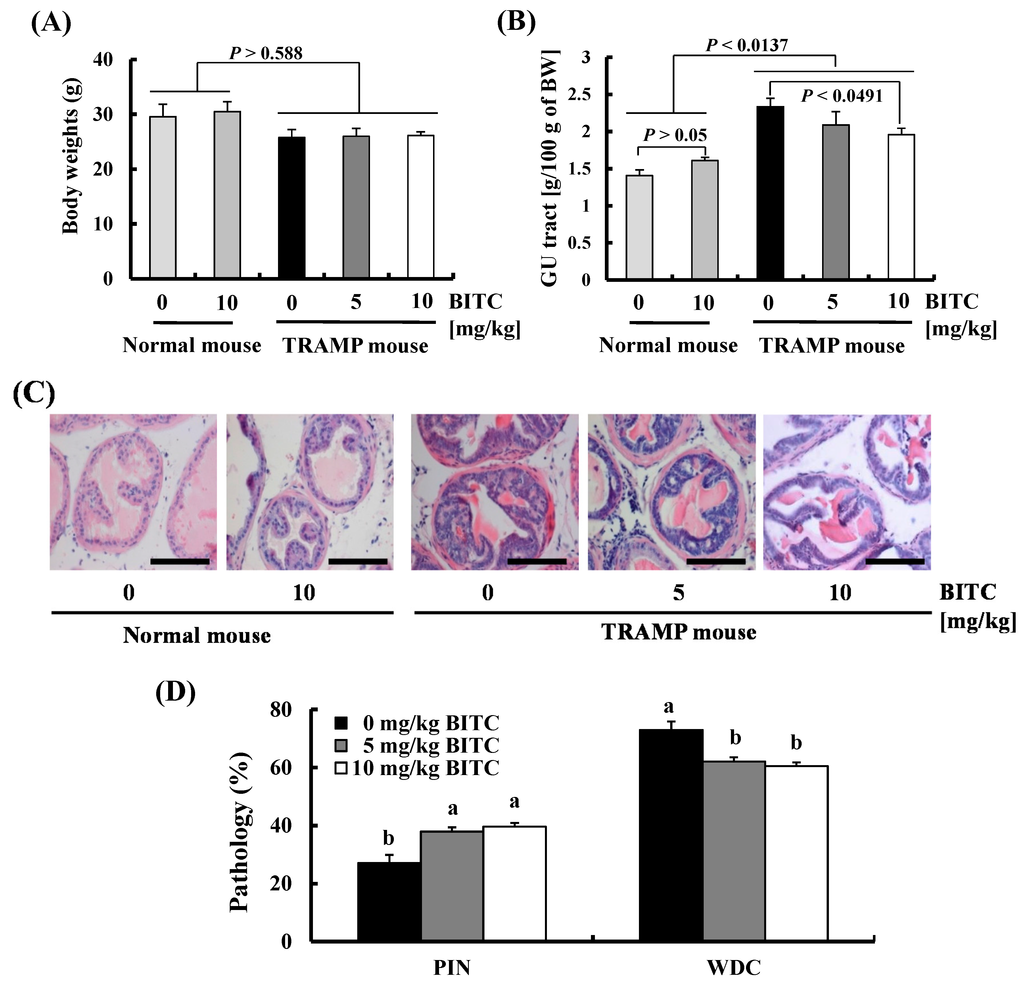 Figure 1
This is an open access article distributed under the
Creative Commons Attribution License
which permits unrestricted use, distribution, and reproduction in any medium, provided the original work is properly cited (CC BY 4.0).

Share & Cite This Article
MDPI and ACS Style
Cho, H.J.; Lim, D.Y.; Kwon, G.T.; Kim, J.H.; Huang, Z.; Song, H.; Oh, Y.S.; Kang, Y.-H.; Lee, K.W.; Dong, Z.; Park, J.H.Y. Benzyl Isothiocyanate Inhibits Prostate Cancer Development in the Transgenic Adenocarcinoma Mouse Prostate (TRAMP) Model, Which Is Associated with the Induction of Cell Cycle G1 Arrest. Int. J. Mol. Sci. 2016, 17, 264.
Note that from the first issue of 2016, MDPI journals use article numbers instead of page numbers. See further details here.
Related Articles
Comments
[Return to top]