Apobec-1 Complementation Factor (A1CF) Inhibits Epithelial-Mesenchymal Transition and Migration of Normal Rat Kidney Proximal Tubular Epithelial Cells
1
Division of Molecular Nephrology and the Creative Training Center for Undergraduates, the Ministry of Education Key Laboratory of Laboratory Medical Diagnostics, the College of Laboratory Medicine, Chongqing Medical University, Chongqing 400016, China
2
The College of Laboratory Medicine, Chongqing Medical University, Chongqing 400016, China
*
Author to whom correspondence should be addressed.
†
These authors contributed equally to this work.
Academic Editor: Alan Parrish
Received: 14 December 2015 / Revised: 15 January 2016 / Accepted: 26 January 2016 / Published: 2 February 2016
Abstract
Apobec-1 complementation factor (A1CF) is a member of the heterogeneous nuclear ribonucleoproteins (hnRNP) family, which participates in site-specific posttranscriptional RNA editing of apolipoprotein B (apoB) transcript. The posttranscriptional editing of apoB mRNA by A1CF in the small intestine is required for lipid absorption. Apart from the intestine, A1CF mRNA is also reported to be highly expressed in the kidneys. However, it is remained unknown about the functions of A1CF in the kidneys. The aim of this paper is to explore the potential functions of A1CF in the kidneys. Our results demonstrated that in C57BL/6 mice A1CF was weakly expressed in embryonic kidneys from E15.5dpc while strongly expressed in mature kidneys after birth, and it mainly existed in the tubules of inner cortex. More importantly, we identified A1CF negatively regulated the process of epithelial-mesenchymal transition (EMT) in kidney tubular epithelial cells. Our results found ectopic expression of A1CF up-regulated the epithelial markers E-cadherin, and down-regulated the mesenchymal markers vimentin and α-smooth muscle actin (α-SMA) in NRK52e cells. In addition, knockdown of A1CF enhanced EMT contrary to the overexpression effect. Notably, the two A1CF variants led to the similar trend in the EMT process. Taken together, these data suggest that A1CF may be an antagonistic factor to the EMT process of kidney tubular epithelial cells.
View Full-Text
►

▼

Figures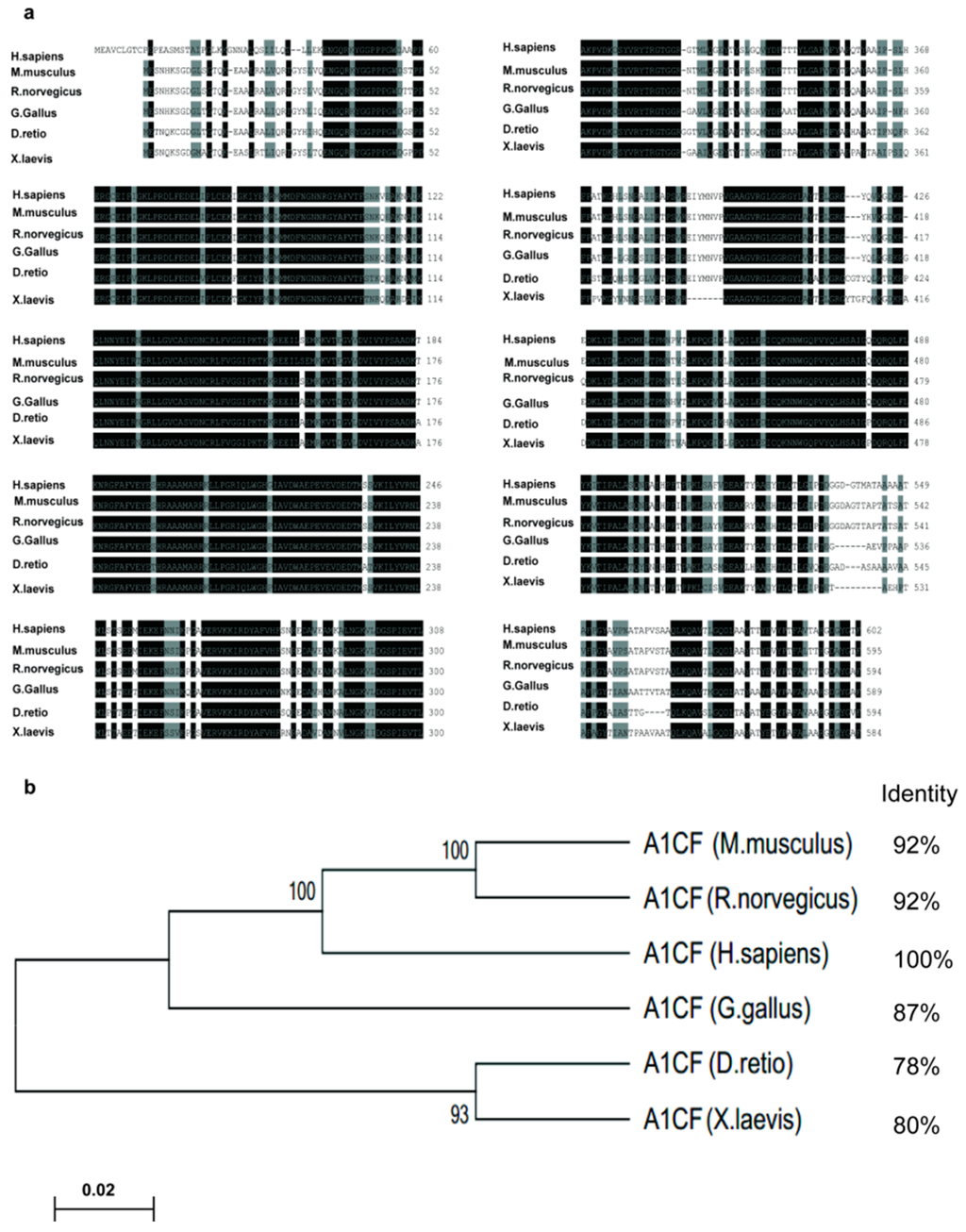 Figure 1
This is an open access article distributed under the
Creative Commons Attribution License
which permits unrestricted use, distribution, and reproduction in any medium, provided the original work is properly cited (CC BY 4.0).

Share & Cite This Article
MDPI and ACS Style
Huang, L.; Wang, H.; Zhou, Y.; Ni, D.; Hu, Y.; Long, Y.; Liu, J.; Peng, R.; Zhou, L.; Liu, Z.; Lyu, Z.; Mao, Z.; Hao, J.; Li, Y.; Zhou, Q. Apobec-1 Complementation Factor (A1CF) Inhibits Epithelial-Mesenchymal Transition and Migration of Normal Rat Kidney Proximal Tubular Epithelial Cells. Int. J. Mol. Sci. 2016, 17, 197.
Note that from the first issue of 2016, MDPI journals use article numbers instead of page numbers. See further details here.
Related Articles
Comments
[Return to top]