The Impact of CXCR4 Blockade on the Survival of Rat Brain Cortical Neurons
1
Departamento de Bioquímica y Biología Molecular II, Facultad de Farmacia, Universidad Complutense de Madrid (U.C.M.), Ciudad Universitaria, 28040 Madrid, Spain
2
Instituto de Investigación Neuroquímica (I.U.I.N.), Universidad Complutense de Madrid (U.C.M.), Ciudad Universitaria, 28040 Madrid, Spain
3
Departamento de Farmacología, Facultad de Farmacia, Universidad Complutense de Madrid (U.C.M.), Ciudad Universitaria, 28040 Madrid, Spain
4
Sección Departamental de Fisiología, Facultad de Farmacia, Universidad Complutense de Madrid (U.C.M.), Ciudad Universitaria, 28040 Madrid, Spain
*
Author to whom correspondence should be addressed.
Academic Editor: Katalin Prokai-Tatrai
Received: 2 September 2016 / Revised: 16 November 2016 / Accepted: 17 November 2016 / Published: 30 November 2016
Abstract
Background: Chemokine receptor type 4 (CXCR4) plays a role in neuronal survival/cell repair and also contributes to the progression of cancer and neurodegenerative diseases. Chemokine ligand 12 (CXCL12) binds to CXCR4. In this study, we have investigated whether CXCR4 blockade by AMD3100 (a CXCR4 antagonist, member of bicyclam family) may affect neuronal survival in the absence of insult. Thus, we have measured the mitochondrial membrane potential (MMP), Bax and Bcl-2 protein translocation, and cytochrome c release in AMD3100-treated brain cortical neurons at 7 DIV (days in vitro). Methods: For this aim, AMD3100 (200 nM) was added to cortical neurons for 24 h, and several biomarkers like cell viability, reactive oxygen species (ROS) generation, lactate dehydrogenase (LDH) release, caspase-3/9 activity, proteins Bax and Bcl-2 translocation, and cytochrome
c
release were analyzed by immunoblot. Results: CXCR4 blockade by AMD3100 (200 nM, 24 h) induces mitochondrial hyperpolarization and increases caspase-3/9 hyperpolarization without affecting LDH release as compared to untreated controls. AMD3100 also increases cytochrome c release and promotes Bax translocation to the mitochondria, whereas it raises cytosolic Bcl-2 levels in brain cortical neurons. Conclusion: CXCR4 blockade induces cellular death via intrinsic apoptosis in rat brain cortical neurons in absence of insult.
View Full-Text
►

▼

Figures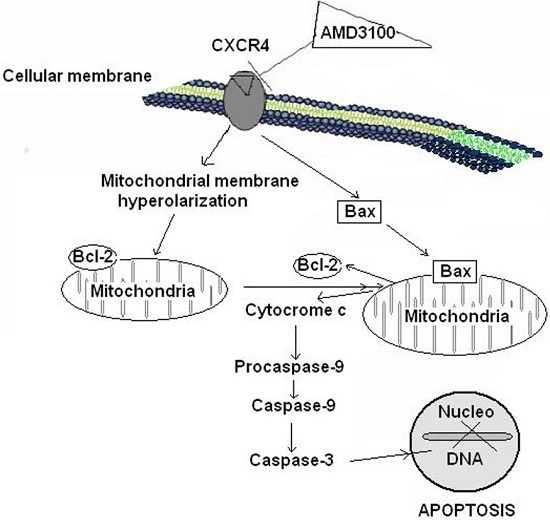 Graphical abstract
This is an open access article distributed under the
Creative Commons Attribution License
which permits unrestricted use, distribution, and reproduction in any medium, provided the original work is properly cited (CC BY 4.0).

Share & Cite This Article
MDPI and ACS Style
Merino, J.J.; Garcimartín, A.; López-Oliva, M.E.; Benedí, J.; González, M.P. The Impact of CXCR4 Blockade on the Survival of Rat Brain Cortical Neurons. Int. J. Mol. Sci. 2016, 17, 2005.
Note that from the first issue of 2016, MDPI journals use article numbers instead of page numbers. See further details here.
Related Articles
Comments
[Return to top]