Open Access This article is
freely available
re-usable
Article
Disease Activity and Conversion into Multiple Sclerosis after Optic Neuritis Is Treated with Erythropoietin
1
Department of Neurology, Medical School Hannover, Carl-Neuberg Str. 1, 30625 Hannover, Germany
2
Department of Neuroradiology, Hospital Bremen Mitte, St. Jürgen Str. 1, 28177 Bremen, Germany
3
Department of Neurology, Georg-August University, Robert-Koch-Str. 40, 37075 Göttingen, Germany
4
Department of Radiology, Lüneburg Hospital, Bögelstr. 1, 21339 Lüneburg, Germany
5
Department of Neurology, University Hospital Hamburg-Eppendorf, Martinistr. 52, 20246 Hamburg, Germany
6
Department of Neurooncology, University Clinic Heidelberg, Im Neuenheimer Feld 400, 69120 Heidelberg, Germany
*
Author to whom correspondence should be addressed.
Academic Editors: Christoph Kleinschnitz and Sven Meuth
Received: 28 July 2016 / Accepted: 28 September 2016 / Published: 30 September 2016
Abstract
:
Changes in cerebral lesion load by magnetic resonance imaging (MRI) in patients from a double-blind, placebo-controlled, phase II study on erythropoietin in clinically isolated optic neuritis (ClinicalTrials.gov, NCT00355095) were analyzed. Therefore, patients with acute optic neuritis were assigned to receive either 33,000 IU of recombinant human erythropoietin (IV) daily for three days, or a placebo, as an add-on to methylprednisolone. Of 35 patients, we investigated changes in cerebral lesion load in MRIs obtained at baseline and at weeks 4, 8, and 16. In 5 of the 35 patients, we found conversion into multiple sclerosis (MS) based on MRI progression only. These five patients had received the placebo. Another five patients showed MRI progression together with relapses. Three of these patients had received erythropoietin, and two the placebo. Yet, analyzing the change in absolute numbers of periventricular, juxtacortical, and infratentorial lesions including gadolinium-enhancing lesions, there were no significant differences between the groups. Although effective in terms of retinal nerve fiber layer protection, erythropoietin treatment of acute isolated optic neuritis did not influence further evolution of MRI lesions in the brain when comparing absolute numbers. However, early conversion from clinically isolated syndrome to MS assessed by MRI activity seemed to occur more frequently in the placebo-treated group.
Keywords:
multiple sclerosis; MRI; optic nerve; clinical trial
Acknowledgments
This study was funded by a research grant from RoFAR (Roche Foundation for Anemia Research, Meggen, Switzerland, grant No. 7056094694). We are grateful to the patients who participated in this trial. We thank Richard Fairless, Department of Neurooncology, University Clinic Heidelberg, for critical comments on the manuscript.
Author Contributions
Kurt-Wolfram Sühs, Ricarda Diem, and Katharina Hein conceived and designed the study; Kurt-Wolfram Sühs, Ricarda Diem, Katharina Hein, and Christoph Heesen conducted the study; Kurt-Wolfram Sühs, Panagiotis Papanagiotou, Kerstin Scholz, and Ricarda Diem analyzed the data; Kurt-Wolfram Sühs, Ricarda Diem, and Refik Pul wrote the paper.
Conflicts of Interest
The authors declare no conflict of interest.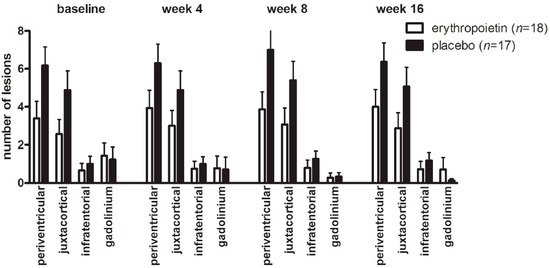 Figure 1. Cranial MRI lesion load. Mean T2 lesion load aligned by lesion site and gandolinium enhancing lesions at different time points. Empty bars = erythropoietin; black bars= placebo; error bars = SEM.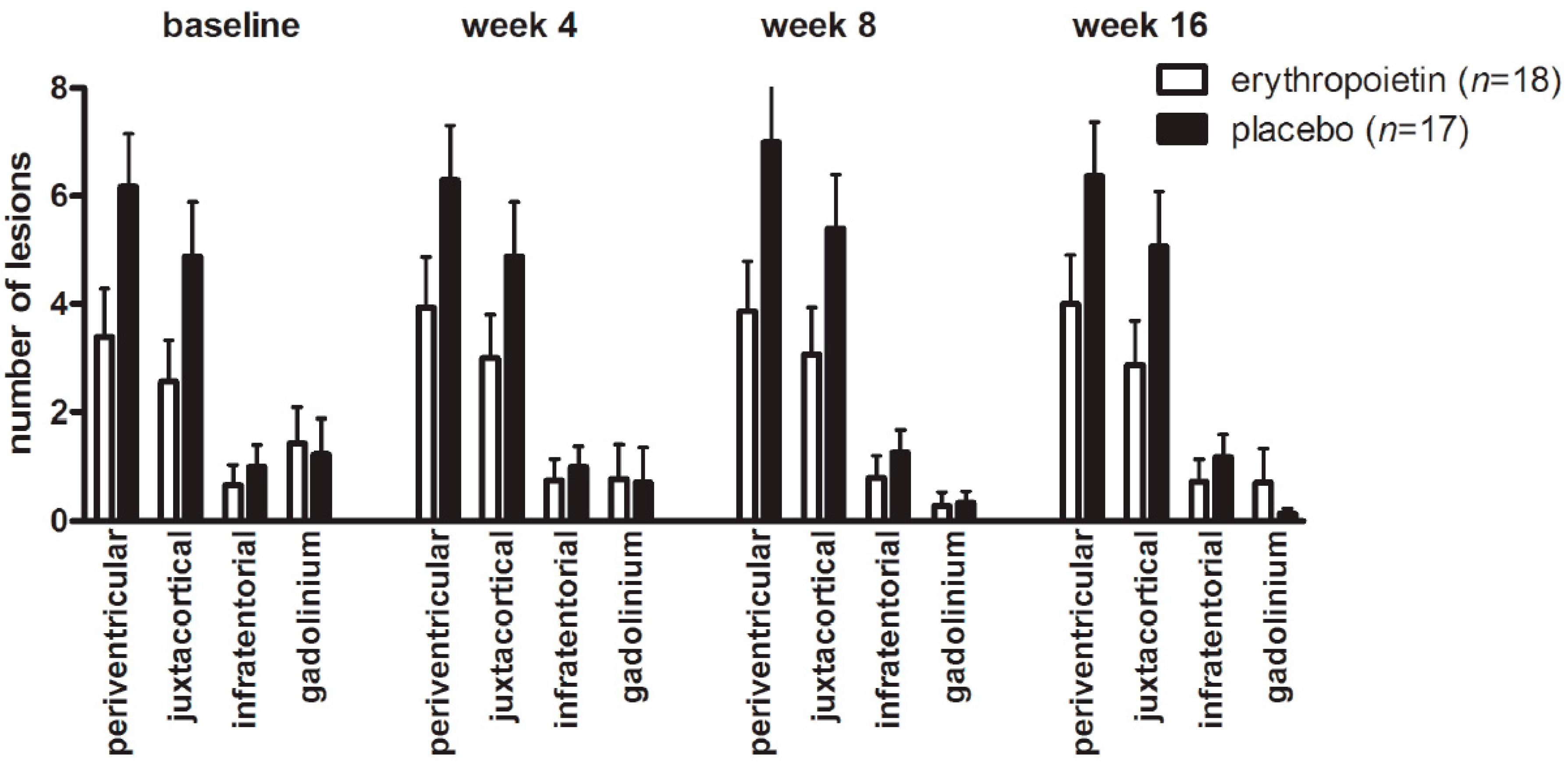 © 2016 by the authors; licensee MDPI, Basel, Switzerland. This article is an open access article distributed under the terms and conditions of the Creative Commons Attribution (CC-BY) license (http://creativecommons.org/licenses/by/4.0/).