Genomic Resources of Three
Pulsatilla

Species Reveal Evolutionary Hotspots, Species-Specific Sites and Variable Plastid Structure in the Family Ranunculaceae

1

Department of Botany and Nature Protection, University of Warmia and Mazury, 10-728 Olsztyn, Poland

2

Department of Biology and Ecology, University of Ostrava, 71000 Ostrava, Czech Republic

*

Author to whom correspondence should be addressed.

Academic Editor: Jianhua Zhu

Received: 9 June 2015 / Revised: 24 August 2015 / Accepted: 25 August 2015 / Published: 15 September 2015
Abstract
Background: The European continent is presently colonized by nine species of the genus
Pulsatilla
, five of which are encountered only in mountainous regions of southwest and south-central Europe. The remaining four species inhabit lowlands in the north-central and eastern parts of the continent. Most plants of the genus
Pulsatilla
are rare and endangered, which is why most research efforts focused on their biology, ecology and hybridization. The objective of this study was to develop genomic resources, including complete plastid genomes and nuclear rRNA clusters, for three sympatric
Pulsatilla
species that are most commonly found in Central Europe. The results will supply valuable information about genetic variation, which can be used in the process of designing primers for population studies and conservation genetics research. The complete plastid genomes together with the nuclear rRNA cluster can serve as a useful tool in hybridization studies. Methodology/principal findings: Six complete plastid genomes and nuclear rRNA clusters were sequenced from three species of
Pulsatilla
using the Illumina sequencing technology. Four junctions between single copy regions and inverted repeats and junctions between the identified locally-collinear blocks (LCB) were confirmed by Sanger sequencing.
Pulsatilla
genomes of 120 unique genes had a total length of approximately 161–162 kb, and 21 were duplicated in the inverted repeats (IR) region. Comparative plastid genomes of newly-sequenced
Pulsatilla
and the previously-identified plastomes of
Aconitum
and
Ranunculus
species belonging to the family Ranunculaceae revealed several variations in the structure of the genome, but the gene content remained constant. The nuclear rRNA cluster (18S-ITS1-5.8S-ITS2-26S) of studied
Pulsatilla
species is 5795 bp long. Among five analyzed regions of the rRNA cluster, only Internal Transcribed Spacer 2 (ITS2) enabled the molecular delimitation of closely-related
Pulsatilla patens
and
Pulsatilla
vernalis
. Conclusions/significance: The determination of complete plastid genome and nuclear rRNA cluster sequences in three species of the genus
Pulsatilla
is an important contribution to our knowledge of the evolution and phylogeography of those endangered taxa. The resulting data can be used to identify regions that are particularly useful for barcoding, phylogenetic and phylogeographic studies. The investigated taxa can be identified at each stage of development based on their species-specific SNPs. The nuclear and plastid genomic resources enable advanced studies on hybridization, including identification of parent species, including their roles in that process. The identified nonsynonymous mutations could play an important role in adaptations to changing environments. The results of the study will also provide valuable information about the evolution of the plastome structure in the family Ranunculaceae.
View Full-Text
►

▼

Figures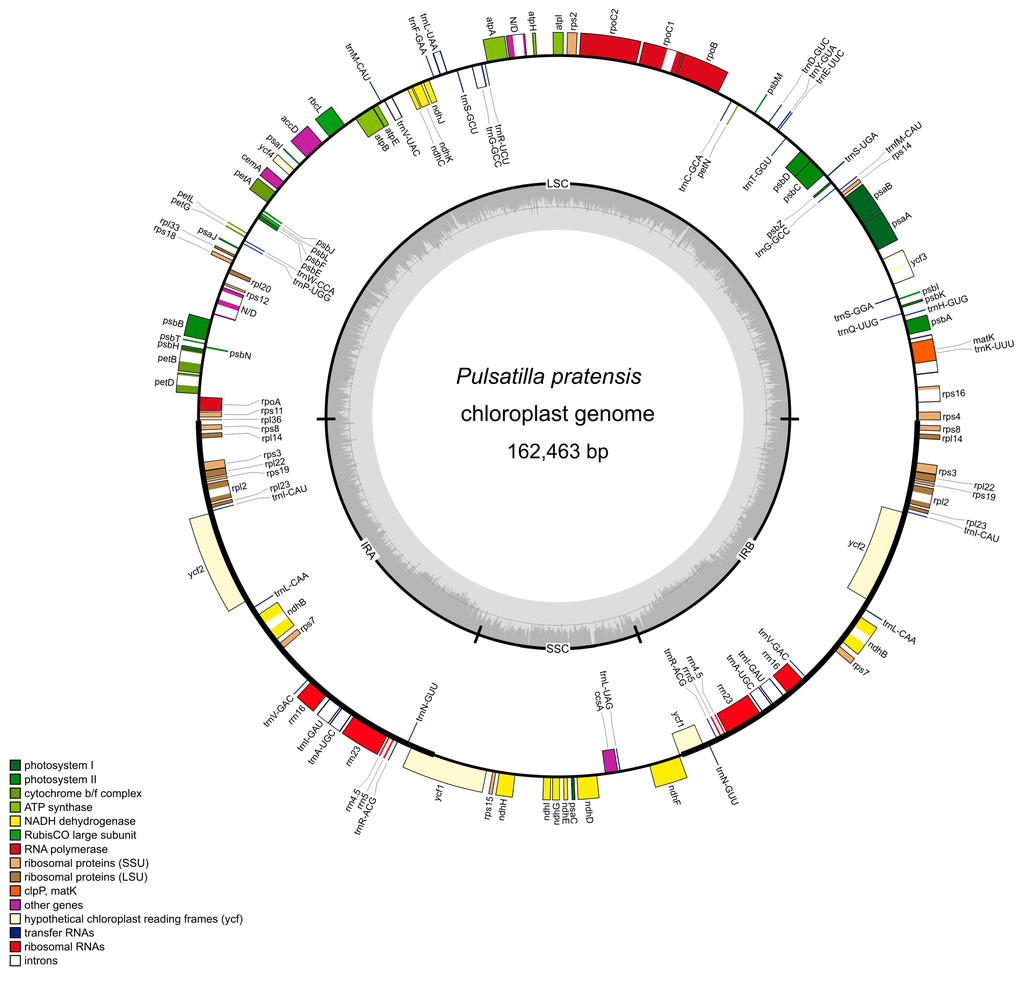 Figure 1
This is an open access article distributed under the
Creative Commons Attribution License
which permits unrestricted use, distribution, and reproduction in any medium, provided the original work is properly cited (CC BY 4.0).

Share & Cite This Article
MDPI and ACS Style
Szczecińska, M.; Sawicki, J. Genomic Resources of Three Pulsatilla Species Reveal Evolutionary Hotspots, Species-Specific Sites and Variable Plastid Structure in the Family Ranunculaceae. Int. J. Mol. Sci. 2015, 16, 22258-22279.
Related Articles
Comments
[Return to top]