AGEs-Induced IL-6 Synthesis Precedes RAGE Up-Regulation in HEK 293 Cells: An Alternative Inflammatory Mechanism?
1
Department of Preclinical Sciences, Faculty of Veterinary Medicine, University of Agronomical Sciences and Veterinary Medicine Bucharest, 105 Splaiul Independentei, district 5, Bucharest 050097, Romania
2
Department of Biochemistry and Molecular Biology, Faculty of Biology, University of Bucharest, 91–95 Splaiul Independentei, district 5, Bucharest 050095, Romania
*
Author to whom correspondence should be addressed.
Academic Editor: Kamal D. Moudgil
Received: 27 April 2015 / Revised: 12 June 2015 / Accepted: 6 August 2015 / Published: 25 August 2015
Abstract
Advanced glycation end products (AGEs) can activate the inflammatory pathways involved in diabetic nephropathy. Understanding these molecular pathways could contribute to therapeutic strategies for diabetes complications. We evaluated the modulation of inflammatory and oxidative markers, as well as the protective mechanisms employed by human embryonic kidney cells (HEK 293) upon exposure to 200 μg/mL bovine serum albumine (BSA) or AGEs–BSA for 12, 24 and 48 h. The mRNA and protein expression levels of AGEs receptor (RAGE) and heat shock proteins (HSPs) 27, 60 and 70, the activity of antioxidant enzymes and the expression levels of eight cytokines were analysed. Cell damage via oxidative mechanisms was evaluated by glutathione and malondialdehyde levels. The data revealed two different time scale responses. First, the up-regulation of interleukin-6 (IL-6), HSP 27 and high catalase activity were detected as early as 12 h after exposure to AGEs–BSA, while the second response, after 24 h, consisted of NF-κB p65, RAGE, HSP 70 and inflammatory cytokine up-regulation, glutathione depletion, malondialdehyde increase and the activation of antioxidant enzymes. IL-6 might be important in the early ignition of inflammatory responses, while the cellular redox imbalance, RAGE activation and NF-κB p65 increased expression further enhance inflammatory signals in HEK 293 cells.
View Full-Text
►

▼

Figures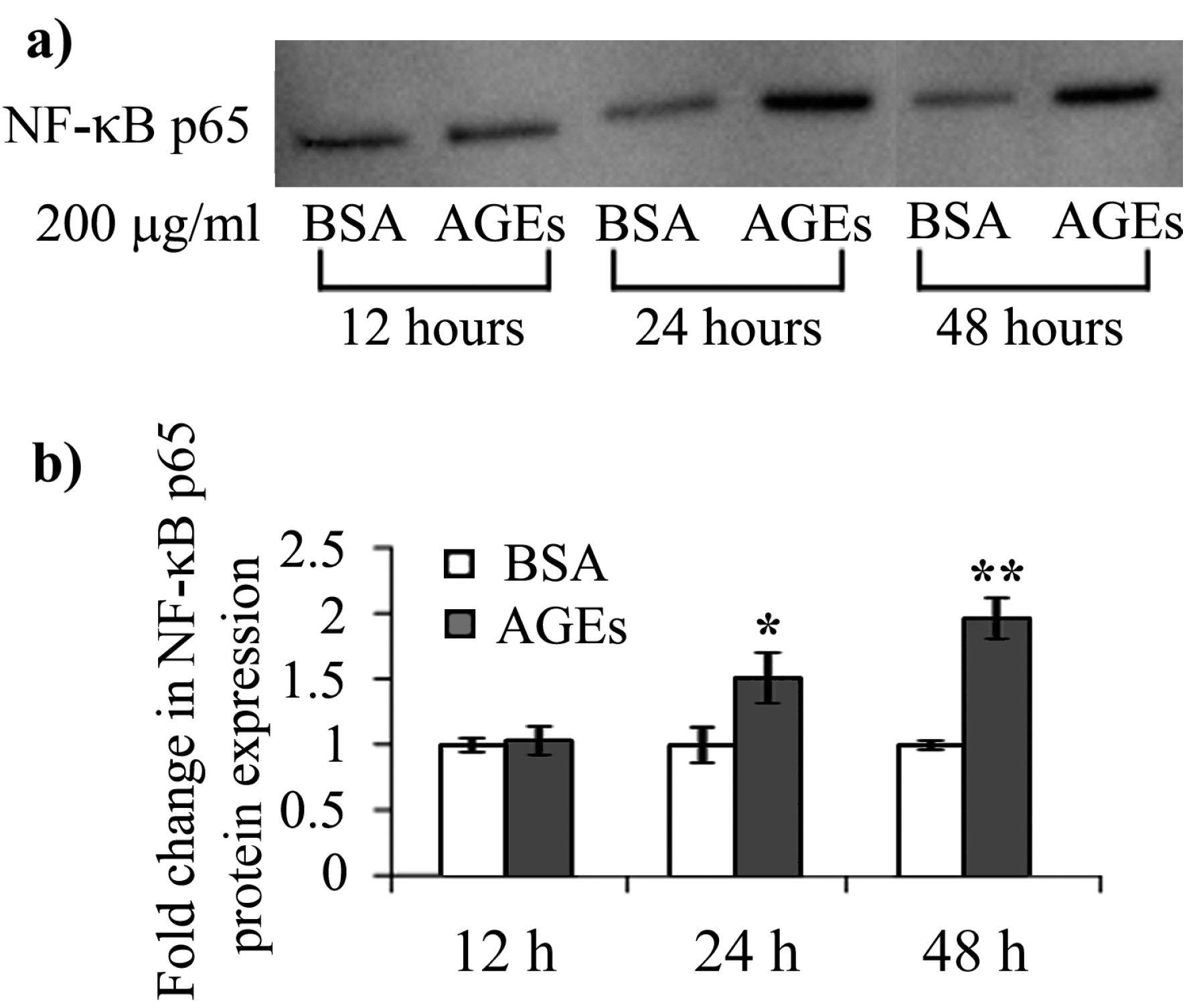 Figure 1
This is an open access article distributed under the
Creative Commons Attribution License
which permits unrestricted use, distribution, and reproduction in any medium, provided the original work is properly cited (CC BY 4.0).

Share & Cite This Article
MDPI and ACS Style
Serban, A.I.; Stanca, L.; Geicu, O.I.; Dinischiotu, A. AGEs-Induced IL-6 Synthesis Precedes RAGE Up-Regulation in HEK 293 Cells: An Alternative Inflammatory Mechanism? Int. J. Mol. Sci. 2015, 16, 20100-20117.
Related Articles
Comments
[Return to top]