FBXW7 Acts as an Independent Prognostic Marker and Inhibits Tumor Growth in Human Osteosarcoma
1
Department of Orthopaedic Surgery, Renji Hospital, School of Medicine, Shanghai Jiaotong University, Shanghai 200127, China
2
Department of Anesthesiology, Renji Hospital, School of Medicine, Shanghai Jiaotong University, Shanghai 200127, China
3
Department of Orthopaedic Surgery, the First Affiliated Hospital of Anhui Medical University, Anhui 230022, China
4
Department of Orthopaedic Surgery, the Second Affiliated Hospital of Nanjing Medical University, Jiangsu 210029, China
5
Department of Orthopaedic Surgery, Hangzhou First People's Hospital, Zhejiang 310006, China
*
Author to whom correspondence should be addressed.
Academic Editor: William Chi-shing Cho
Received: 22 November 2014 / Revised: 18 December 2014 / Accepted: 15 January 2015 / Published: 22 January 2015
Abstract
F-box and WD repeat domain-containing 7 (FBXW7) is a potent tumor suppressor in human cancers including breast cancer, colorectal cancer, gastric cancer and hepatocellular carcinoma. In this study, we found that the expressions of FBXW7 protein and mRNA levels in osteosarcoma (OS) cases were significantly lower than those in normal bone tissues. Clinical analysis indicated that FBXW7 was expressed at lower levels in OS patients with advanced clinical stage, high T classification and poor histological differentiation. Furthermore, we demonstrated that high expression of FBXW7 was correlated with a better 5-year survival of OS patients. Multivariate Cox regression analysis indicated that FBXW7 was an independent prognostic marker in OS. Our
in vitro
studies showed that FBXW7 overexpression inhibited cell cycle transition and cell proliferation, and promoted apoptosis in both U2OS and MG-63 cells. In a nude mouse xenograft model, FBXW7 overexpression slowed down tumor growth by inducing apoptosis and growth arrest. Mechanistically, FBXW7 inversely regulated oncoprotein c-Myc and cyclin E levels in both U2OS and MG-63 cells. Together these findings suggest that FBXW7 may serve as a prognostic biomarker and inhibit tumor progression by inducing apoptosis and growth arrest in OS.
View Full-Text
►

▼

Figures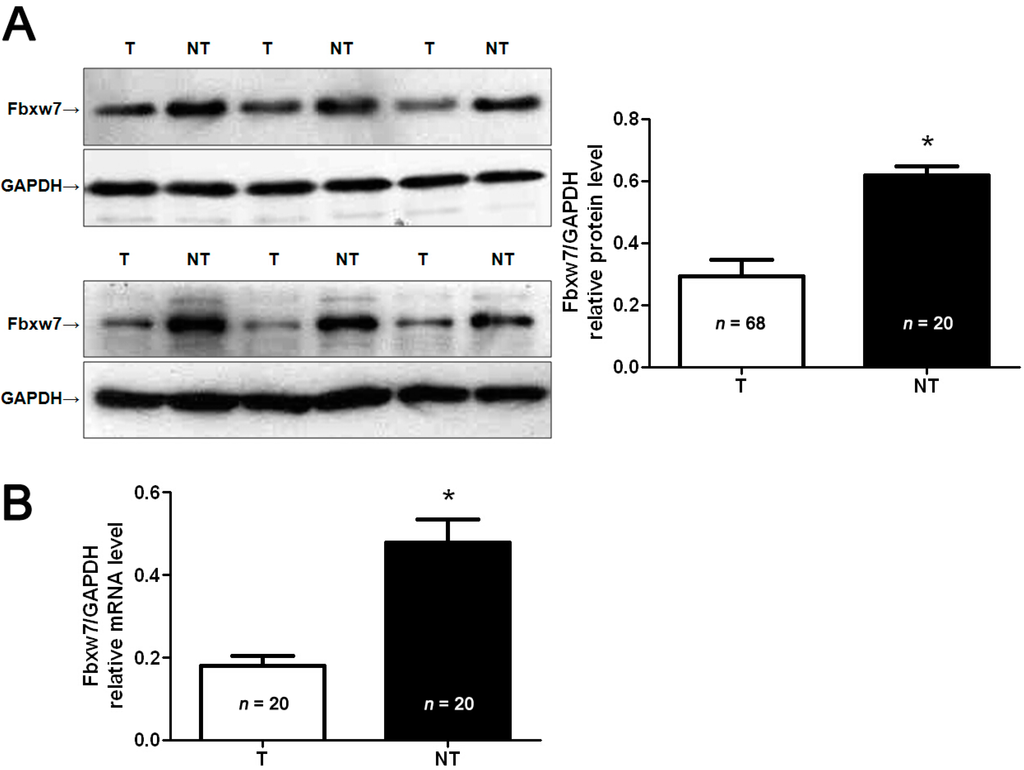 Figure 1
This is an open access article distributed under the
Creative Commons Attribution License
which permits unrestricted use, distribution, and reproduction in any medium, provided the original work is properly cited (CC BY 4.0).

Share & Cite This Article
MDPI and ACS Style
Li, Z.; Xiao, J.; Hu, K.; Wang, G.; Li, M.; Zhang, J.; Cheng, G. FBXW7 Acts as an Independent Prognostic Marker and Inhibits Tumor Growth in Human Osteosarcoma. Int. J. Mol. Sci. 2015, 16, 2294-2306.
Related Articles
Comments
[Return to top]