The Estrogen Receptor-β Expression in De Quervain's Disease
1
Department of Orthopedics, Tainan Hospital, Ministry of Health and Welfare, Tainan 70043, Taiwan
2
Department of Orthopedics, Chi-Mei Medical Center, Tainan 71004, Taiwan
3
Department of Orthopedics, National Cheng Kung University College of Medicine, 1 Dashuei Road, Tainan 70101, Taiwan
4
Department of Orthopedics, Kuo's General Hospital, Tainan 70054, Taiwan
5
Department of Nursing, Chung Hwa University of Medical Technology, 89 Wenhua 1st Street, Rende District, Tainan 71703, Taiwan
*
Authors to whom correspondence should be addressed.
Academic Editor: Kurt A. Jellinger
Received: 3 September 2015 / Revised: 22 October 2015 / Accepted: 29 October 2015 / Published: 4 November 2015
Abstract
Stenosing tenosynovitis of the first dorsal compartment of the wrist (a.k.a. de Quervain's disease) is common but how estrogen is involved is still unknown. We previously reported that inflammation was involved in the pathogenesis of this ailment. In the present study, we extended our investigation of estrogen receptor (ER)-β expression to determine whether estrogen is involved in the pathogenesis of de Quervain's. Intraoperative retinaculum samples were collected from 16 patients with the ailment. Specimens were histologically graded by collagen structure and immunohistochemically evaluated by quantifying the expression of ER-β, interleukin (IL)-1β and IL-6 (inflammatory cytokines), cyclooxygenase (COX)-2 (an inflammatory enzyme), and vascular endothelial growth factor (VEGF), and Von Willebrand's factor (vWF). De Quervain's occurs primarily in women. The female:male ratio in our study was 7:1. We found that ER-β expression in the retinaculum was positively correlated with disease grade and patient age. Additionally, disease severity was associated with inflammatory factors—IL-1β and IL-6, COX-2, and VEGF and vWF in tenosynovial tissue. The greater the levels of ER-β expression, tissue inflammation, and angiogenesis are, the more severe de Quervain's disease is. ER-β might be a useful target for novel de Quervain's disease therapy.
View Full-Text
►

▼

Figures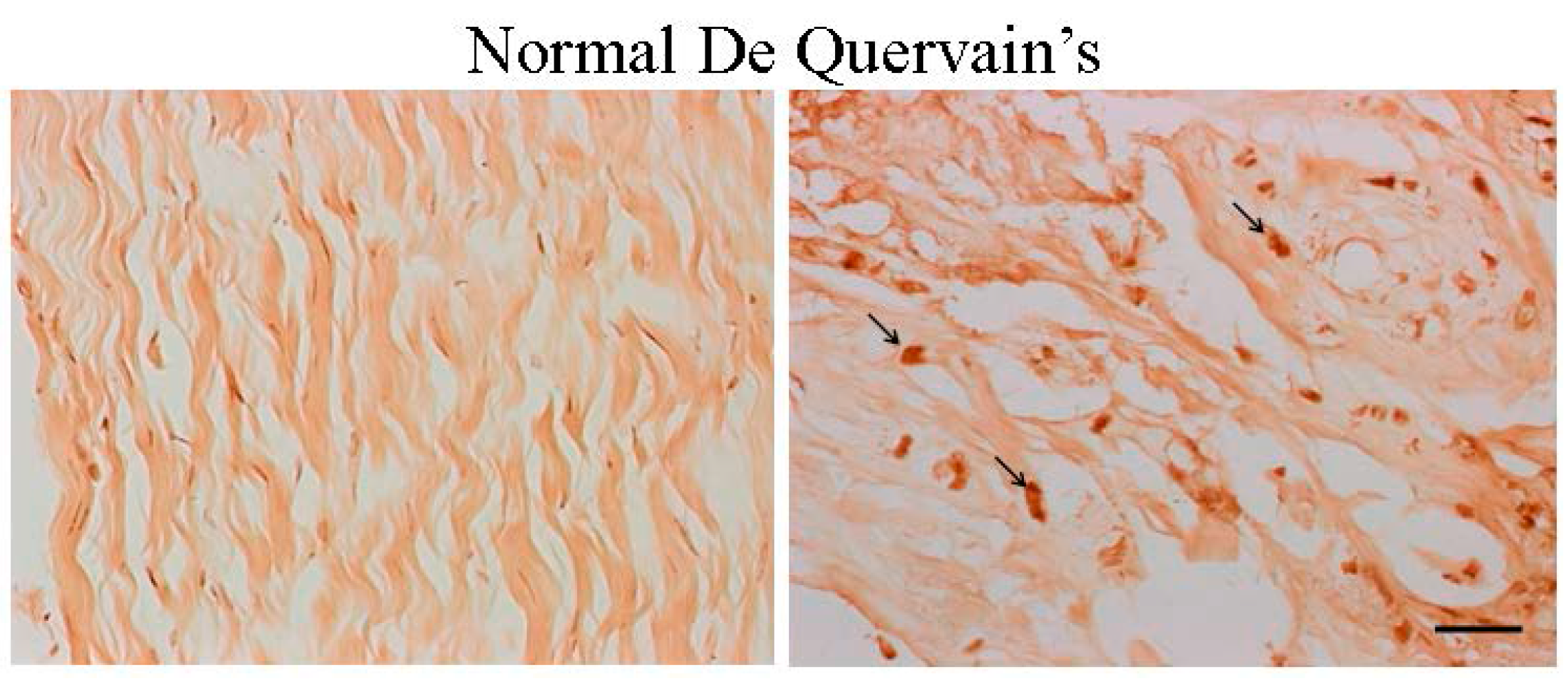 Figure 1
This is an open access article distributed under the
Creative Commons Attribution License
which permits unrestricted use, distribution, and reproduction in any medium, provided the original work is properly cited (CC BY 4.0).

Share & Cite This Article
MDPI and ACS Style
Shen, P.-C.; Wang, P.-H.; Wu, P.-T.; Wu, K.-C.; Hsieh, J.-L.; Jou, I.-M. The Estrogen Receptor-β Expression in De Quervain's Disease. Int. J. Mol. Sci. 2015, 16, 26452-26462.
Related Articles
Comments
[Return to top]