Construction of the High-Density Genetic Linkage Map and Chromosome Map of Large Yellow Croaker (
Larimichthys crocea

)

1

Key Laboratory of Marine Biogenetic Resources, Third Institute of Oceanography, State Oceanic Administration, Xiamen 361005, China

2

Fujian Collaborative Innovation Center for Exploitation and Utilization of Marine Biological Resources, Key Laboratory of Marine Genetic Resources of Fujian Province, Xiamen 361005, China

3

Shenzhen Key Lab of Marine Genomics, Guangdong Provincial Key Lab of Molecular Breeding in Marine Economic Animals, BGI, Shenzhen 518083, China

*

Authors to whom correspondence should be addressed.

†

These authors contributed equally to this work.

Academic Editors: Jun Li and Li Lin

Received: 23 September 2015 / Revised: 24 October 2015 / Accepted: 26 October 2015 / Published: 3 November 2015
Abstract
High-density genetic maps are essential for genome assembly, comparative genomic analysis and fine mapping of complex traits. In this study, 31,191 single nucleotide polymorphisms (SNPs) evenly distributed across the large yellow croaker (
Larimichthys crocea
) genome were identified using restriction-site associated DNA sequencing (RAD-seq). Among them, 10,150 high-confidence SNPs were assigned to 24 consensus linkage groups (LGs). The total length of the genetic linkage map was 5451.3 cM with an average distance of 0.54 cM between loci. This represents the densest genetic map currently reported for large yellow croaker. Using 2889 SNPs to target specific scaffolds, we assigned 533 scaffolds, comprising 421.44 Mb (62.04%) of the large yellow croaker assembled sequence, to the 24 linkage groups. The mapped assembly scaffolds in large yellow croaker were used for genome synteny analyses against the stickleback (
Gasterosteus aculeatus
) and medaka (
Oryzias latipes
). Greater synteny was observed between large yellow croaker and stickleback. This supports the hypothesis that large yellow croaker is more closely related to stickleback than to medaka. Moreover, 1274 immunity-related genes and 195 hypoxia-related genes were mapped to the 24 chromosomes of large yellow croaker. The integration of the high-resolution genetic map and the assembled sequence provides a valuable resource for fine mapping and positional cloning of quantitative trait loci associated with economically important traits in large yellow croaker.
View Full-Text
►

▼

Figures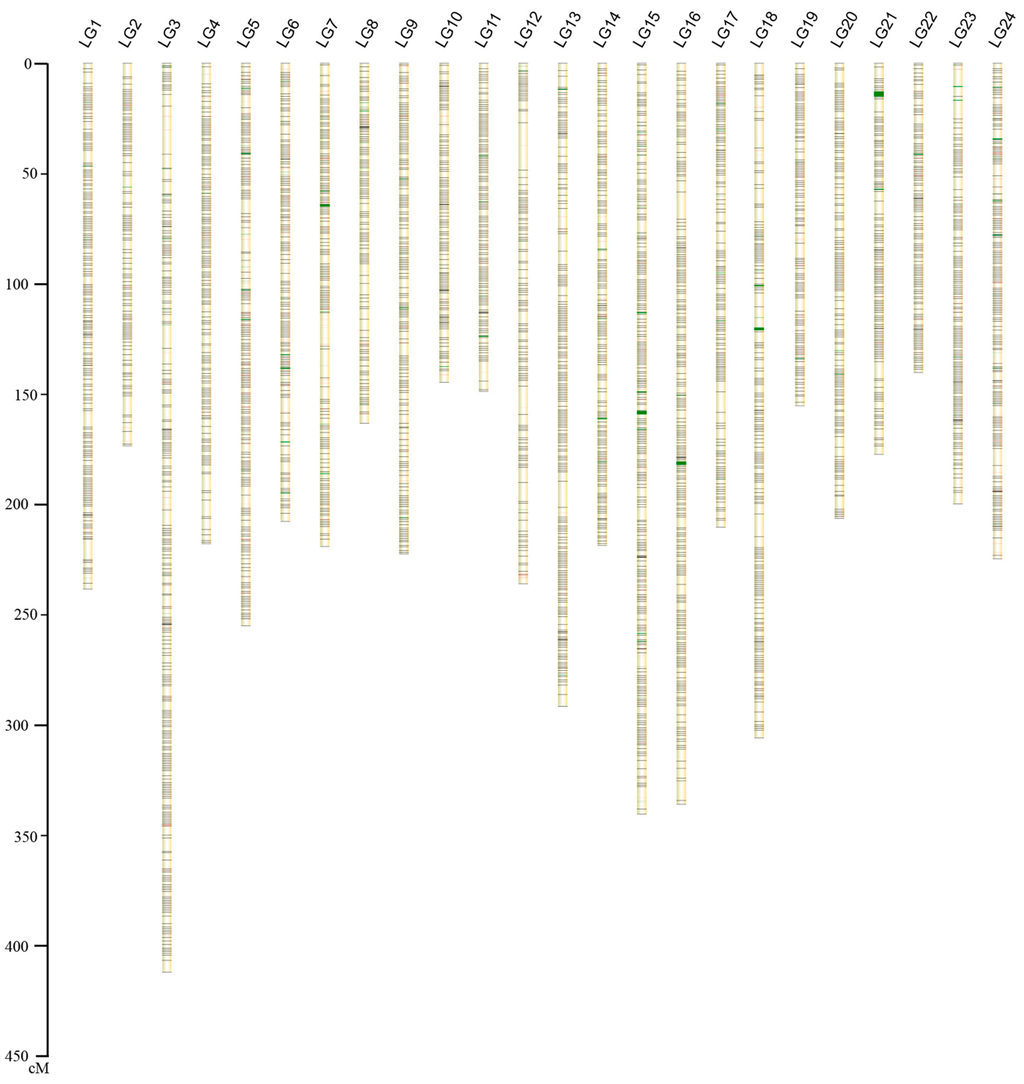 Figure 1
This is an open access article distributed under the
Creative Commons Attribution License
which permits unrestricted use, distribution, and reproduction in any medium, provided the original work is properly cited (CC BY 4.0).

Share & Cite This Article
MDPI and ACS Style
Ao, J.; Li, J.; You, X.; Mu, Y.; Ding, Y.; Mao, K.; Bian, C.; Mu, P.; Shi, Q.; Chen, X. Construction of the High-Density Genetic Linkage Map and Chromosome Map of Large Yellow Croaker (Larimichthys crocea). Int. J. Mol. Sci. 2015, 16, 26237-26248.
Related Articles
Comments
[Return to top]