Cyclodextrin-Complexed
Ocimum basilicum

Leaves Essential Oil Increases Fos Protein Expression in the Central Nervous System and Produce an Antihyperalgesic Effect in Animal Models for Fibromyalgia

1

Laboratory of Pre-Clinical Pharmacology (LAPEC), Department of Physiology, Federal University of Sergipe, Av. Tancredo Neves, S/N, Rosa Elza, CEP: 49.000-100, São Cristóvão, Sergipe 49.100-000, Brazil

2

Department of Pharmacy, Federal University of Sergipe, São Cristóvão, Sergipe 49.100-000, Brazil

3

Department of Physical Therapy, Federal University of Sergipe, Aracaju, Sergipe 49.060-108, Brazil

4

Department of Morphology, Federal University of Sergipe, São Cristóvão, Sergipe 49.100-000, Brazil

5

Department of Chemistry, Federal University of Sergipe, São Cristóvão, Sergipe 49.100-000, Brazil

6

Department of Agronomic Engineering, Federal University of Sergipe, São Cristóvão, Sergipe 49.100-000, Brazil

7

Medicinal Plants Research Center, Federal University of Piauí, Teresina, Piauí 64.049-550, Brazil

8

Institute of Technology and Research, University Tiradentes, Aracaju, Sergipe 49.032-490, Brazil

9

Department of Pharmacy, Federal University of San Francisco Valley, Petrolina, Pernambuco 56.304-917, Brazil

*

Author to whom correspondence should be addressed.

†

These authors contributed equally to this work.

Academic Editor: José Alberto Pereira

Received: 14 September 2014 / Accepted: 8 December 2014 / Published: 29 December 2014
Abstract
O. basilicum
leaves produce essential oils (LEO) rich in monoterpenes. The short half-life and water insolubility are limitations for LEO medical uses. β-Cyclodextrin (β-CD) has been employed to improve the pharmacological properties of LEO. We assessed the antihyperalgesic profile of LEO, isolated or complexed in β-CD (LEO/β-CD), on an animal model for fibromyalgia. Behavioral tests: mice were treated every day with either LEO/β-CD (25, 50 or 100 mg/kg, p.o.), LEO (25 mg/kg, p.o.), tramadol (TRM 4 mg/kg, i.p.) or vehicle (saline), and 60 min after treatment behavioral parameters were assessed. Therefore, mice were evaluated for mechanical hyperalgesia (von Frey), motor coordination (Rota-rod) and muscle strength (Grip Strength Metter) in a mice fibromyalgia model. After 27 days, we evaluated the central nervous system (CNS) pathways involved in the effect induced by experimental drugs through immunofluorescence protocol to Fos protein. The differential scanning analysis (DSC), thermogravimetry/derivate thermogravimetry (TG/DTG) and infrared absorption spectroscopy (FTIR) curves indicated that the products prepared were able to incorporate the LEO efficiently. Oral treatment with LEO or LEO-βCD, at all doses tested, produced a significant reduction of mechanical hyperalgesia and we were able to significantly increase Fos protein expression. Together, our results provide evidence that LEO, isolated or complexed with β-CD, produces analgesic effects on chronic non-inflammatory pain as fibromyalgia.
View Full-Text
►

▼

Figures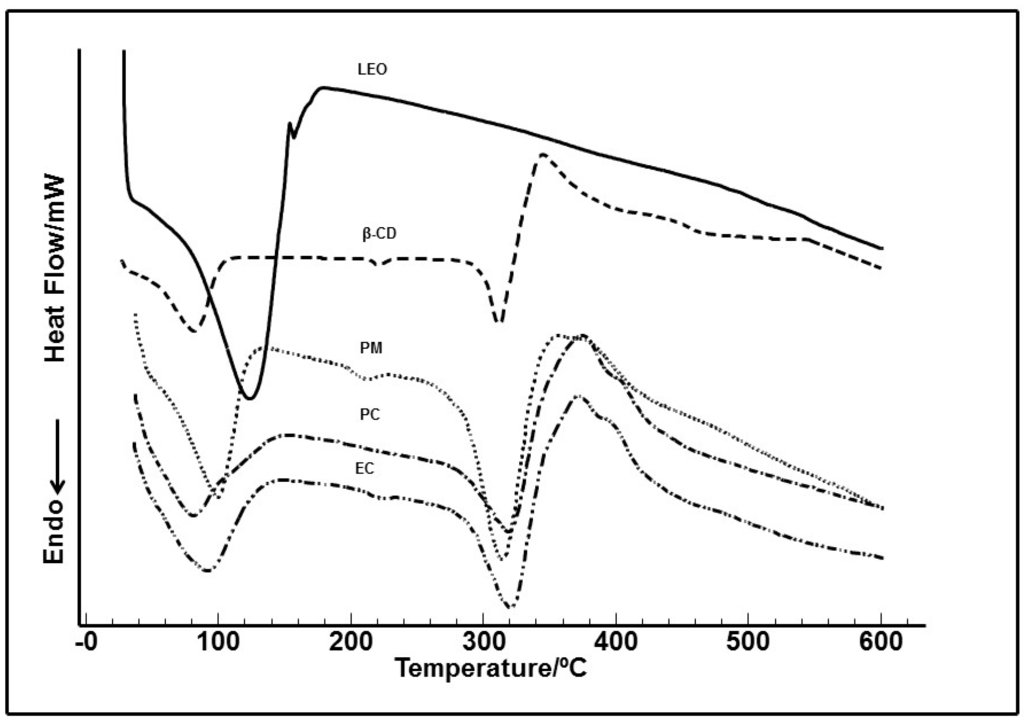 Figure 1
This is an open access article distributed under the
Creative Commons Attribution License
which permits unrestricted use, distribution, and reproduction in any medium, provided the original work is properly cited (CC BY 4.0).

Share & Cite This Article
MDPI and ACS Style
Nascimento, S.S.; Araújo, A.A.S.; Brito, R.G.; Serafini, M.R.; Menezes, P.P.; DeSantana, J.M.; Júnior, W.L.; Alves, P.B.; Blank, A.F.; Oliveira, R.C.M.; Oliveira, A.P.; Albuquerque-Júnior, R.L.C.; Almeida, J.R.G.S.; Quintans-Júnior, L.J. Cyclodextrin-Complexed Ocimum basilicum Leaves Essential Oil Increases Fos Protein Expression in the Central Nervous System and Produce an Antihyperalgesic Effect in Animal Models for Fibromyalgia. Int. J. Mol. Sci. 2015, 16, 547-563.
Related Articles
Comments
[Return to top]