Nicotinic Acid Increases Adiponectin Secretion from Differentiated Bovine Preadipocytes through G-Protein Coupled Receptor Signaling
Institute of Animal Science, Physiology & Hygiene Unit, University of Bonn, 53115 Bonn, Germany
†
Present address: Division of Physiology, Reproduction and Shelter Management, Central Institute for Research on Goats, Makhdoom, Farah-281 122 Mathura, India.
‡
Present address: Lohmann Animal Health GmbH, 27472 Cuxhaven, Germany.
§
Present address: Department of Animal Science, Urmia University, 51818-57561 Urmia, Iran.
||
Present address: Leibniz Institute for Farm Animal Biology (FBN), Institute of Nutritional Physiology "Oskar Kellner", Wilhelm-Stahl-Allee 2, 18196 Dummerstorf, Germany.
*
Author to whom correspondence should be addressed.
Received: 15 August 2014 / Revised: 20 October 2014 / Accepted: 6 November 2014 / Published: 18 November 2014
Abstract
The transition period in dairy cows (3 weeks prepartum until 3 weeks postpartum) is associated with substantial mobilization of energy stores, which is often associated with metabolic diseases. Nicotinic acid (NA) is an antilipolytic and lipid-lowering compound used to treat dyslipidaemia in humans, and it also reduces non-esterified fatty acids in cattle. In mice the G-protein coupled receptor 109A (GPR109A) ligand NA positively affects the secretion of adiponectin, an important modulator of glucose and fat metabolism. In cattle, the corresponding data linking NA to adiponectin are missing. Our objective was to examine the effects of NA on adiponectin and AMPK protein abundance and the expression of mRNAs of related genes such as chemerin, an adipokine that enhances adiponectin secretion
in vitro
. Differentiated bovine adipocytes were incubated with pertussis toxin (PTX) to verify the involvement of GPR signaling, and treated with 10 or 15 µM NA for 12 or 24 h. NA increased adiponectin concentrations (
p
≤ 0.001) and the mRNA abundances of GPR109A (
p
≤ 0.05) and chemerin (
p
≤ 0.01). Pre-incubation with PTX reduced the adiponectin response to NA (
p
≤ 0.001). The NA-stimulated secretion of adiponectin and the mRNA expression of chemerin in the bovine adipocytes were suggestive of GPR signaling-dependent improved insulin sensitivity and/or adipocyte metabolism in dairy cows.
View Full-Text
►

▼

Figures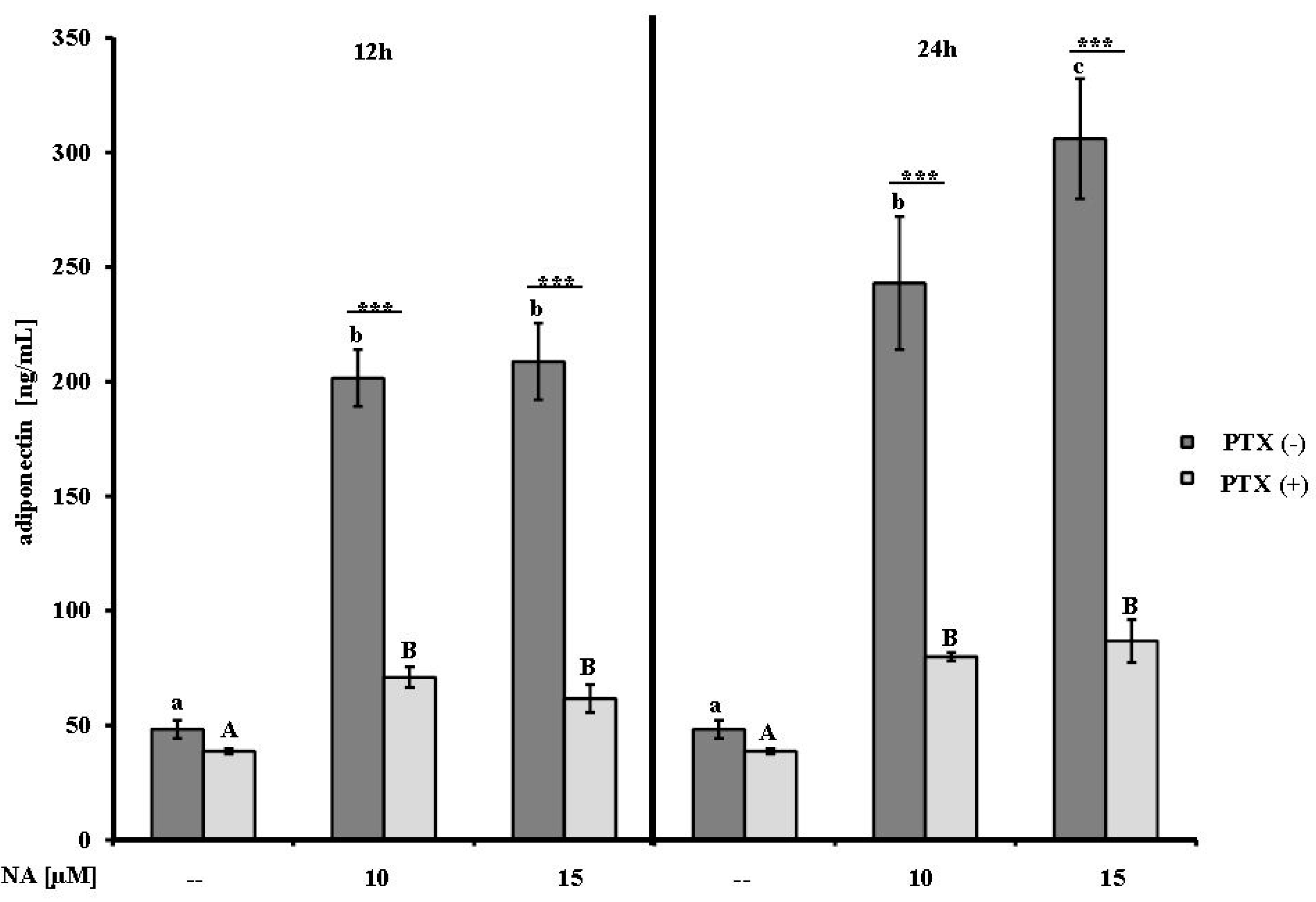 Figure 1
This is an open access article distributed under the
Creative Commons Attribution License
which permits unrestricted use, distribution, and reproduction in any medium, provided the original work is properly cited (CC BY 4.0).

Share & Cite This Article
MDPI and ACS Style
Kopp, C.; Hosseini, A.; Singh, S.P.; Regenhard, P.; Khalilvandi-Behroozyar, H.; Sauerwein, H.; Mielenz, M. Nicotinic Acid Increases Adiponectin Secretion from Differentiated Bovine Preadipocytes through G-Protein Coupled Receptor Signaling. Int. J. Mol. Sci. 2014, 15, 21401-21418.
Related Articles
Comments
[Return to top]