Obligatory Role of Intraluminal O2− in Acute Endothelin-1 and Angiotensin II Signaling to Mediate Endothelial Dysfunction and MAPK Activation in Guinea-Pig Hearts
Department of Clinical Physiology, Postgraduate Medical School, Warsaw 01-813, Poland
*
Author to whom correspondence should be addressed.
Received: 5 August 2014 / Revised: 30 September 2014 / Accepted: 8 October 2014 / Published: 27 October 2014
Abstract
We hypothesized that, due to a cross-talk between cytoplasmic O
2
−
-sources and intraluminally expressed xanthine oxidase (XO), intraluminal O
2
−
is instrumental in mediating intraluminal (endothelial dysfunction) and cytosolic (p38 and ERK1/2 MAPKs phosphorylation) manifestations of vascular oxidative stress induced by endothelin-1 (ET-1) and angiotensin II (AT-II). Isolated guinea-pig hearts were subjected to 10-min agonist perfusion causing a burst of an intraluminal O
2
−
. ET-1 antagonist, tezosentan, attenuated AT-II-mediated O
2
−
, indicating its partial ET-1 mediation. ET-1 and Ang-T (AT-II + tezosentan) triggered intraluminal O
2
−
, endothelial dysfunction, MAPKs and p47phox phosphorylation, and NADPH oxidase (Nox) and XO activation. These effects were: (i) prevented by blocking PKC (chelerythrine), Nox (apocynin), mitochondrial ATP-dependent K
+
channel (5-HD), complex II (TTFA), and XO (allopurinol); (ii) mimicked by the activation of Nox (NADH); and mitochondria (diazoxide, 3-NPA) and (iii) the effects by NADH were prevented by 5-HD, TTFA and chelerythrine, and those by diazoxide and 3-NPA by apocynin and chelerythrine, suggesting that the agonists coactivate Nox and mitochondria, which further amplify their activity via PKC. The effects by ET-1, Ang-T, NADH, diazoxide, and 3-NPA were opposed by blocking intraluminal O
2
−
(SOD) and XO, and were mimicked by XO activation (hypoxanthine). Apocynin, TTFA, chelerythrine, and SOD opposed the effects by hypoxanthine. In conclusion, oxidative stress by agonists involves cellular inside-out and outside-in signaling in which Nox-mitochondria-PKC system and XO mutually maintain their activities via the intraluminal O
2
−
.
View Full-Text
►

▼

Figures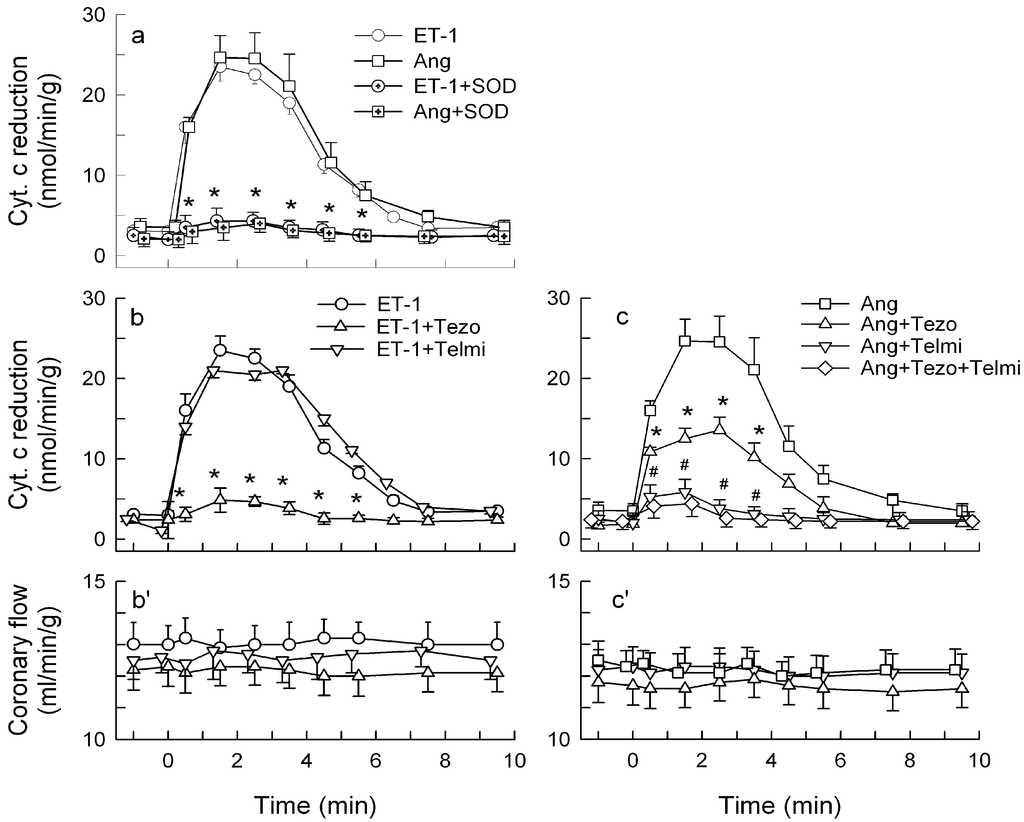 Figure 1
This is an open access article distributed under the
Creative Commons Attribution License
which permits unrestricted use, distribution, and reproduction in any medium, provided the original work is properly cited (CC BY 4.0).

Share & Cite This Article
MDPI and ACS Style
Wojtera, E.; Konior, A.; Fedoryszak-Kuśka, N.; Beręsewicz, A. Obligatory Role of Intraluminal O2− in Acute Endothelin-1 and Angiotensin II Signaling to Mediate Endothelial Dysfunction and MAPK Activation in Guinea-Pig Hearts. Int. J. Mol. Sci. 2014, 15, 19417-19443.
Related Articles
Comments
[Return to top]