Revealing the Anti-Tumor Effect of Artificial miRNA p-27-5p on Human Breast Carcinoma Cell Line T-47D
1
Department of Life Science, Institute of Molecular and Cellular Biology, National Taiwan University, Taipei 106, Taiwan
2
Institute of Biomedical Informatics, Center for Systems and Synthetic Biology, National Yang-Ming University, Taipei 112, Taiwan
3
Institute of Information Science, Research Center for Information Technology Innovation, Academia Sinica, Taipei 115, Taiwan
4
Biodiversity Research Center and Genomics Research Center, Academia Sinica, Taipei 115, Taiwan
5
Department of Ecology and Evolution, University of Chicago, Chicago, IL 60637, USA
*
Authors to whom correspondence should be addressed.
Received: 9 April 2012 / Revised: 9 May 2012 / Accepted: 18 May 2012 / Published: 23 May 2012
Abstract
microRNAs (miRNAs) cause mRNA degradation or translation suppression of their target genes. Previous studies have found direct involvement of miRNAs in cancer initiation and progression. Artificial miRNAs, designed to target single or multiple genes of interest, provide a new therapeutic strategy for cancer. This study investigates the anti-tumor effect of a novel artificial miRNA, miR P-27-5p, on breast cancer.
In this study, we reveal that miR P-27-5p downregulates the differential gene expressions associated with the protein modification process and regulation of cell cycle in T-47D cells. Introduction of this novel artificial miRNA, miR P-27-5p, into breast cell lines inhibits cell proliferation and induces the first "gap" phase (G1) cell cycle arrest in cancer cell lines but does not affect normal breast cells. We further show that miR P-27-5p targets the 3′-untranslated mRNA region (3′-UTR) of cyclin-dependent kinase 4 (CDK4) and reduces both the mRNA and protein level of CDK4, which in turn, interferes with phosphorylation of the retinoblastoma protein (RB1). Overall, our data suggest that the effects of miR p-27-5p on cell proliferation and G1 cell cycle arrest are through the downregulation of CDK4 and the suppression of RB1 phosphorylation. This study opens avenues for future therapies targeting breast cancer.
View Full-Text
►

▼

Figures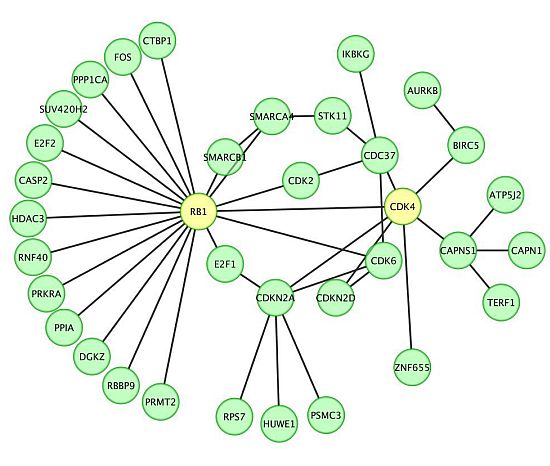 Graphical abstract

Share & Cite This Article
MDPI and ACS Style
Tseng, C.-W.; Huang, H.-C.; Shih, A.-C.; Chang, Y.-Y.; Hsu, C.-C.; Chang, J.-Y.; Li, W.-H.; Juan, H.-F. Revealing the Anti-Tumor Effect of Artificial miRNA p-27-5p on Human Breast Carcinoma Cell Line T-47D. Int. J. Mol. Sci. 2012, 13, 6352-6369.
Related Articles
Comments
[Return to top]