Path Integrals for Electronic Densities, Reactivity Indices, and Localization Functions in Quantum Systems
Laboratory of Computational and Structural Physical Chemistry, Chemistry Department, West University of Timişoara, Pestalozzi Street No.16, Timişoara, RO-300115, Romania
Received: 3 September 2009 / Revised: 23 October 2009 / Accepted: 2 November 2009 / Published: 10 November 2009
Abstract
The density matrix theory, the ancestor of density functional theory, provides the immediate framework for Path Integral (PI) development, allowing the canonical density be extended for the many-electronic systems through the density functional closure relationship. Yet, the use of path integral formalism for electronic density prescription presents several advantages: assures the inner quantum mechanical description of the system by parameterized paths; averages the quantum fluctuations; behaves as the propagator for time-space evolution of quantum information; resembles Schrödinger equation; allows quantum statistical description of the system through partition function computing. In this framework, four levels of path integral formalism were presented: the Feynman quantum mechanical, the semiclassical, the Feynman-Kleinert effective classical, and the Fokker-Planck non-equilibrium ones. In each case the density matrix or/and the canonical density were rigorously defined and presented. The practical specializations for quantum free and harmonic motions, for statistical high and low temperature limits, the smearing justification for the Bohr's quantum stability postulate with the paradigmatic Hydrogen atomic excursion, along the quantum chemical calculation of semiclassical electronegativity and hardness, of chemical action and Mulliken electronegativity, as well as by the Markovian generalizations of Becke-Edgecombe electronic focalization functions – all advocate for the reliability of assuming PI formalism of quantum mechanics as a versatile one, suited for analytically and/or computationally modeling of a variety of fundamental physical and chemical reactivity concepts characterizing the (density driving) many-electronic systems.
View Full-Text
►

▼

Figures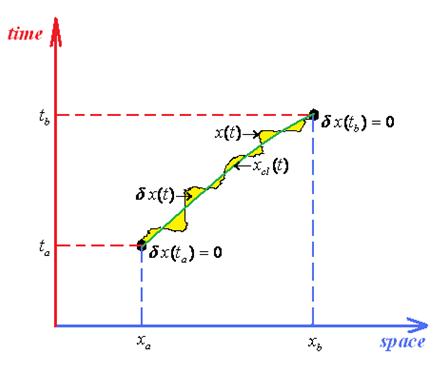 Graphical abstract

Share & Cite This Article
MDPI and ACS Style
Putz, M.V. Path Integrals for Electronic Densities, Reactivity Indices, and Localization Functions in Quantum Systems. Int. J. Mol. Sci. 2009, 10, 4816-4940.
Related Articles
Comments
[Return to top]