Synthesis of Two Potentially Heptadentate (N4O3) Schiff-base Ligands Derived from Condensation of Tris(3-aminopropyl)-amine and Salicylaldehyde or 4-Hydroxysalicylaldehyde. Nickel(II) and Copper(II) Complexes of the Former Ligand
1
Department of Chemistry, Bu-Ali Sina University, Hamadan, Zip Code 65174, Iran
2
Department of Chemistry, UMIST, PO Box 88, Manchester M60 1QD, UK
*
Author to whom correspondence should be addressed.
Received: 9 December 2001 / Revised: 6 February 2002 / Accepted: 11 February 2002 / Published: 28 February 2002
Abstract
Two potentially heptadentate (N4O3) tripodal Schiff-base ligands: tris(3-(salicylideneimino)propyl)amine (H
3
L1) and tris(3-(4'-hydroxysalicylideneimino)-propyl)amine (H
3
L2) have been prepared and characterized by various spectroscopic methods (IR, FAB-MS, NMR). They are derived from the condensation reactions of tris(3-aminopropyl)amine (tpt), with 3 equivalents of either salicylaldehyde or the ringsubstituted salicylaldehyde, 4-hydroxysalicylaldehyde. The nickel(II) and copper(II) complexes of H
3
L1 were obtained from the its reactions Ni(II) and Cu(II) salts in absolute methanol. These complexes were studied by IR and FAB-Mass spectrometry.
View Full-Text
►

▼

Figures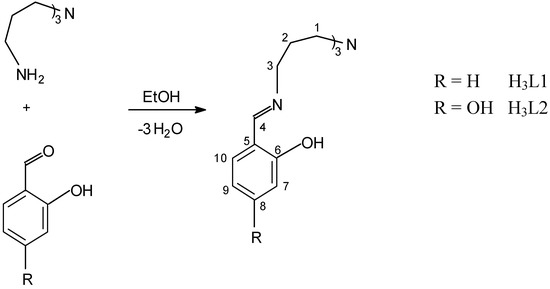 Figure 1

Share & Cite This Article
MDPI and ACS Style
Keypour, H.; Salehzadeh, S.; Parish, R.V. Synthesis of Two Potentially Heptadentate (N4O3) Schiff-base Ligands Derived from Condensation of Tris(3-aminopropyl)-amine and Salicylaldehyde or 4-Hydroxysalicylaldehyde. Nickel(II) and Copper(II) Complexes of the Former Ligand. Molecules 2002, 7, 140-144.
Related Articles
Comments
[Return to top]