One-pot Syntheses of Fused Quinazolines by Reaction of
N

-(2-Cyanophenyl)chloromethanimidoyl Chloride. I. A New Synthesis of 1,3-Oxazolo- and 1,3-Oxazino[2,3-b]quinazolines

Department of Organic Chemistry, Faculty of Science, Masaryk University, CZ-611 37 Brno, Czech Republic

*

Author to whom correspondence should be addressed.

Received: 14 August 2000 / Revised: 13 September 2000 / Accepted: 19 September 2000 / Published: 31 October 2000
Abstract
12
H
-Benzo[1,3]oxazolo[2,3-b]quinazolin-12-imine (5a), 9-chloro-12
H
benzo[1,3]oxazolo[2,3-b]quinazolin-12-imine (5b), 2,3-dihydro-5
H
-[1,3]oxazolo[2,3-b]quinazolin-5-imine (5c), 2,3-dihydro-3,3-dimethyl-5
H
-[1,3]oxazolo[2,3-b]quinazolin-5-imine (5d) and 3,4--dihydro-2
H
,6
H
-[1,3]oxazino[2,3-b]quinazolin-6-imine (5e) were synthesized in a one-pot reaction of
N
-(2-cyanophenyl)chloromethanimidoyl chloride (1) with 2-aminophenols, 2-aminoethanol, and 3-aminopropanol in the presence of a base. The course of the reaction was controlled by the temperature and the amount of base used.
N
-(2-Cyanophenyl)-(2-hydroxyanilino)methanimidoyl chloride (3a), 2-chloro-3-(2-hydroxyphenyl)-3,4-dihydroquinazolin-4-imine (4a) and 6-imino-2
H
, 3
H
, 4
H
, 6
H
, 11
H
-1,3-oxazino[2,3-b]-5-quinazolinium chloride (6) were identified as intermediates of the
one-pot
process.
View Full-Text
►

▼

Figures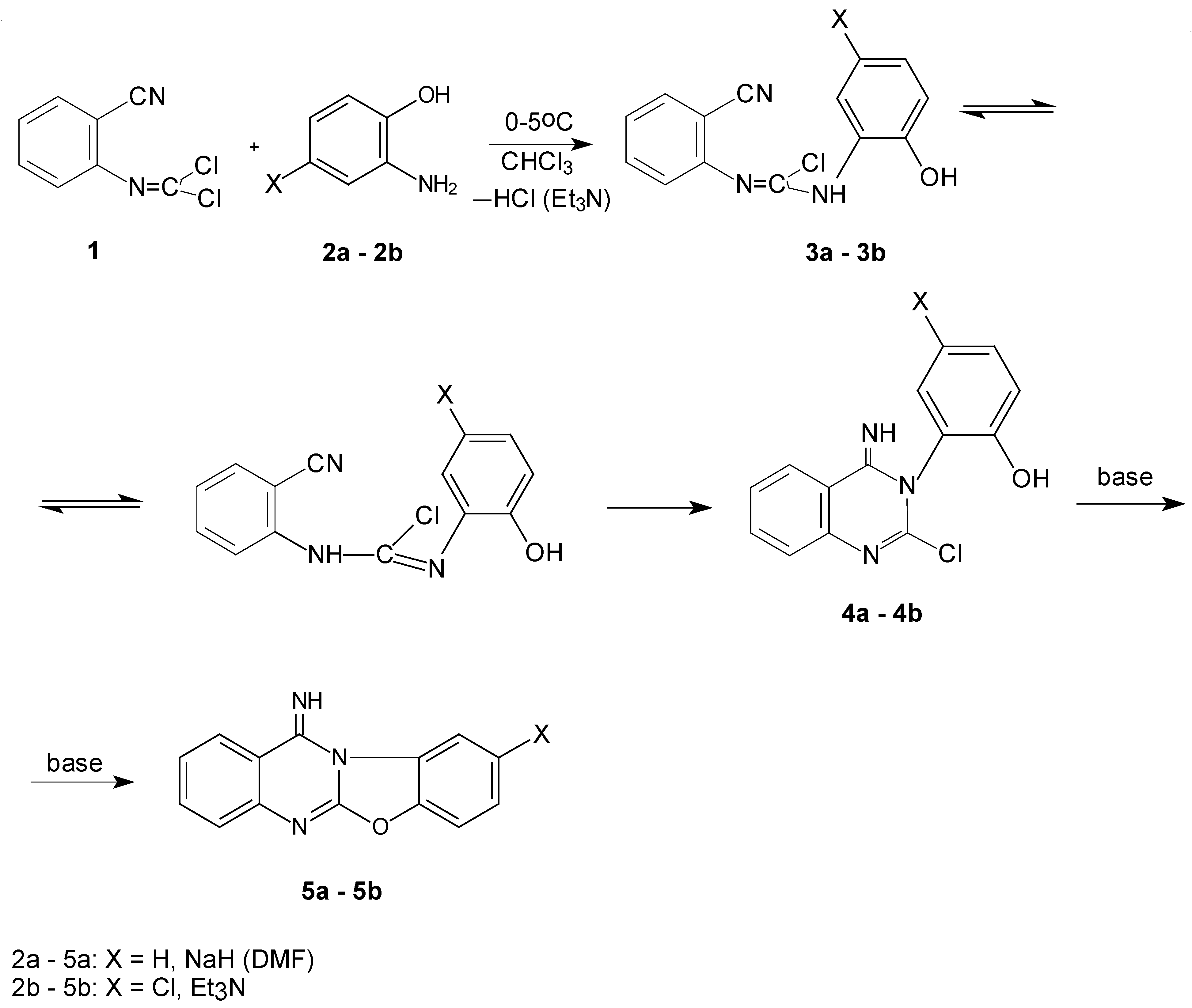 Scheme 1

Share & Cite This Article
MDPI and ACS Style
Divišová, H.; Havlišová, H.; Borek, P.; Pazdera, P. One-pot Syntheses of Fused Quinazolines by Reaction of N-(2-Cyanophenyl)chloromethanimidoyl Chloride. I. A New Synthesis of 1,3-Oxazolo- and 1,3-Oxazino[2,3-b]quinazolines. Molecules 2000, 5, 1166-1174.
Related Articles
Comments
[Return to top]