Lactosylated Albumin Nanoparticles: Potential Drug Nanovehicles with Selective Targeting Toward an In Vitro Model of Hepatocellular Carcinoma
1
Centro de Investigacion en Alimentacion y Desarrollo, A.C. Carretera Gustavo E. Aztiazaran 46, Hermosillo 83304, Sonora, Mexico
2
Departamento de Investigacion en Fisica. Universidad de Sonora, P.O. Box 5-088, Hermosillo, C.P. 83190, Mexico
*
Author to whom correspondence should be addressed.
Received: 25 January 2019 / Revised: 27 March 2019 / Accepted: 4 April 2019 / Published: 9 April 2019
Abstract
Hepatocellular carcinoma (HCC) ranks fifth in occurrence and second in mortality of all cancers. The development of effective therapies for HCC is urgently needed. Anticancer drugs targeted to the liver-specific asialoglycoprotein receptors (ASGPRs) are viewed as a promising potential treatment for HCC. ASGPRs facilitate the recognition and endocytosis of molecules, and possibly vehicles with galactose end groups, by the liver. In this study, bovine serum albumin (BSA) was conjugated with lactose using a thermal treatment. The formation of lactosylated BSA (BSA-Lac) was confirmed by a change of the chemical structure, increased molecular mass, and
Ricinus communis
lectin recognition. Subsequently, the low-crosslinking BSA-Lac nanoparticles (LC BSA-Lac NPs) and high-crosslinking BSA-Lac nanoparticles (HC BSA-Lac NPs) were synthesized. These nanoparticles presented spherical shapes with a size distribution of 560 ± 18.0 nm and 539 ± 9.0 nm, as well as an estimated surface charge of −26 ± 0.15 mV and −24 ± 0.45 mV, respectively. Both BSA-Lac NPs were selectively recognized by ASGPRs as shown by biorecognition, competition, and inhibition assays using an
in vitro
model of HCC. This justifies pursuing the strategy of using BSA-Lac NPs as potential drug nanovehicles with selective direction toward hepatocellular carcinoma.
View Full-Text
►

▼

Figures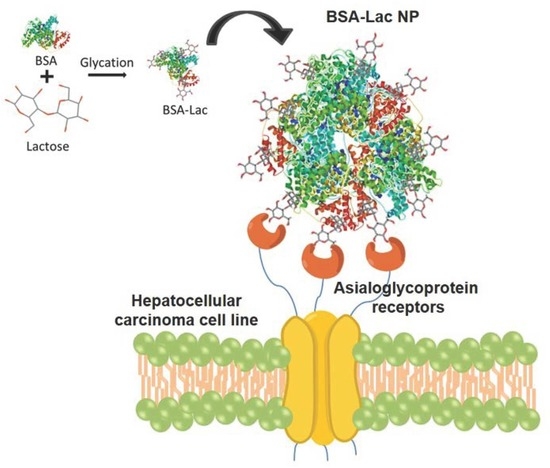 Graphical abstract
This is an open access article distributed under the
Creative Commons Attribution License
which permits unrestricted use, distribution, and reproduction in any medium, provided the original work is properly cited (CC BY 4.0).

Share & Cite This Article
MDPI and ACS Style
Teran-Saavedra, N.G.; Sarabia-Sainz, J. .-I.; Silva-Campa, E.; Burgara-Estrella, A.J.; Guzmán-Partida, A.M.; Ramos-Clamont Montfort, G.; Pedroza-Montero, M.; Vazquez-Moreno, L. Lactosylated Albumin Nanoparticles: Potential Drug Nanovehicles with Selective Targeting Toward an In Vitro Model of Hepatocellular Carcinoma. Molecules 2019, 24, 1382.
Note that from the first issue of 2016, MDPI journals use article numbers instead of page numbers. See further details here.
Related Articles
Comments
[Return to top]