Phytochemical Analysis and Potential Biological Activities of Essential Oil from Rice Leaf
1
Graduate school for International Development and Cooperation, Hiroshima University, Hiroshima 739-8529, Japan
2
Agricultural Genetics Institute, Hanoi City 123000, Vietnam
3
Center for Expert, Vietnam National University of Agriculture, Hanoi 131000, Vietnam
4
Department of Biotechnology, NTT Institute of Hi-Technology, Nguyen-Tat-Thanh University, 298A-300A Nguyen-Tat-Thanh Street, 13 Ward, District 04, Ho Chi Minh City 72820, Vietnam
*
Authors to whom correspondence should be addressed.
Received: 4 January 2019 / Revised: 23 January 2019 / Accepted: 1 February 2019 / Published: 2 February 2019
Abstract
Although many investigations on phytochemicals in rice plant parts and root exudates have been conducted, information on the chemical profile of essential oil (EO) and potent biological activities has been limited. In this study, chemical compositions of rice leaf EO and in vitro biological activities were investigated. From 1.5 kg of fresh rice leaves, an amount of 20 mg EO was obtained by distillation and analyzed by gas chromatography-mass spectrometry (GC-MS), electrospray ionization (ESI), and atmospheric pressure chemical ionization (APCI) to reveal the presence of twelve volatile constituents, of which methyl ricinoleate (27.86%) was the principal compound, followed by palmitic acid (17.34%), and linolenic acid (11.16%), while 2-pentadecanone was the least (2.13%). Two phytoalexin momilactones A and B were first time identified in EO using ultra-performance liquid chromatography coupled with electrospray mass spectrometry (UPLC/ESI-MS) (9.80 and 4.93 ng/g fresh weight, respectively), which accounted for 7.35% and 3.70% of the EO, respectively. The assays of DPPH (IC
50
= 73.1 µg/mL), ABTS (IC
50
= 198.3 µg/mL), FRAP (IC
50
= 700.8 µg/mL) and β-carotene oxidation (LPI = 79%) revealed that EO possessed an excellent antioxidant activity. The xanthine oxidase assay indicated that the anti-hyperuricemia potential was in a moderate level (IC
50
= 526 µg/mL) as compared with the standard allopurinol. The EO exerted potent inhibition on growth of
Raphanus sativus, Lactuca sativa
, and two noxious weeds
Echinochloa crus-galli
, and
Bidens pilosa
, but in contrast, the growth of rice seedlings was promoted. Among the examined plants, the growth of the
E. crus-galli
root was the most inhibited, proposing that constituents found in EO may have potential for the control of the problematic paddy weed
E. crus-galli
. It was found that the EO of rice leaves contained rich phytochemicals, which were potent in antioxidants and gout treatment, as well as weed management. Findings of this study highlighted the potential value of rice leaves, which may provide extra benefits for rice farmers.
View Full-Text
►

▼

Figures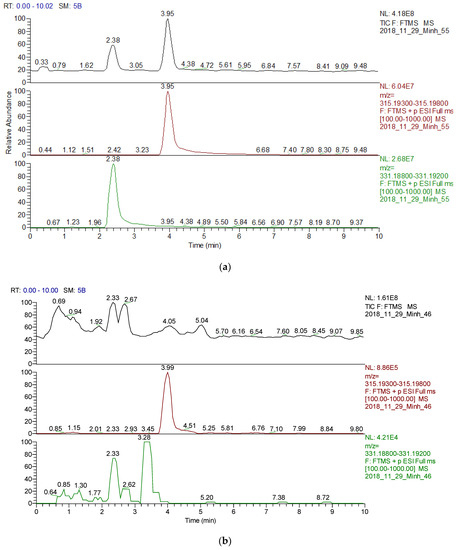 Figure 1
This is an open access article distributed under the
Creative Commons Attribution License
which permits unrestricted use, distribution, and reproduction in any medium, provided the original work is properly cited (CC BY 4.0).

Share & Cite This Article
MDPI and ACS Style
Minh, T.N.; Xuan, T.D.; Van, T.M.; Andriana, Y.; Viet, T.D.; Khanh, T.D.; Tran, H.-D. Phytochemical Analysis and Potential Biological Activities of Essential Oil from Rice Leaf. Molecules 2019, 24, 546.
Note that from the first issue of 2016, MDPI journals use article numbers instead of page numbers. See further details here.
Related Articles
Comments
[Return to top]