Influence of Piracetam on Gliclazide—Glycated Human Serum Albumin Interaction. A Spectrofluorometric Study
Department of Physical Pharmacy, Medical University; School of Pharmacy with the Division of Laboratory Medicine, 4, 41-200 Sosnowiec, Poland
*
Author to whom correspondence should be addressed.
Received: 1 December 2018 / Revised: 18 December 2018 / Accepted: 25 December 2018 / Published: 29 December 2018
Abstract
Advanced Glycation End-Products (AGEs) are created in the last step of protein glycation and can be a factor in aging and in the development or worsening of many degenerative diseases (diabetes, chronic kidney disease, atherosclerosis, Alzheimer's disease, etc.). Albumin is the most susceptible to glycation plasma protein. Modified albumin by AGEs may be more resistant to enzymatic degradation, which further increases the local accumulation of AGEs in tissues. The aim of the present study was to analyze in vitro glycation of serum albumin in the presence of piracetam (PIR) and the gliclazide (GLZ)-glycated albumin interaction. The analysis of PIR as an inhibitor and GLZ interaction with nonglycated human albumin (HSA) and glycated by fructose human albumin (gHSA
FRC
), in the absence and presence of piracetam (gHSA
FRC
-PIR), was performed by fluorescence quenching of macromolecules. On the basis of obtained data we concluded that under the influence of glycation, association constant (
) of gliclazide to human serum albumin decreases and GLZ binds to HSA with less strength than under physiological conditions. PIR strongly inhibited the formation of AGEs in the system where the efficiency of HSA glycation was the largest. The analysis of piracetam influence on the GLZ-glycated albumin interaction has shown that piracetam increases the binding strength of GLZ to glycated albumin and weakens its therapeutic effect. Based on the obtained data we concluded that monitoring therapy and precautions are required in the treatment when the combinations of gliclazide and piracetam are used at the same time.
View Full-Text
►

▼

Figures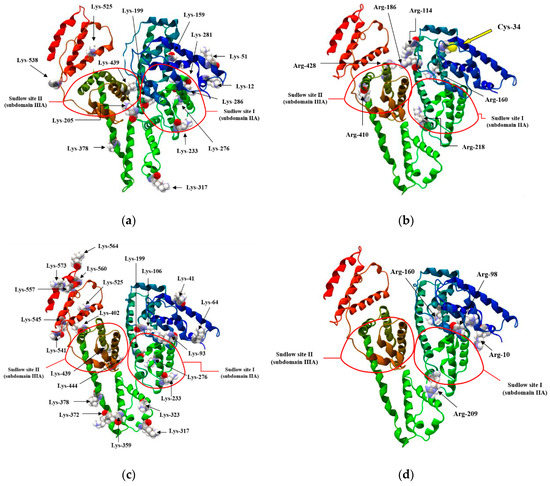 Figure 1
This is an open access article distributed under the
Creative Commons Attribution License
which permits unrestricted use, distribution, and reproduction in any medium, provided the original work is properly cited (CC BY 4.0).

Share & Cite This Article
MDPI and ACS Style
Szkudlarek, A.; Pożycka, J.; Maciążek-Jurczyk, M. Influence of Piracetam on Gliclazide—Glycated Human Serum Albumin Interaction. A Spectrofluorometric Study. Molecules 2019, 24, 111.
Note that from the first issue of 2016, MDPI journals use article numbers instead of page numbers. See further details here.
Related Articles
Comments
[Return to top]