Mitigation Effects of a Novel Herbal Medicine, Hepad, on Neuroinflammation, Neuroapoptosis, and Neuro-Oxidation
1
Department of Food Science and Technology, Seoul National University of Science & Technology, Seoul 01811, Korea
2
Division of Food Bioscience, Konkuk University, Chungju 27478, Korea
3
Department of Biomedical Engineering, Sogang University, Seoul 04170, Korea
4
Department of Advanced Materials Engineering, Daejeon University, Daejeon 34520, Korea
5
Department of Pathology, College of Oriental Medicine, Daejeon University, Daejeon 34520, Korea
*
Authors to whom correspondence should be addressed.
Received: 21 September 2018 / Revised: 2 November 2018 / Accepted: 7 November 2018 / Published: 8 November 2018
Abstract
Parkinson's disease (PD), a common adult-onset neurodegenerative disorder with complex pathological mechanisms, is characterized by the degeneration of dopaminergic nigrostriatal neurons. The present study demonstrated that the herbal medicines Hepad 1 and 2 protected against 1-methyl-4-phenyl-1,2,3,6-tetrahydropyridine (MPTP)-induced dopaminergic neurotoxicity in C57BL/6 mice and SH-SY5Y cells. Hepad 1 and 2 remarkably alleviated the enhanced expression of pro-inflammatory cytokines (tumor necrosis factor-α, interleukin-6, inducible nitric oxide synthase, cyclooxygenase-2, macrophage-1, and phosphorylated iκB-α) and apoptotic signals (Bcl-2-associated X protein, caspase-3, and poly [ADP-ribose] polymerase-1). Additionally, Hepad reduced MPTP-induced oxidative damage by increasing the expression of anti-oxidant defense enzymes (superoxide dismutase and glutathione S-transferase) and downregulating the levels of nicotinamide adenine dinucleotide phosphate oxidase 4. This study also showed that the neuroprotective effects of Hepad include anti-inflammatory, anti-apoptotic, and anti-oxidative properties, in addition to activation of the protein kinase B, extracellular-signal-regulated kinase, and c-Jun N-terminal kinase signaling pathways. Furthermore, oral administration of Hepad 1 and 2 attenuated the death of tyrosine hydroxylase-positive substantia nigra neurons that was induced by 20 mg/kg MPTP. Therefore, our results suggest that Hepad 1 and 2 are useful for treating PD and other disorders associated with neuro-inflammatory, neuro-apoptotic, and neuro-oxidative damage.
View Full-Text
►

▼

Figures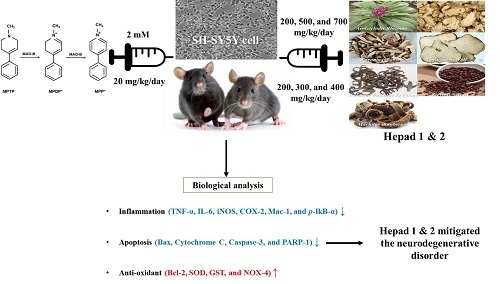 Graphical abstract
This is an open access article distributed under the
Creative Commons Attribution License
which permits unrestricted use, distribution, and reproduction in any medium, provided the original work is properly cited (CC BY 4.0).

Share & Cite This Article
MDPI and ACS Style
Song, D.H.; Kim, G.-J.; Lee, K.J.; Shin, J.S.; Kim, D.-H.; Park, B.-J.; An, J.H. Mitigation Effects of a Novel Herbal Medicine, Hepad, on Neuroinflammation, Neuroapoptosis, and Neuro-Oxidation. Molecules 2018, 23, 2920.
Note that from the first issue of 2016, MDPI journals use article numbers instead of page numbers. See further details here.
Related Articles
Comments
[Return to top]