Nucleophilicities of Lewis Bases B and Electrophilicities of Lewis Acids A Determined from the Dissociation Energies of Complexes B⋯A Involving Hydrogen Bonds, Tetrel Bonds, Pnictogen Bonds, Chalcogen Bonds and Halogen Bonds
1
Instituto de Química Médica (IQM-CSIC), Juan de la Cierva, 3, E-28006 Madrid, Spain
2
School of Chemistry, University of Bristol, Cantock's Close, Bristol BS8 1TS, UK
*
Authors to whom correspondence should be addressed.
Received: 3 October 2017 / Revised: 17 October 2017 / Accepted: 19 October 2017 / Published: 23 October 2017
Abstract
It is shown that the dissociation energy
for the process B⋯A = B + A for 250 complexes B⋯A composed of 11 Lewis bases B (N
2
, CO, HC≡CH, CH
2
=CH
2
, C
3
H
6
, PH
3
, H
2
S, HCN, H
2
O, H
2
CO and NH
3
) and 23 Lewis acids (HF, HCl, HBr, HC≡CH, HCN, H
2
O, F
2
, Cl
2
, Br
2
, ClF, BrCl, H
3
SiF, H
3
GeF, F
2
CO, CO
2
, N
2
O, NO
2
F, PH
2
F, AsH
2
F, SO
2
, SeO
2
, SF
2
, and SeF
2
) can be represented to good approximation by means of the equation
, in which
is a numerical nucleophilicity assigned to B,
is a numerical electrophilicity assigned to A, and
is a constant, conveniently chosen to have the value 1.00 kJ mol
−1
here. The 250 complexes were chosen to cover a wide range of non-covalent interaction types, namely: (1) the hydrogen bond; (2) the halogen bond; (3) the tetrel bond; (4) the pnictogen bond; and (5) the chalcogen bond. Since there is no evidence that one group of non-covalent interaction was fitted any better than the others, it appears the equation is equally valid for all the interactions considered and that the values of
and
so determined define properties of the individual molecules. The values of
and
can be used to predict the dissociation energies of a wide range of binary complexes B⋯A with reasonable accuracy.
View Full-Text
►

▼

Figures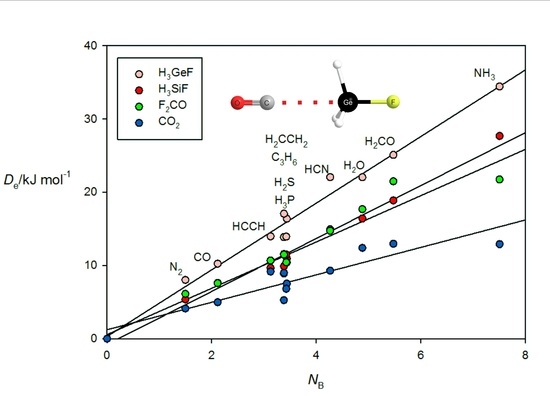 Graphical abstract
This is an open access article distributed under the
Creative Commons Attribution License
which permits unrestricted use, distribution, and reproduction in any medium, provided the original work is properly cited (CC BY 4.0).

Share & Cite This Article
MDPI and ACS Style
Alkorta, I.; Legon, A.C. Nucleophilicities of Lewis Bases B and Electrophilicities of Lewis Acids A Determined from the Dissociation Energies of Complexes B⋯A Involving Hydrogen Bonds, Tetrel Bonds, Pnictogen Bonds, Chalcogen Bonds and Halogen Bonds. Molecules 2017, 22, 1786.
Note that from the first issue of 2016, MDPI journals use article numbers instead of page numbers. See further details here.
Related Articles
Comments
[Return to top]