Self-Nanoemulsifying Drug Delivery Systems Containing
Plantago lanceolata

—An Assessment of Their Antioxidant and Antiinflammatory Effects

1

Department of Pharmaceutical Technology (www.pharm.unideb.hu), University of Debrecen, Nagyerdei körút 98, 4032 Debrecen, Hungary

2

Department of Applied Chemistry (www.pharm.unideb.hu), University of Debrecen, Nagyerdei körút 98, 4032 Debrecen, Hungary

3

Department of Pharmacognosy (www.pharm.unideb.hu), University of Debrecen, Nagyerdei körút 98, 4032 Debrecen, Hungary

4

Department of Pharmacology (www.med.unideb.hu), University of Debrecen, Nagyerdei körút 98, 4032 Debrecen, Hungary

5

Nanotechnology Research Center, Ahvaz Jundishapur University of Medical Sciences, Ahvaz 61357-33184, Iran

*

Author to whom correspondence should be addressed.

Received: 16 August 2017 / Revised: 12 October 2017 / Accepted: 13 October 2017 / Published: 20 October 2017
Abstract
The most important components of
Plantago lanceolata
L. leaves are catalpol, aucubin, and acteoside (=verbascoside). These bioactive compounds possess different pharmacological effects: anti-inflammatory, antioxidant, antineoplastic, and hepatoprotective. The aim of this study was to protect
Plantago lanceolata
extract from hydrolysis and to improve its antioxidant effect using self-nano-emulsifying drug delivery systems (SNEDDS). Eight SNEDDS compositions were prepared, and their physical properties, in vitro cytotoxicity, and in vivo AST/ALT values were investigated. MTT cell viability assay was performed on Caco-2 cells. The well-diluted samples (200 to 1000-fold dilutions) proved to be non-cytotoxic. The acute administration of PL-SNEDDS compositions resulted in minor changes in hepatic markers (AST, ALT), except for compositions
4
and
8
due to their high Transcutol contents (80%). The non-toxic compositions showed a significant increase in free radical scavenger activity measured by the DPPH test compared to the blank SNEDDS. An indirect dissolution test was performed, based on the result of the DPPH antioxidant assay; the dissolution profiles of
Plantago lancolata
extract were statistically different from each SNEDDS. The anti-inflammatory effect of PL-SNEDDS compositions was confirmed by the ear inflammation test. For the complete examination period, all compositions decreased ear edema as compared to the positive (untreated) control. It can be concluded that PL-SNEDDS compositions could be used to deliver active natural compounds in a stable, efficient, and safe manner.
View Full-Text
►

▼

Figures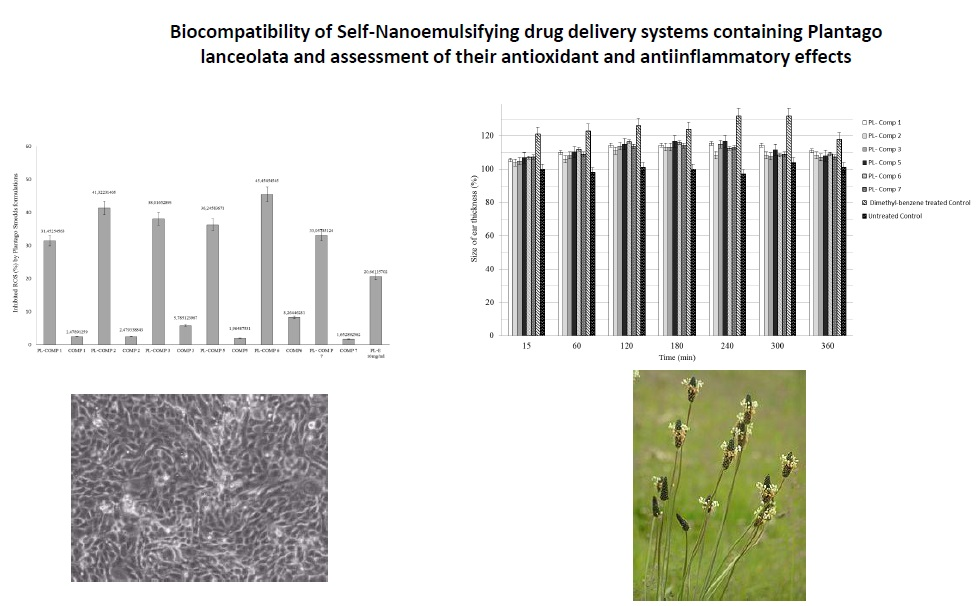 Graphical abstract
This is an open access article distributed under the
Creative Commons Attribution License
which permits unrestricted use, distribution, and reproduction in any medium, provided the original work is properly cited (CC BY 4.0).

Share & Cite This Article
MDPI and ACS Style
Kalantari, A.; Kósa, D.; Nemes, D.; Ujhelyi, Z.; Fehér, P.; Vecsernyés, M.; Váradi, J.; Fenyvesi, F.; Kuki, Á.; Gonda, S.; Vasas, G.; Gesztelyi, R.; Salimi, A.; Bácskay, I. Self-Nanoemulsifying Drug Delivery Systems Containing Plantago lanceolata—An Assessment of Their Antioxidant and Antiinflammatory Effects. Molecules 2017, 22, 1773.
Note that from the first issue of 2016, MDPI journals use article numbers instead of page numbers. See further details here.
Related Articles
Comments
[Return to top]