Open Access This article is
freely available
re-usable
Article
PrLPAAT4, a Putative Lysophosphatidic Acid Acyltransferase from
Paeonia rockii
, Plays an Important Role in Seed Fatty Acid Biosynthesis
1
College of Landscape Architecture and Arts, Northwest A&F University, Yangling, Shaanxi 712100, China
2
Institute of Biochemistry and Cell Biology, Shanghai Institutes for Biological Sciences, Chinese Academy of Sciences, Shanghai 200031, China
†
These authors contributed equally to this work.
*
Authors to whom correspondence should be addressed.
Received: 14 September 2017 / Accepted: 3 October 2017 / Published: 10 October 2017
Abstract
:
Lysophosphatidic acid acyltransferases (LPAATs) are essential for the acylation of lysophosphatidic acid (LPA) and the synthesis of phosphatidic acid (PA), a key intermediate in the synthesis of membrane phospholipids and storage lipids. Here, a putative lysophosphatidic acid acyltransferase gene, designated
PrLPAAT4
, was isolated from seed unsaturated fatty acid (UFA)-rich
P. rockii
. The complete
PrLPAAT4
cDNA contained a 1116-bp open reading frame (ORF), encoding a 42.9 kDa protein with 371 amino acid residues. Bioinformatic analysis indicates that PrLPAAT4 is a plasma membrane protein belonging to acyl-CoA:1-acylglycerol-sn-3-phosphate acyltranferases (AGPAT) family. PrLPAAT4 shared high sequence similarity with its homologs from
Citrus clementina
,
Populus trichocarpa
,
Manihot esculenta
, and
Ricinus communis
. In Arabidopsis, overexpression of
PrLPAAT4
resulted in a significant increase in the content of oleic acid (OA) and total fatty acids (FAs) in seeds.
AtDGAT1
,
AtGPAT9
, and
AtOleosin
, involved in TAG assembly, were upregulated in
PrLPAAT4
-overexpressing lines. These results indicated that PrLPAAT4 functions may be as a positive regulator in seed FA biosynthesis.
Keywords:
lysophosphatidic acid acyltransferase; triacylglycerol; tree peony; Arabidopsis; oleic acid; fatty acid
4. Materials and Methods
4.1. Plant Materials
The seeds of
P. rockii
were harvested in Wild Tree Peony Repository at Northwest A&F University (Yangling, China) between April and July. The seeds at 20, 30, 40, 50, 60, 70, 80, 90 and 100 days after flowering (DAF) and other tissues, including roots, topmost stems, younger leaves, calyxes, petals, stamens, and pistils of
P. rockii
flowers at anthesis, were hand-collected for gene expression analysis. All samples with three biological replicates were taken from at least three plants, and were frozen in liquid nitrogen immediately and stored at −80 °C until further use.
4.2. Genomic DNA and Total RNA Isolation
Genomic DNA was extracted from the
P. rockii
seeds at 30 DAF using the hexadecyltrimethylammonium bromide (CTAB) method with some minor modifications [
47
]. Total RNA was isolated using the TIANGEN RNA Prep Pure Plant kit according to the manufacturer's instructions (Tiangen Biotech Co. Ltd., Beijing, China). The quality and concentration of RNA samples were tested by Goldview-stained agarose gel electrophoresis and spectrophotometric analysis, respectively. Total RNA samples were reverse-transcribed to generate the first-strand cDNA using PrimeScript
®
RT reagent Kit with gDNA Eraser (DRR047A, Takara, Dalian, China).
4.3. Full-Length Cloning of PrLPAAT4
The conserved fragments of
PrLPAAT4
were PCR-amplified from cDNA templates using degenerate primers composed of two sense primers and two antisense primers (
Table S1
). The sequence amplification of 5′ and 3′ ends of
PrLPAAT4
cDNA was performed based on Rapid Amplification of cDNA Ends (RACE) technique using SMARTer
®
RACE 5′/3′ Kit (Clontech Laboratories, Inc., Mountain View, CA, USA), following the manufacturer's instructions. To obtain the coding region of
PrLPAAT4
, specific primers (
Table S1
) spanning full open reading frames (ORFs) were designed. All PCR amplification products were cloned into pUCm-T vetor (SK2212, Sangon, Shanghai, China) for sequencing.
4.4. Sequence and Phylogeny Analysis
Homology search of sequences at nucleotide and protein levels was carried out through Blast (
http://blast.ncbi.nlm.nih.gov
). Phylogenetic tree was constructed using MEGA (version 5.1) software [
48
], based on multiple sequence alignment by MUSCLE (
http://www.ebi.ac.uk/Tools/msa/muscle/
). The hydrophobic property and charge distribution were analyzed using ExPASy (
http://www.expasy.org/
). The protein molecular weight and isoelectric point were evaluated using ProtParam software (
http://web.expasy.org/protparam/
). The secondary and tertiary structure predictions were conducted using SOPMA (
https://npsa-prabi.ibcp.fr/cgi-bin/npsa_automat.pl?page=/ NPSA/npsa_sopma.html
) and Phyre Version 0.2 (Imperial College London, South Kensington Campus, London SW72AZ, UK) [
49
], respectively. The putative subcellular localization was performed using PSORT Prediction (
http://psort.hgc.jp/form.html
). The sizes of exon and intron of
PrLPAAT4
DNA were measured, and the structural models of gene and protein were drawn with FancyGENA v1.4 software (Eurpean Institute of Oncology, IFOM-IEO Campus, Via Ademello 16, 20139 Milan, Italy) [
50
]. The transmembrane prediction server TMHMM2.0 (
http://www.cbs.dtu.dk/services/
) and the SMART database (
http://smart.emblheidelberg.de/
) were used to identify the conserved transmembrane domains (TMDs) of PrLPAAT4.
4.5. Subcellular Localization
The
PrLPAAT4
ORF region without the stop codon was inserted into the
BamH
I-
Sal
I restriction sites of binary vector pC1301-
GFP
to generate 35S::
PrLPAAT4
-
GFP
construct. The constructed plasmid was transformed into the
Agrobacterium tumefaciens
strain EHA105 by electroporation. Positive colony was selected on an LB plate supplemented with 50 mg/mL rifampicin and kanamycin, and cultured in liquid LB medium containing appropriate antibiotics at 28 °C in dark until OD600 of 0.3 for the final cell density. After centrifugation and cell collection, the pellets were resuspended in the same volume of infiltration buffer (10 mM MES, 200 μM acetosyringgone, and 10 mM MgCl
2
, pH 5.6), by shaking at room temperature for 4–6 h. Afterwards, the construct was delivered into the lower epidermis of 4-week-old tobacco leaves by agro-infiltration. The GFP fluorescence was observed at 4–6 days post-transfection using the UltraVIEW Vox spinning disk confocal system (PerkinElmer, Cambridge, UK).
4.6. Overexpression Construct and Stable Transformation
The coding sequence of
PrLPAAT4
was ligated into the
Kpn
I-
Xba
I restriction sites of binary vector pCAMBIA1300 under the control of Arabidopsis seed-specific promoter 2S2. The generated 2S2::
PrLPAAT4
construct was transformed into wild-type Arabidposis plant (WT) using the floral dip method as previously described [
51
]. The harvested seeds were planted on 1/2 MS plates containing 20 mg/L hygromycin in Sanyo MLR 351H growth chamber at 22 ± 2 °C under a 14/10 h light/dark (120 µmol m
−2
·s
−1
) cycle. Hygromycin-resistant seedling with green leaves and well-established roots were selected as
T
0
transformants, and followingly transferred from the plates to moistened potting soil. The positive transformants was confirmed via the PCR method. Independent transgenic Arabidopsis lines exhibiting a 3:1 segregation of hygromycin (20 mg/L) resistance in the
T
1
generation were selected. Homozygous
T
2
transgenic lines showing 100% survival on hygromycin-containing medium were finally established. Mature Arabidopsis seeds were collected from
T
2
homozygous lines for further analysis.
4.7. FA Measurement
Twenty milligrams of dried Arabidopsis seeds were collected from ten plants, comprising three replicates. We followed the extraction protocol for FAs and the preparation of FA methyl esters as described previously [
52
]. FA analyzed by using a gas chromatograph-mass spectrometer (GC68990N/MS5937, Aglient Technologies, Santa Clara, CA, USA) equipped with a G4513A autosampler (Agilent). The column was an aryl-polysiloxane packed capillary column (HP-88; 30 m × 0.25 mm i.d., 0.20 µm film thickness; Agilent). Qualitative FA analysis was achieved by a mass spectra database search (NIST08 Library) and co-elution with corresponding standards. A standard curve method with an internal standard was used as the quantitative approach to construct five calibration plots of analyte/internal standard peak-area ratio versus standard concentration, as determined by the least squares method. The FAMEs in each sample were measured using methyl heptadecanoate as the internal standard. The FAMEs were expressed as milligrams per gram dry weight (DW) of sample. All samples were analyzed in triplicate under the same conditions.
4.8. Quantitative Real-Time PCR
The seeds of WT and the homozygous
T
2
line of transgenic Arabidopsis at 14 DAF were used for expression analysis. The isolation of total RNA and synthesis of the first-strand cDNA were performed as described above.
Atactin7
was used as reference gene to normalize the expression data. Quantitative real-time PCR (qRT-PCR) was conducted using Premix Ex Taq
TM
(Perfect Real Time) kit (DRR041A, Takara, Dalian, China) in a LightCycler480 Real-Time PCR System (Roche Diagnostic, Basel, Switzerland). All samples were analyzed with three biological replicates. Relative expression levels were computed using the 2
−△△

C

T
comparative threshold cycle (
C
t) method [
53
]. All primers used for the assessment of transcript levels were listed in
Table S1
.
4.9. Statistical Analysis
All experiments included three biological replicates and technical replicates as previously indicated. Mean ± SD were determined and one-way analysis of variance was carried out using SPSS (version 17.0 for Windows; Chicago, IL, USA), to determine significance at
p
-value < 0.05.
Supplementary Materials
Supplementary Materials are available online. Table S1 Primers used in this study, Table S2 Proteins used for construction of phylogenetic tree, Table S3 Fatty acid contents in mature wild-type and
PrLPAAT4
-overexpressing transgenic Arabidopsis seeds.
Acknowledgments
We thank Ke Duan and Qinghua Gao for experimental assistance in genetic transformation of Arabidopsis. We are grateful to Yali Liu for kindly providing some laboratory instruments. This study was supported by The National Forestry Public Welfare Industry Research Project of China (201404701).
Author Contributions
Yanlong Zhang and Lixin Niu conceived and designed the research. Qingyu Zhang, Rui Yu, Daoyang Sun, Zhangzhen Bai, Hong Li, and Liang Xue carried out the experiments. Qingyu Zhang, Rui Yu, and Daoyang Sun organized and analyzed the results. Qingyu Zhang and Rui Yu wrote the manuscript. Daoyang Sun, Lixin Niu, and Yanlong Zhang commented on and revised the manuscript. All authors read and approved the manuscript.
Conflicts of Interest
The authors declare no conflict of interest.
Sample Availability: Samples of the compounds are available from the authors.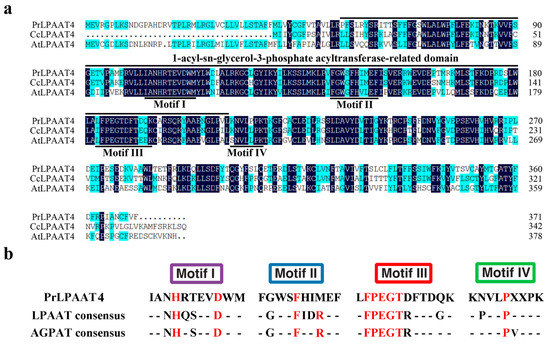 Figure 1.
Sequence analysis of PrLPAAT4. (
a
) alignment of deduced PrLPAAT4 amino acid sequence with similar proteins from
Citrus clementina
CcLPAAT4 (XP_006423197) and Arabidopsis AtLPAAT4 (NP_565098). Identical amino acids are
boxed
in
dark bule
and similar amino acids are
shaded
in
light blue
.
Solid lines
indicate the conserved 1-acyl-sn-glycerol-3-phosphate acyltransferase-related domain. The conserved acyltransferase motifs (I–IV) are underlined; (
b
) acyltransferase motifs in PrLPAAT4, LPAATs, and AGPATs. The conserved amino acid residues are shown in red.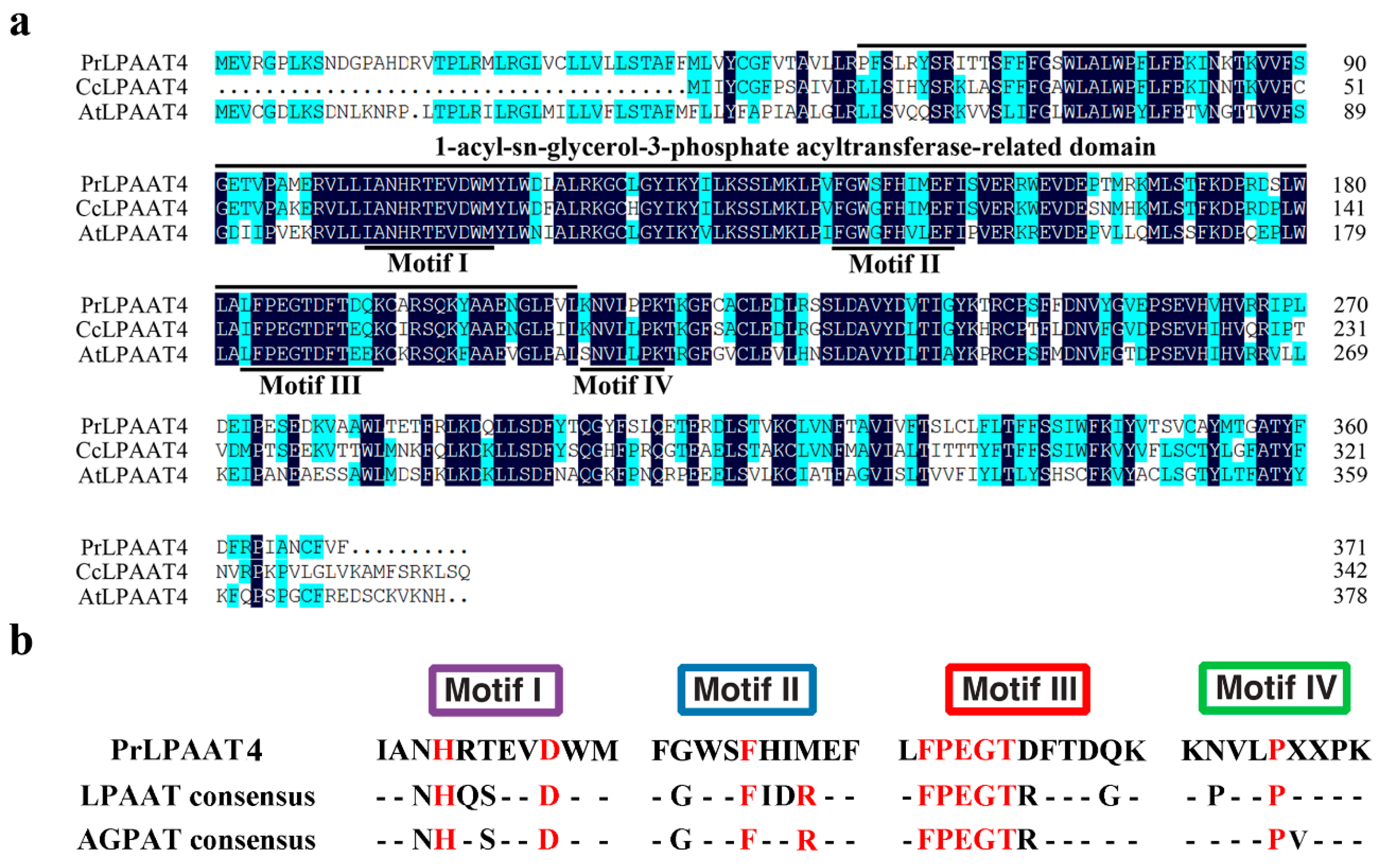 Figure 2. Predicted structure of PrLPAAT4. (a) hydrophobicity plot predicted by the Kyte–Doolittle method of a sliding window average over nine neighboring residues; (b) the secondary structure of PrLPAAT4. Blue, red, green, and pink lines show the predicted α-helices, extended strands, β-turns, and random coils, respectively; (c) tertiary structure of the partial PrLPAAT4 protein. The helical structures show the predicted α-helices, and the arrows indicate the β-sheets.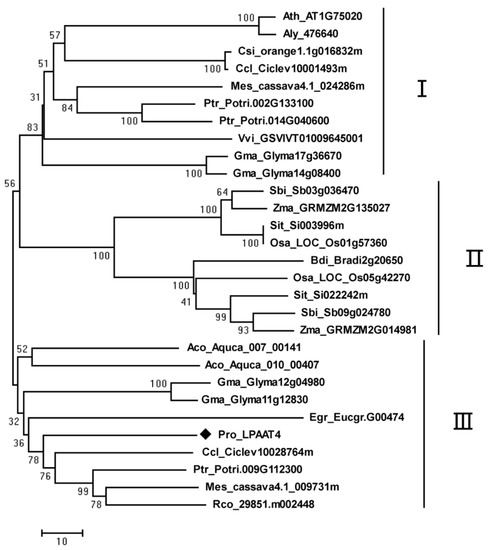 Figure 3.
Phylogenetic comparison of the LPAAT4 proteins. Plant species included in the phylogenetic tree are
Manihot esculenta
(Mes),
Ricinus communis
(Rco),
Populus trichocarpa
(Ptr),
Glycine max
(Gma),
Arabidopsis thaliana
(Ath),
Arabidopsis lyrata
(Aly),
Citrus sinensis
(Csi),
Citrus clementina
(Ccl),
Eucalyptus grandis
(Egr),
Vitis vinifera
(Vvi),
Aquilegia coerulea Goldsmithn
(Aco),
Sorghum bicolor
(Sbi),
Zea mays
(Zma),
Setaria italica
(Sit),
Oryza sativa
(Osa), and
Brachypodium distachyon
(Bdi)
.
PrLPAAT4 is highlighted with a rhombus. The neighbor-joining method with MEGA software (version 5.1, Tokyo Metropolitan University, Hachioji, Tokyo, Japan) was used to construct the phylogenic tree. Boot-strap values as a percentage of 1000 replicates are indicated at corresponding branch nodes.
Scale bar
represents the number of amino acid substitutions per site.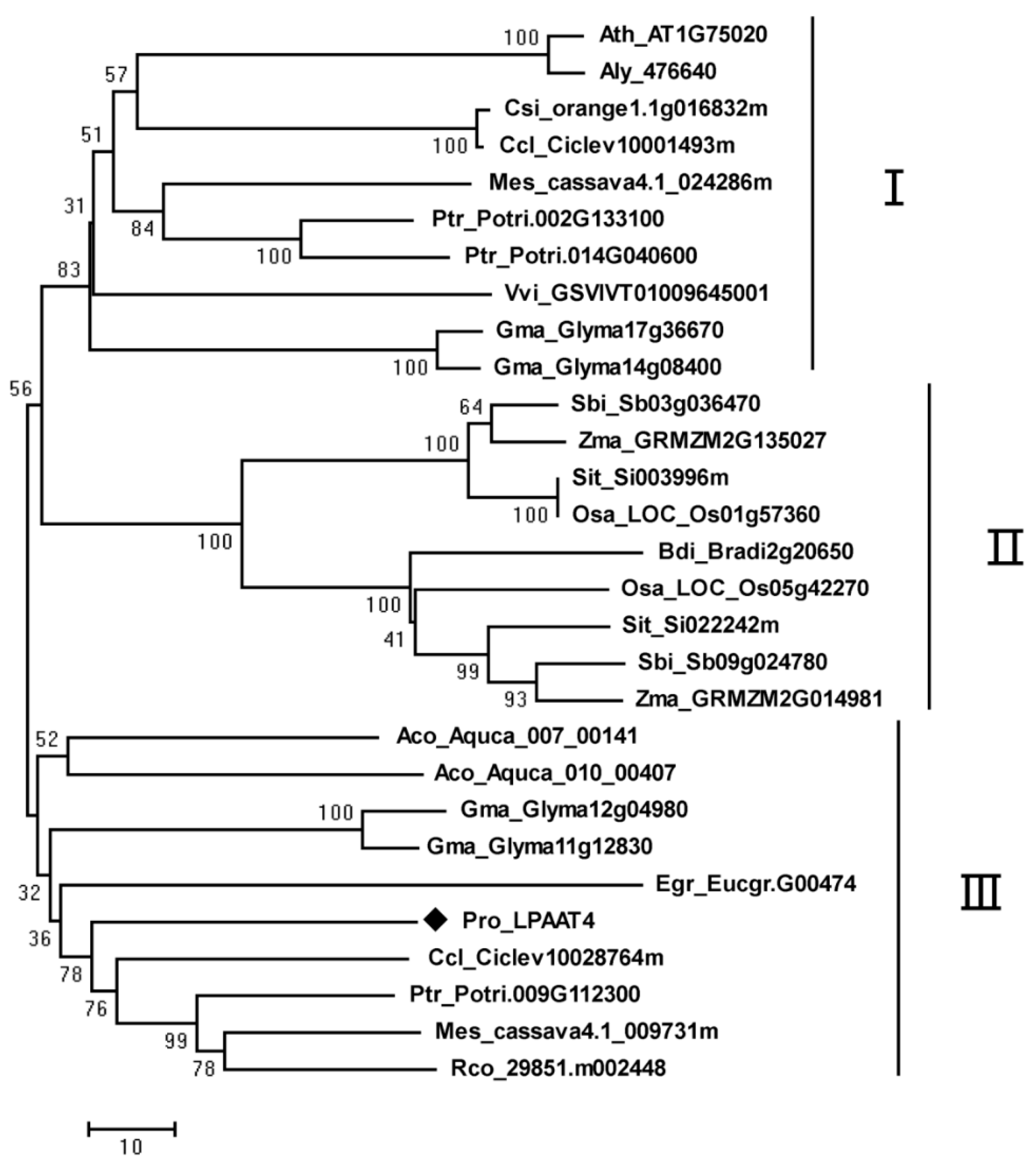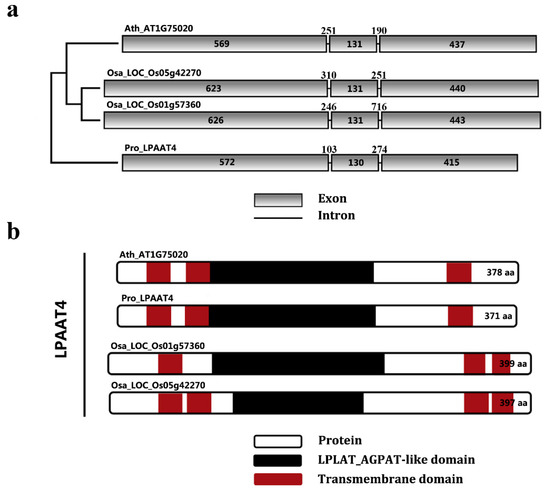 Figure 4.
Comparative analysis of gene structure and conserved domain in the LPAAT4 proteins. (
a
) exon–intron structure of plant LPAAT4 genomic DNAs. Representative sequences are presented for each cluster:
A. thaliana
(Ath),
O. sativa
(Osa) and
P.
rockii
(Pro). The size of each exon and intron is shown by bp; (
b
) prediction of the transmembrane and acyltransferase domains of plant LPAAT4 proteins. Predicted transmembrane structures (
red
) and LPLAT_AGPAT-like domain (
black
) of representative species were obtained using the transmembrane sever TMHMM-2.0 and the SMART database with the complete protein sequences. The sequences are represented as
simplified boxes
. The size of each sequence is shown by aa residues.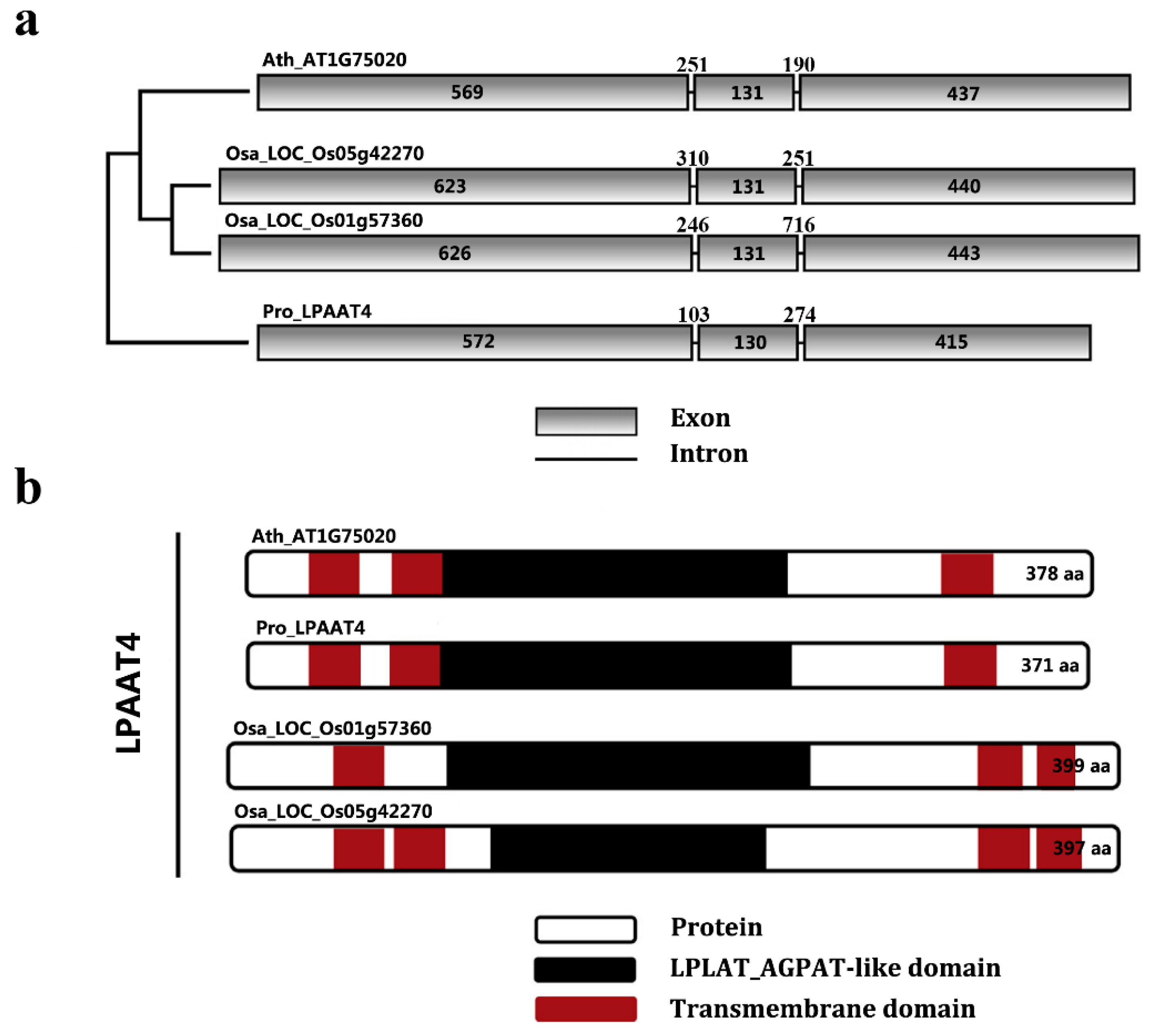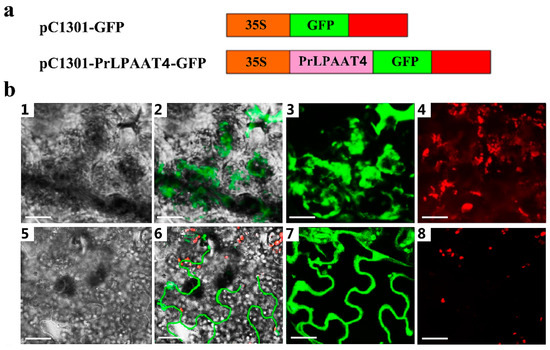 Figure 5.
Subcellular localization of PrLPAAT4 in tobacco cells. (
a
) schematic diagram of the construction of the recombinant 35S::
PrLPAAT4
-
GFP
vector. 35S: a constitutive promoter from the cauliflower mosaic virus; GFP: green fluorescent protein; NOS: Nopaline synthase terminator; (
b
) 1–4: GFP florescence detection in tobacco leaves transformed with pC1301-
GFP
; 5–8: GFP florescence detection in tobacco leaves transformed with pC1301-
PrLPAAT4
-
GFP
; 1, 5: bright field images; 3, 7: GFP florescence; 4, 8: Chlorophyll autoflorescence; 2, 6: merging images of others.
Scale bars
= 23.00 μm.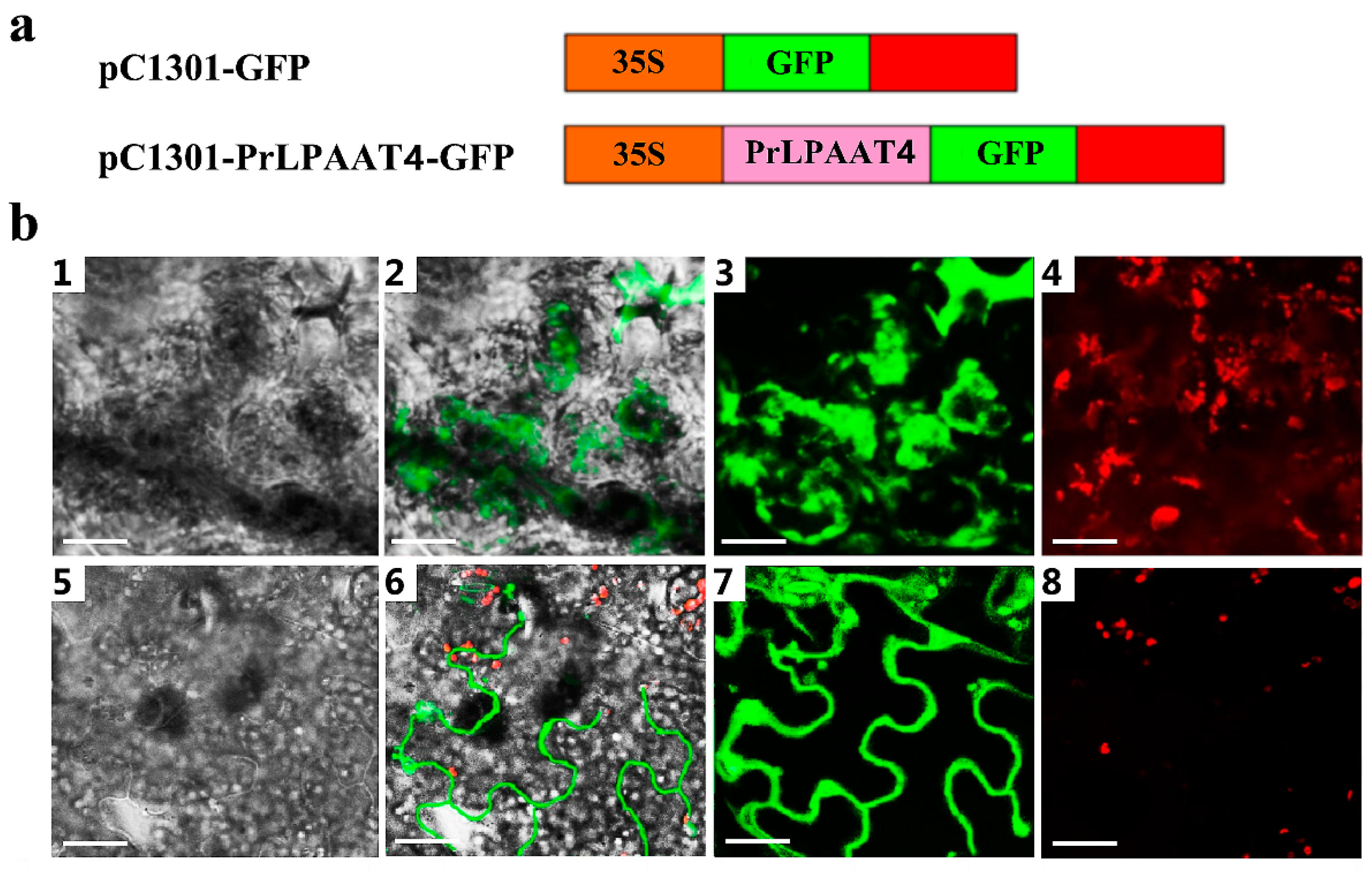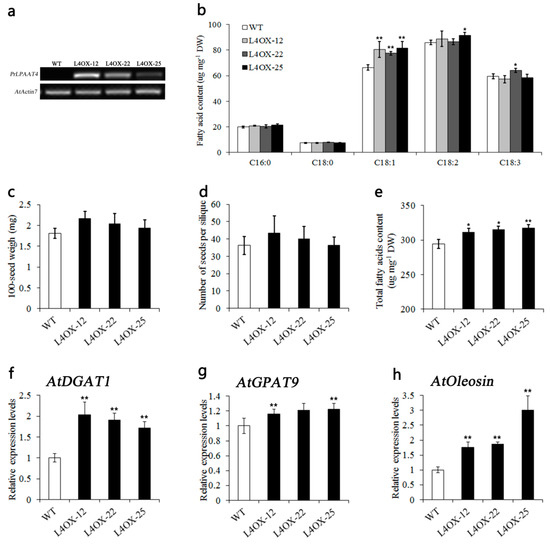 Figure 6.
Effect of
PrLPAAT4
overexpression on plant growth, FA content and composition of transgenic Arabidopsis seeds. (
a
) semi-quantitative RT-PCR analysis of
PrLPAAT4
transcript abundances in the seeds of transgenic Arabidopsis lines overexpressing
PrLPAAT4
, compared to WT; (
b
) main FA content; (
d
) number of seeds per silique; (
c
) 100-seed weight; (
e
) total FA content; (
f–h
) quantitative real-time PCR analysis of
AtDGAT1
(
f
);
AtGPAT9
(
g
); and
AtOleosin
(
h
) expression levels in
PrLPAAT4
-overexpressing transgenic Arabidopsis plants.
Error bars
represent the mean ± SD of three independent biological replicates.
Atactin7
was used as a reference gene.
Asterisks
denote significant difference using Student's
t
test. * indicates
p
< 0.05; ** indicates
p
< 0.01.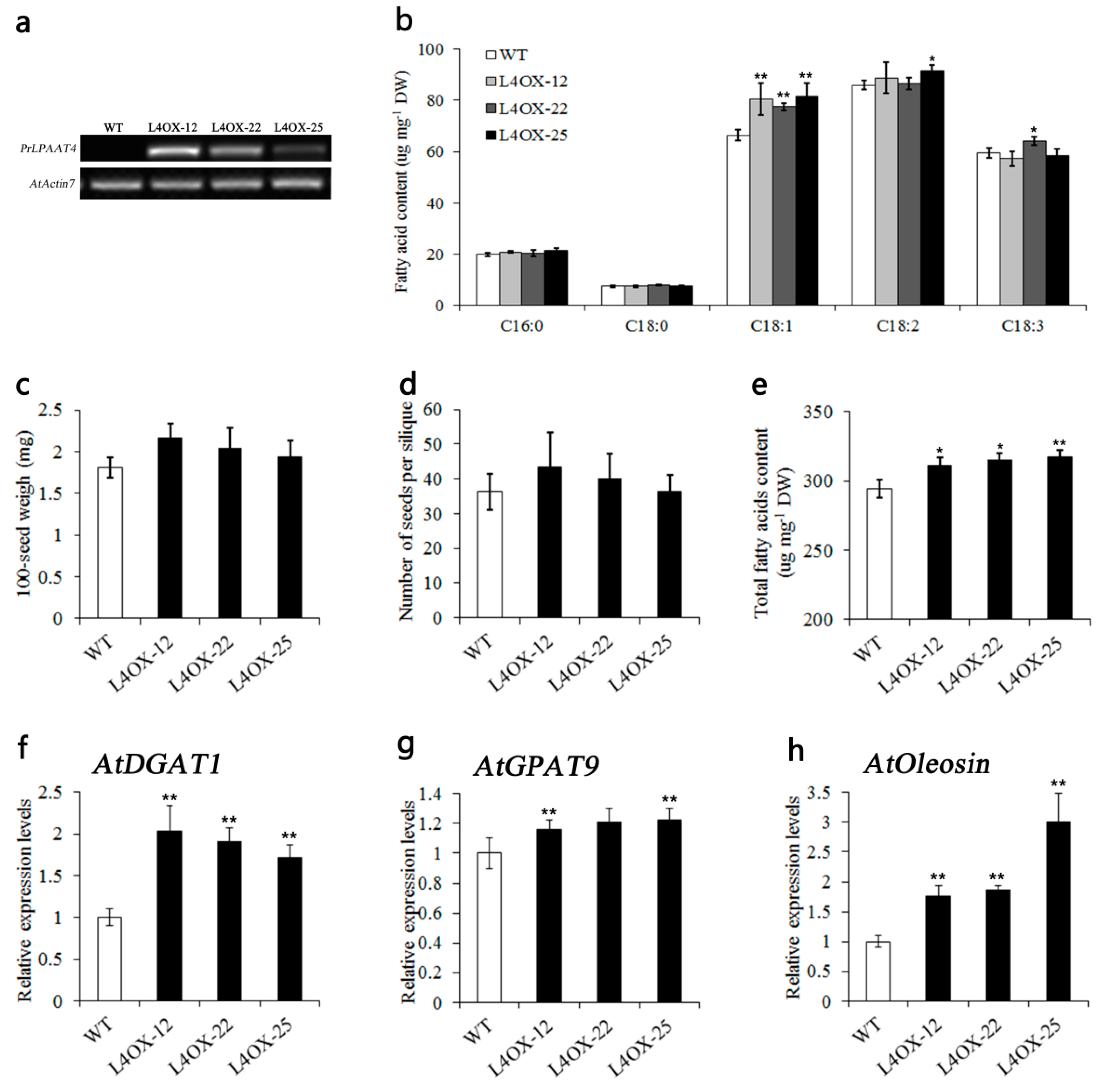 © 2017 by the authors. Licensee MDPI, Basel, Switzerland. This article is an open access article distributed under the terms and conditions of the Creative Commons Attribution (CC BY) license (http://creativecommons.org/licenses/by/4.0/).