Open Access This article is
freely available
re-usable
Review
Participation of the Halogens in Photochemical Reactions in Natural and Treated Waters
Department of Environmental Sciences, The Connecticut Agricultural Experiment Station, 123 Huntington St., P.O. Box 1106, New Haven, CT 06504-1106, USA
*
Author to whom correspondence should be addressed.
Received: 18 September 2017 / Accepted: 4 October 2017 / Published: 13 October 2017
Abstract
:
Halide ions are ubiquitous in natural waters and wastewaters. Halogens play an important and complex role in environmental photochemical processes and in reactions taking place during photochemical water treatment. While inert to solar wavelengths, halides can be converted into radical and non-radical reactive halogen species (RHS) by sensitized photolysis and by reactions with secondary reactive oxygen species (ROS) produced through sunlight-initiated reactions in water and atmospheric aerosols, such as hydroxyl radical, ozone, and nitrate radical. In photochemical advanced oxidation processes for water treatment, RHS can be generated by UV photolysis and by reactions of halides with hydroxyl radicals, sulfate radicals, ozone, and other ROS. RHS are reactive toward organic compounds, and some reactions lead to incorporation of halogen into byproducts. Recent studies indicate that halides, or the RHS derived from them, affect the concentrations of photogenerated reactive oxygen species (ROS) and other reactive species; influence the photobleaching of dissolved natural organic matter (DOM); alter the rates and products of pollutant transformations; lead to covalent incorporation of halogen into small natural molecules, DOM, and pollutants; and give rise to certain halogen oxides of concern as water contaminants. The complex and colorful chemistry of halogen in waters will be summarized in detail and the implications of this chemistry for global biogeochemical cycling of halogen, contaminant fate in natural waters, and water purification technologies will be discussed.
Keywords:
hydroxyl radical; sulfate radical; photocatalysis; atmospheric aerosols; reactive oxygen species; reactive halogen species; advanced oxidation processes; dissolved natural organic matter; halogenation; reclaimed waters
Supplementary Materials
The following are available online. Table S1: Rate constants for relevant reactions of halides and reactive halogen species.
Acknowledgments
The authors thank the Chinese International Postdoctoral Exchange Fellowship Program (No. 20160074) for support for Y.Y.
Author Contributions
Both Y.Y. and J.J.P. contributed to writing the manuscript.
Conflicts of Interest
The authors declare no conflict of interest. The founding sponsors had no role in the writing of the manuscript, nor in the decision to publish it.
Sample Availability: Not available.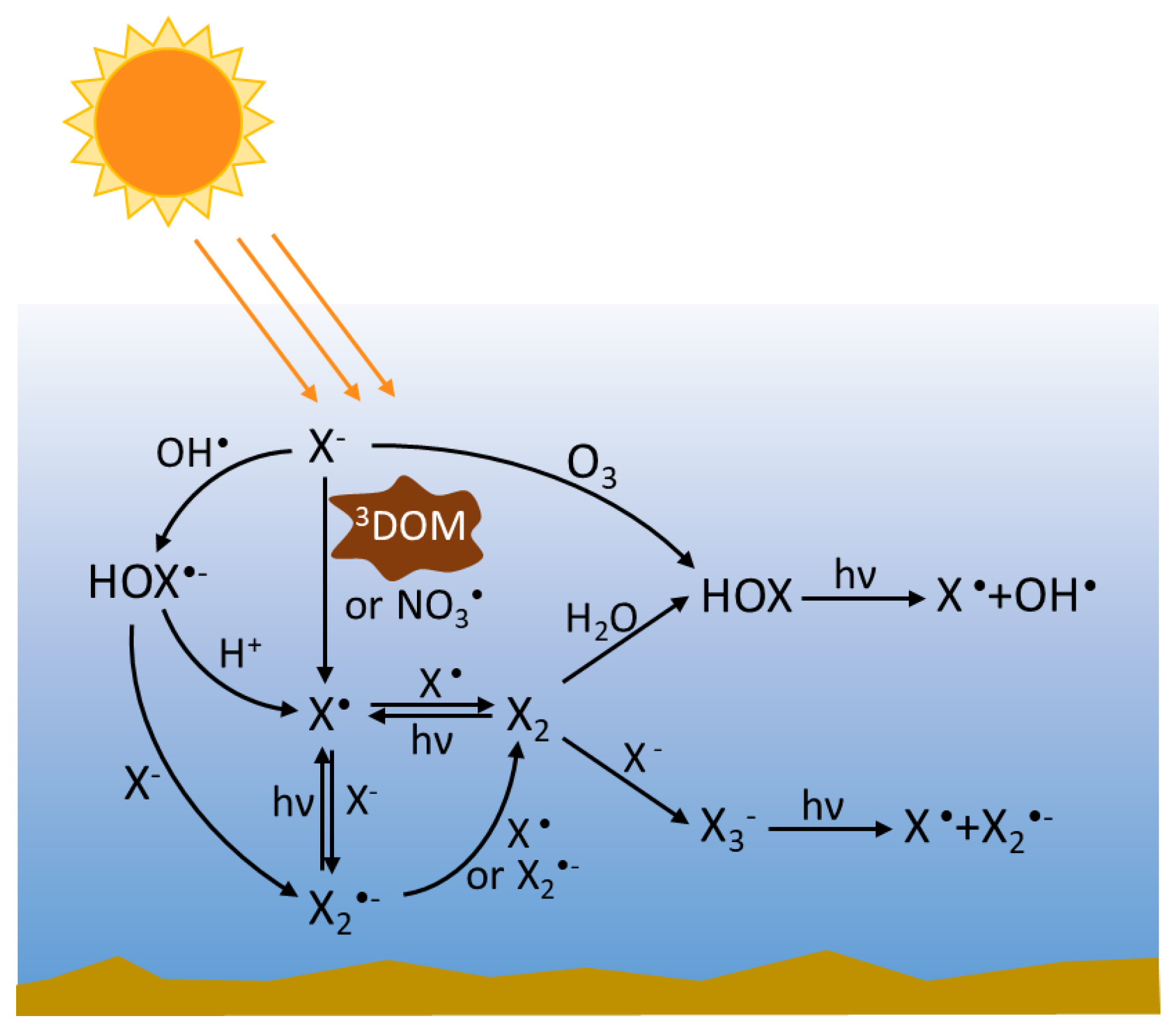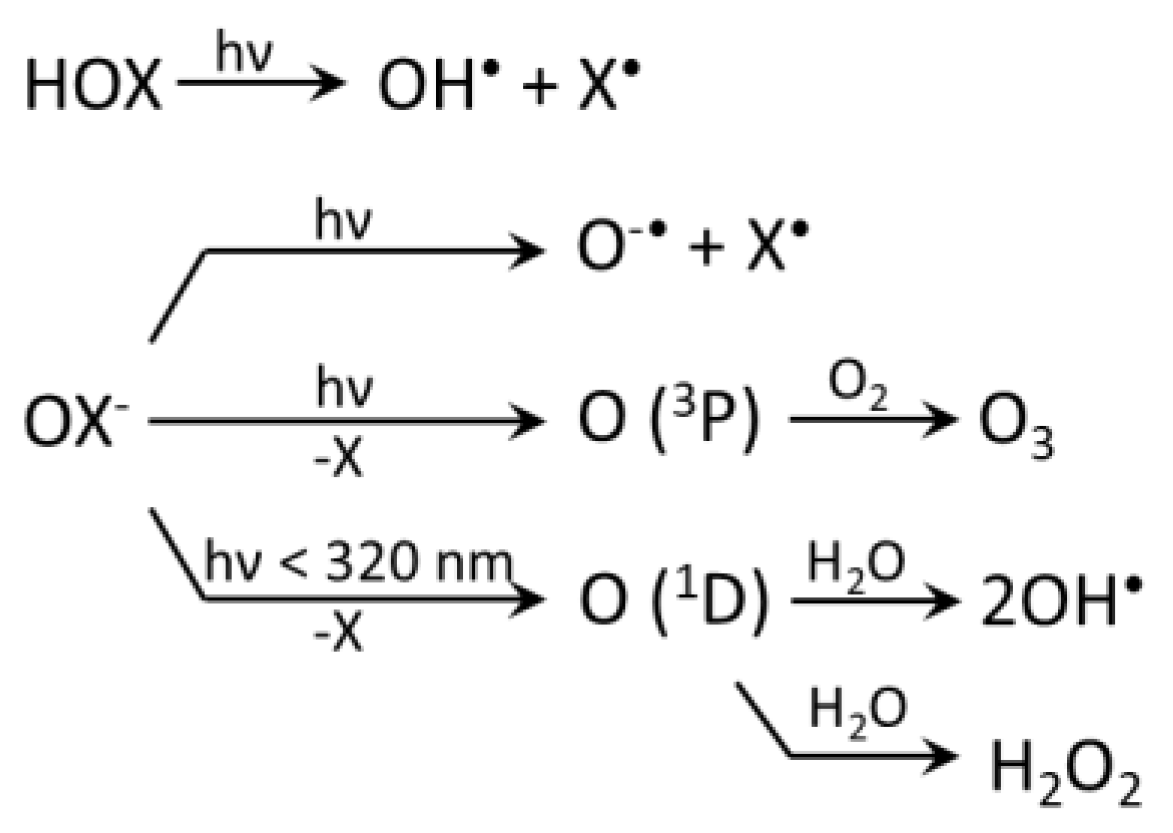 Table 1. Simulated speciation of nrRHS in different waters. Molar ratio relative to Cl2 after 5 min except where noted.
Table 1. Simulated speciation of nrRHS in different waters. Molar ratio relative to Cl2 after 5 min except where noted.
RHS/Cl2
Br2
BrCl
Cl3−
BrCl2−
Br2Cl−
Br3−
HOBr/OBr−
HOCl/OCl−
Wastewater
4.01 × 103
2.27
0.0257
33.5
417
3.5
0.95 × 109
(1.74 × 1010) *
2.57 × 105
(5.92 × 105) *
Seawater
1.04 × 104
24.7
0.0982
533
3800
145
6.42 × 109
(7.08 × 109) *
1.79 × 105
(6.2 × 105) *

Table 2. Some examples of halogenation reactions of specific organic compounds in illuminated salty water systems.
Table 2. Some examples of halogenation reactions of specific organic compounds in illuminated salty water systems.
Compound
Proposed Origin
References
CH3Cl
(a) nucleophilic displacement by chloride on CH3I and/or CH3Br in seawater;
(b) is produced on irradiation of lignin-like DOM model compounds (4-methoxy-1-naphthol; syringic acid; 2-methoxyphenol; 3,4,5-trimethoxy benzoic acid; and2-methoxyhydroquinone) in chloride solution
(a) [85]
(b) [86]
CH3I
formed after simulated solar irradiation of filtered seawater; production was enhanced when samples were degassed or iodide was added; proposed origin is recombination of CH3• and I• radicals.
[87]
CH2I2, CHI3, and CHI2Cl
formed by reactions of DOM with HOI generated via oxidation of I− by O3
[88]
CH2ICl
photolysis product of CH2I2 in seawater
[89]
Cl-CH2CH(OH)CH2OH and
Br-CH2CH(OH)CH2OH
CH2=CHCH2OH reaction with reactive halogen species
[90]
3-Cl and 3,3-diCl bisphenol A
solar irradiation of bisphenol A in coastal seawater and saline solution containing 0.13–0.66 mM Fe(III) and fulvic acid; Cl2−• was detected by its absorption spectrum, and OH• as its DMPO adduct by EPR spectroscopy; proposed source of halogen radicals: FeIIICl− → FeII + Cl• or FeIIIOH− → FeII + OH•, followed by OH• + Cl− → Cl•.
[91]
5-bromo-and 3,5-dibromosalicylic acids
solar irradiation of salicylic acid in artificial seawater and brackish lagoon water
[92]
mixed poly-brominated/chlorinated bipyrroles
irradiation of 1,1-dimethyl-2,2′-bipyrrole and 1'-methyl-1,2'bipyrrole in ozonated seawater; proposed oxidation of Br− and I− by O3 to form HOX/X2.
[27]
halogenated dicarboxylic acids
isolated from arctic aerosols; unclear whether transformations occurred in the liquid phase
[93]
© 2017 by the authors. Licensee MDPI, Basel, Switzerland. This article is an open access article distributed under the terms and conditions of the Creative Commons Attribution (CC BY) license (http://creativecommons.org/licenses/by/4.0/).