Role of Electron-Driven Proton-Transfer Processes in the Ultrafast Deactivation of Photoexcited Anionic 8-oxoGuanine-Adenine and 8-oxoGuanine-Cytosine Base Pairs
1
Department of Chemistry, Technische Universitat Munchen, Lichtenbergstr. 4, Garching D-85747, Germany
2
Department of Chemistry, Temple University, 130 Beury Hall, 1901 N. 13th St., Philadelphia, PA 19122, USA
*
Author to whom correspondence should be addressed.
Academic Editor: Carlos E. Crespo-Hernández
Received: 17 November 2016 / Revised: 28 December 2016 / Accepted: 10 January 2017 / Published: 14 January 2017
Abstract
It has been reported that 8-oxo-7,8-dihydro-guanosine (8-oxo-G), which is the main product of oxidative damage of DNA, can repair cyclobutane pyrimidine dimer (CPD) lesions when incorporated into DNA or RNA strands in proximity to such lesions. It has therefore been suggested that the 8-oxo-G nucleoside may have been a primordial precursor of present-day flavins in DNA or RNA repair. Because the electron transfer leading to the splitting of a thymine-thymine pair in a CPD lesion occurs in the photoexcited state, a reasonably long excited-state lifetime of 8-oxo-G is required. The neutral (protonated) form of 8-oxo-G exhibits a very short (sub-picosecond) intrinsic excited-state lifetime which is unfavorable for repair. It has therefore been argued that the anionic (deprotonated) form of 8-oxo-G, which exhibits a much longer excited-state lifetime, is more likely to be a suitable cofactor for DNA repair. Herein, we have investigated the exited-state quenching mechanisms in the hydrogen-bonded complexes of deprotonated 8-oxo-G
−
with adenine (A) and cytosine (C) using ab initio wave-function-based electronic-structure calculations. The calculated reaction paths and potential-energy profiles reveal the existence of barrierless electron-driven inter-base proton-transfer reactions which lead to low-lying S
1
/S
0
conical intersections. The latter can promote ultrafast excited-state deactivation of the anionic base pairs. While the isolated deprotonated 8-oxo-G
−
nucleoside may have been an efficient primordial repair cofactor, the excited states of the 8-oxo-G
−
-A and 8-oxo-G
−
-C base pairs are likely too short-lived to be efficient electron-transfer repair agents.
View Full-Text
►

▼

Figures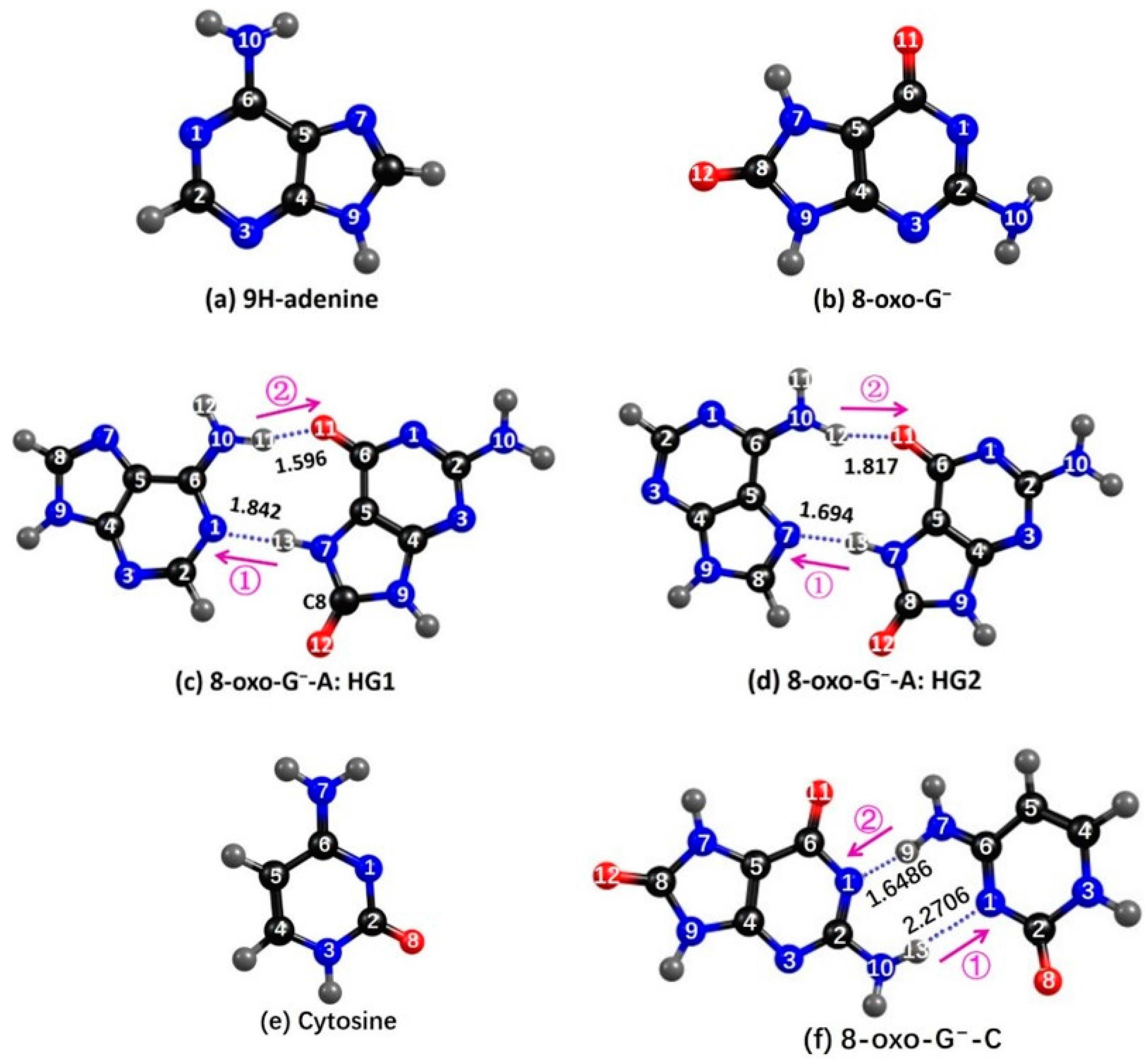 Figure 1
This is an open access article distributed under the
Creative Commons Attribution License
which permits unrestricted use, distribution, and reproduction in any medium, provided the original work is properly cited (CC BY 4.0).

Share & Cite This Article
MDPI and ACS Style
Wu, X.; Karsili, T.N.V.; Domcke, W. Role of Electron-Driven Proton-Transfer Processes in the Ultrafast Deactivation of Photoexcited Anionic 8-oxoGuanine-Adenine and 8-oxoGuanine-Cytosine Base Pairs. Molecules 2017, 22, 135.
Note that from the first issue of 2016, MDPI journals use article numbers instead of page numbers. See further details here.
Related Articles
Comments
[Return to top]