Open Access This article is
freely available
re-usable
Review
Polysaccharides from the Marine Environment with Pharmacological, Cosmeceutical and Nutraceutical Potential
1
Department of Biology and Evolution of Marine Organisms, Stazione Zoologica Anton Dohrn, Villa Comunale, 80121 Napoli, Italy
2
Department of Biology, University of Naples Federico II, Complesso Universitario di Monte Sant'Angelo, Via Cinthia, 80126 Napoli, Italy
3
Bio-Organic Chemistry Unit, Institute of Biomolecular Chemistry-CNR, Via Campi Flegrei 34, Pozzuoli, 80078 Naples, Italy
4
CROM, Istituto Nazionale Tumori "Fondazione G. Pascale", IRCCS, 80131 Napoli, Italy
5
Dipartimento di Biochimica, Biofisica e Patologia Generale, Seconda Università degli Studi di Napoli, 80131 Napoli, Italy
†
These authors contributed equally to this work.
*
Author to whom correspondence should be addressed.
Academic Editor: Vito Ferro
Received: 15 March 2016 / Accepted: 22 April 2016 / Published: 27 April 2016
Abstract
:
Carbohydrates, also called saccharides, are molecules composed of carbon, hydrogen, and oxygen. They are the most abundant biomolecules and essential components of many natural products and have attracted the attention of researchers because of their numerous human health benefits. Among carbohydrates the polysaccharides represent some of the most abundant bioactive substances in marine organisms. In fact, many marine macro- and microorganisms are good resources of carbohydrates with diverse applications due to their biofunctional properties. By acting on cell proliferation and cycle, and by modulating different metabolic pathways, marine polysaccharides (including mainly chitin, chitosan, fucoidan, carrageenan and alginate) also have numerous pharmaceutical activities, such as antioxidative, antibacterial, antiviral, immuno-stimulatory, anticoagulant and anticancer effects. Moreover, these polysaccharides have many general beneficial effects for human health, and have therefore been developed into potential cosmeceuticals and nutraceuticals. In this review we describe current advances in the development of marine polysaccharides for nutraceutical, cosmeceutical and pharmacological applications. Research in this field is opening new doors for harnessing the potential of marine natural products.
Keywords:
cosmeceutics; marine polysaccharides; nutraceutics; pharmaceutics
2. Cosmeceutical Applications
3. Nutraceutical Applications
4. Pharmacological Applications
The resurgence of natural products-initiated drug discovery is tied to the exploration of novel natural resources and organisms, such as those in the marine world, which represents the largest unexplored resource. In the past decade a dramatic increase in the number of preclinical anticancer lead compounds from diverse marine life form sintering human trials has been reported. It is also important to consider that Nature is been considered an ancient pharmacy. New trends in drug discovery from natural sources emphasize investigation of the marine ecosystem to explore its numerous complex and novel chemical entities. These entities are sources of new leads for treatment of many diseases such as cancer, AIDS, inflammatory conditions and a large variety of viral, bacterial and fungal diseases [
65
]. Among natural products from the marine environment, the marine carbohydrates represent a good challenge in pharmaceutical field, because of their anti-inflammatory, immunomodulation, anti-coagulant and anticancer activities (
Figure 3
). Another application of polysaccharides in pharmaceutical industries consists of, for example, the use of agar and agarose beads for sustained release of water soluble drugs [
66
]. This application is based on the significantly lower sulfate content of these two compounds, on their better optical clarity and increased gel strength. For example, water soluble and hypnotic drugs have been prepared with agar beads (instantaneously form by gelification), containing phenobarbitone sodium. These studies indicated that agar beads can be used for the preparation of sustained release dosage forms.
4.1. Anti-Inflammatory and Immunomodulatory Activities
4.2. Anti-Coagulant Activities
5. Conclusions
The marine environment contains a number of micro- and macroorganisms, which have developed particular metabolic mechanisms for the biosynthesis of secondary metabolites with specific activities, useful for their survival. Functional materials from the marine environment include polyunsaturated fatty acids, polysaccharides, minerals, vitamins, antioxidants, enzymes, and bioactive peptides. All these biologically active compounds provide great human health benefits and represent an inexhaustible source of materials for the pharmaceutical, nutraceutical and cosmeceutical industries. The recent advances in molecular biology approaches, Next Generation Sequencing and methods to isolate and cultivate marine microorganisms have greatly contributed to the exploration of the marine environment biodiversity.
In conclusion, the challenges to use marine resources in different fields linked to human health is fully in-line with the Horizon 2020 strategic activity: "targeted approach towards specific activities focusing on "...exploration of the … biodiversity ... for ... helping us to understand for example how organisms that can withstand extremes of temperature and pressure and grow without light could be used to develop new industrial enzymes or pharmaceuticals...".
Acknowledgments
Nadia Ruocco (Ph.D. in Biology, University of Naples Federico II) has been supported by a Ph.D fellowship co-funded by the Stazione Zoologica Anton Dohrn and Bio-Organic Chemistry Unit of the Institute of Biomolecular Chemistry-CNR, Pozzuoli, Naples (Italy).
Conflicts of Interest
The authors declare no conflict of interest.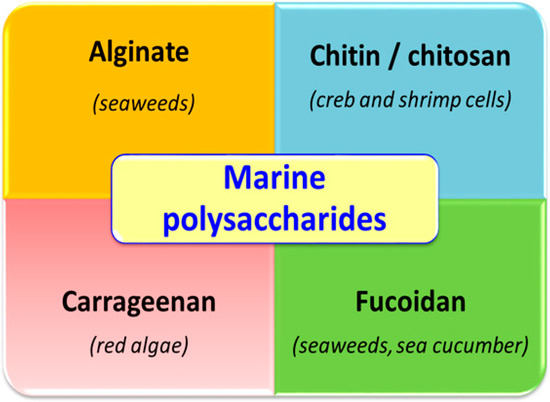 Figure 1. Marine polysaccharides of interest for cosmeceutical, nutraceutical and pharmacological applications. The marine organism sources are also reported.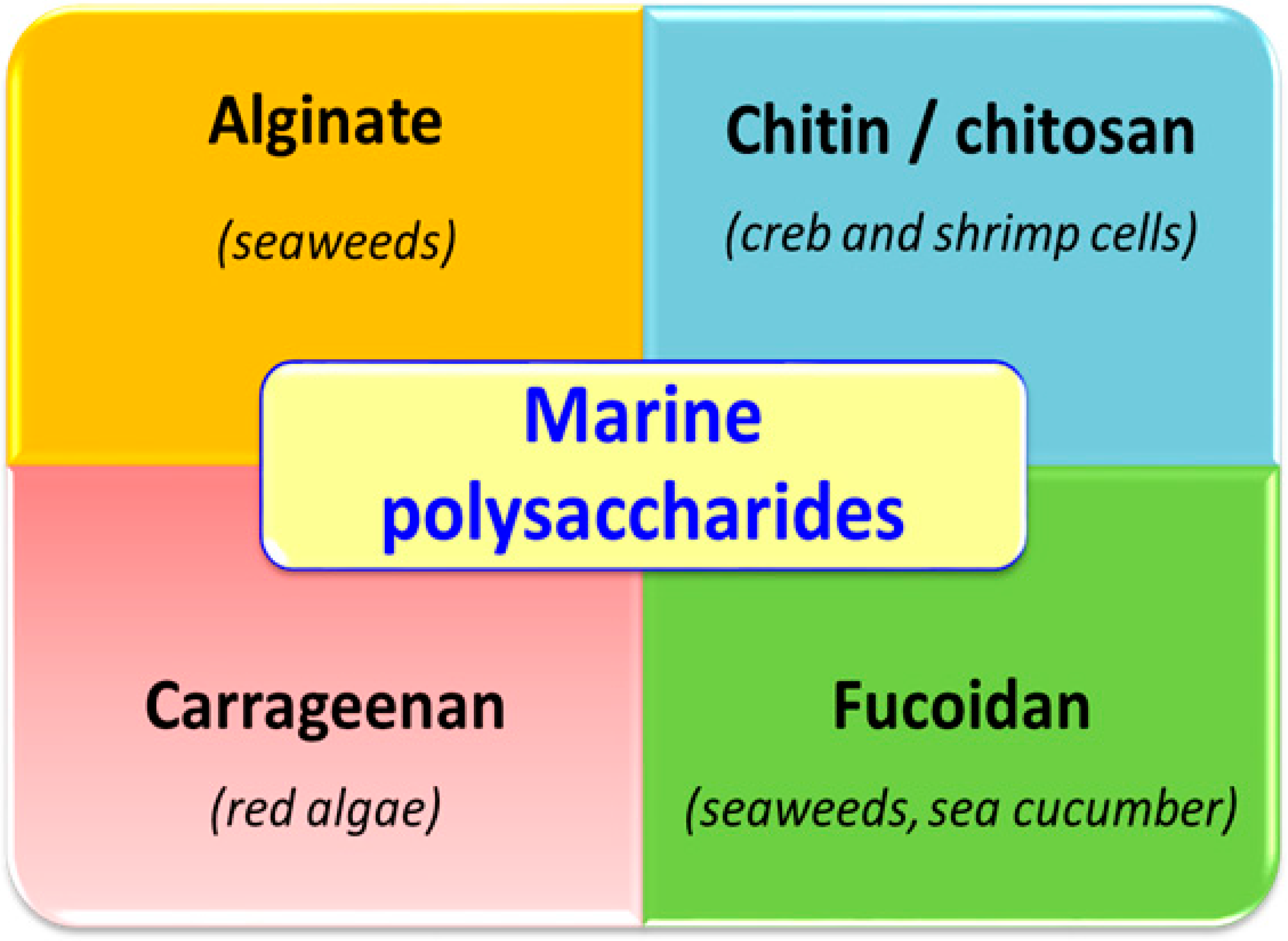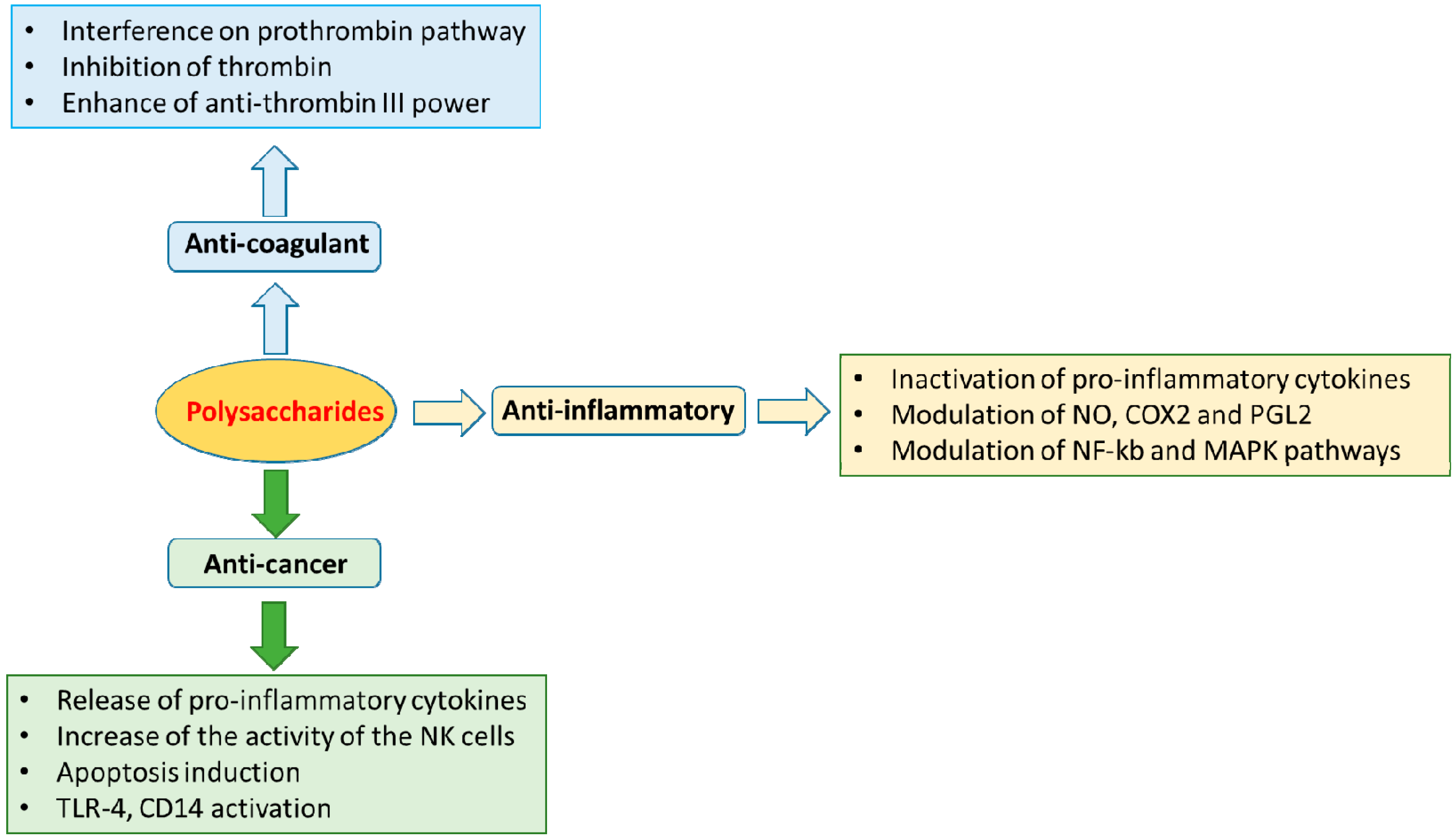 © 2016 by the authors. Licensee MDPI, Basel, Switzerland. This article is an open access article distributed under the terms and conditions of the Creative Commons Attribution (CC-BY) license ( http://creativecommons.org/licenses/by/4.0/).