Silver Nanoparticles Exhibit the Dose-Dependent Anti-Proliferative Effect against Human Squamous Carcinoma Cells Attenuated in the Presence of Berberine
1
Department of Conservative Dentistry with Endodontics, School of Medicine with the Division of Dentistry, Medical University of Silesia in Katowice, Pl. Akademicki 17, Bytom, 41-902, Poland
2
Department and Institute of Pathology, School of Pharmacy and Division of Laboratory Medicine in Sosnowiec, Medical University of Silesia in Katowice, ul. Ostrogórska 30, Sosnowiec 41-200, Poland
3
Department of Physiology, School of Medicine with the Division of Dentistry, Medical University of Silesia in Katowice, ul. H. Jordana 19, Zabrze 41-808, Poland
4
Department of Automatic Control—Biosystems Groups, Silesian University of Technology, Gliwice 44-100, Poland
5
Department of Biochemistry, School of Pharmacy with the Division of Laboratory Medicine, Medical University of Silesia in Katowice, Sosnowiec 41-200, Poland
*
Author to whom correspondence should be addressed.
Academic Editor: Marcello Iriti
Received: 31 January 2016 / Revised: 8 March 2016 / Accepted: 9 March 2016 / Published: 17 March 2016
Abstract
The biological activity of nanosize silver particles towards oral epithelium-derived carcinoma seems to be still underinvestigated. We evaluated the influence of low doses of nanosize scale silver particles on the proliferation and viability of malignant oral epithelial keratinocytes
in vitro
, alone and in conjunction with the plant alkaloid berberine. Cells of human tongue squamous carcinoma SCC-25 (ATCC CRL-1628), cultivated with the mixture of Dulbecco's modified Eagle's medium, were exposed to silver nanoparticles alone (AgNPs, concentrations from 0.31 to 10 μg/mL) and to a combination of AgNPs with berberine chloride (BER, 1/2 IC
50
concentration) during 24 h and 48 h. The cytotoxic activity of AgNPs with diameters of 10 nm ± 4 nm was measured by 3-(4,5-dimethyl-2-thiazyl)-2,5-diphenyl-2
H
-tetrazolium bromide (MTT) assay. Cell cycle analysis was performed by treating cells with propidium iodide followed by flow-activated cell sorting. RT-QPCR reaction was used to assess expression of anti-apoptotic proteins Bcl-2 and pro-apoptotic protein Bcl-2-associated X protein Bax genes expression. Monodisperse silver nanoparticles at a concentration of 10 μg/mL arrested SCC-25 cells cycle after 48 h at the G0/G1 phase in a dose- and time-dependent manner through disruption G0/G1 checkpoint, with increase of Bax/Bcl-2 ratio gene expression. AgNPs exhibit cytotoxic effects on SCC-25 malignant oral epithelial keratinocytes, which is diminished when combined with BER. The AgNPs concentration required to inhibit the growth of carcinoma cells by 50% (IC
50
) after 48 h was estimated at 5.19 μg/mL. AgNPs combined with BER increased the expression of Bcl-2 while decreasing the ratio of Bax/Bcl-2 in SCC-25 cells. Silver particles at low doses therefore reduce the proliferation and viability of oral squamous cell carcinoma cells. SCC-25 cells are susceptible to damage from AgNPs-induced stress, which can be regulated by the natural alkaloid berberine, suggesting that nanoparticles may be potentially used in a chemoprevention/chemotherapy by augmentation of action of standard anti-cancer drugs.
View Full-Text
►

▼

Figures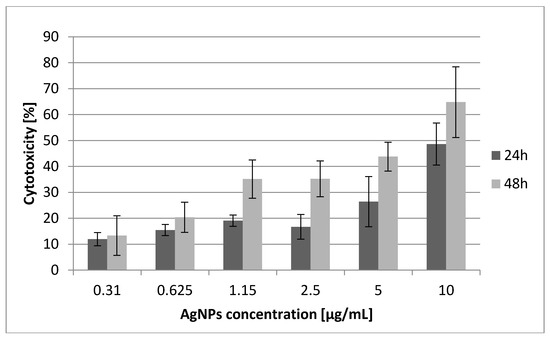 Figure 1
This is an open access article distributed under the
Creative Commons Attribution License
which permits unrestricted use, distribution, and reproduction in any medium, provided the original work is properly cited (CC BY 4.0).

Share & Cite This Article
MDPI and ACS Style
Dziedzic, A.; Kubina, R.; Bułdak, R.J.; Skonieczna, M.; Cholewa, K. Silver Nanoparticles Exhibit the Dose-Dependent Anti-Proliferative Effect against Human Squamous Carcinoma Cells Attenuated in the Presence of Berberine. Molecules 2016, 21, 365.
Note that from the first issue of 2016, MDPI journals use article numbers instead of page numbers. See further details here.
Related Articles
Comments
[Return to top]