Metabolic Profiling and Antioxidant Assay of Metabolites from Three Radish Cultivars (
Raphanus sativus

)

1

Department of Crop Science, Chungnam National University, 99 Daehak-Ro, Yuseong-gu, Daejeon 305-764, Korea

2

National Academy of Agricultural Science, Rural Development Administration, Wanju-gun, Jeollabuk-do 565-851, Korea

3

Department of Bio-Environmental Chemistry, Chungnam National University, 99 Daehak-Ro, Yuseong-Gu, Daejeon 305-764, Korea

4

Department of Botany and Microbiology, Addiriyah Chair for Environmental Studies, College of Science, King Saud University, P.O. Box 2455, Riyadh 11451, Saudi Arabia

5

Division of Life Sciences and Bio-Resource and Environmental Center, Incheon National University, Incheon 406-772, Korea

†

These authors contributed equally to this work.

*

Authors to whom correspondence should be addressed.

Academic Editor: Jianbo Xiao

Received: 8 December 2015 / Revised: 7 January 2016 / Accepted: 21 January 2016 / Published: 28 January 2016
Abstract
A total of 13 anthocyanins and 33 metabolites; including organic acids, phenolic acids, amino acids, organic compounds, sugar acids, sugar alcohols, and sugars, were profiled in three radish cultivars by using high-performance liquid chromatography (HPLC) and gas chromatography time-of-flight mass spectrometry (GC-TOFMS)-based metabolite profiling. Total phenolics and flavonoids and their
in vitro
antioxidant activities were assessed. Pelargonidins were found to be the major anthocyanin in the cultivars studied. The cultivar Man Tang Hong showed the highest level of anthocyanins (1.89 ± 0.07 mg/g), phenolics (0.0664 ± 0.0033 mg/g) and flavonoids (0.0096 ± 0.0004 mg/g). Here; the variation of secondary metabolites in the radishes is described, as well as their association with primary metabolites. The low-molecular-weight hydrophilic metabolite profiles were subjected to principal component analysis (PCA), hierarchical clustering analysis (HCA), Pearson's correlation analysis. PCA fully distinguished the three radish cultivars tested. The polar metabolites were strongly correlated between metabolites that participate in the TCA cycle. The chemometrics results revealed that TCA cycle intermediates and free phenolic acids as well as anthocyanins were higher in the cultivar Man Tang Hong than in the others. Furthermore; superoxide radical scavenging activities and 1,1-diphenyl-2-picrylhydrazyl (DPPH) radical scavenging were investigated to elucidate the antioxidant activity of secondary metabolites in the cultivars. Man Tang Hong showed the highest superoxide radical scavenging activity (68.87%) at 1000 μg/mL, and DPPH activity (20.78%), followed by Seo Ho and then Hong Feng No. 1. The results demonstrate that GC-TOFMS-based metabolite profiling, integrated with chemometrics, is an applicable method for distinguishing phenotypic variation and determining biochemical reactions connecting primary and secondary metabolism. Therefore; this study might provide information on the relationship between primary and secondary metabolites and a synergistic antioxidant ability derived from the secondary metabolites in the radish cultivars.
View Full-Text
►

▼

Figures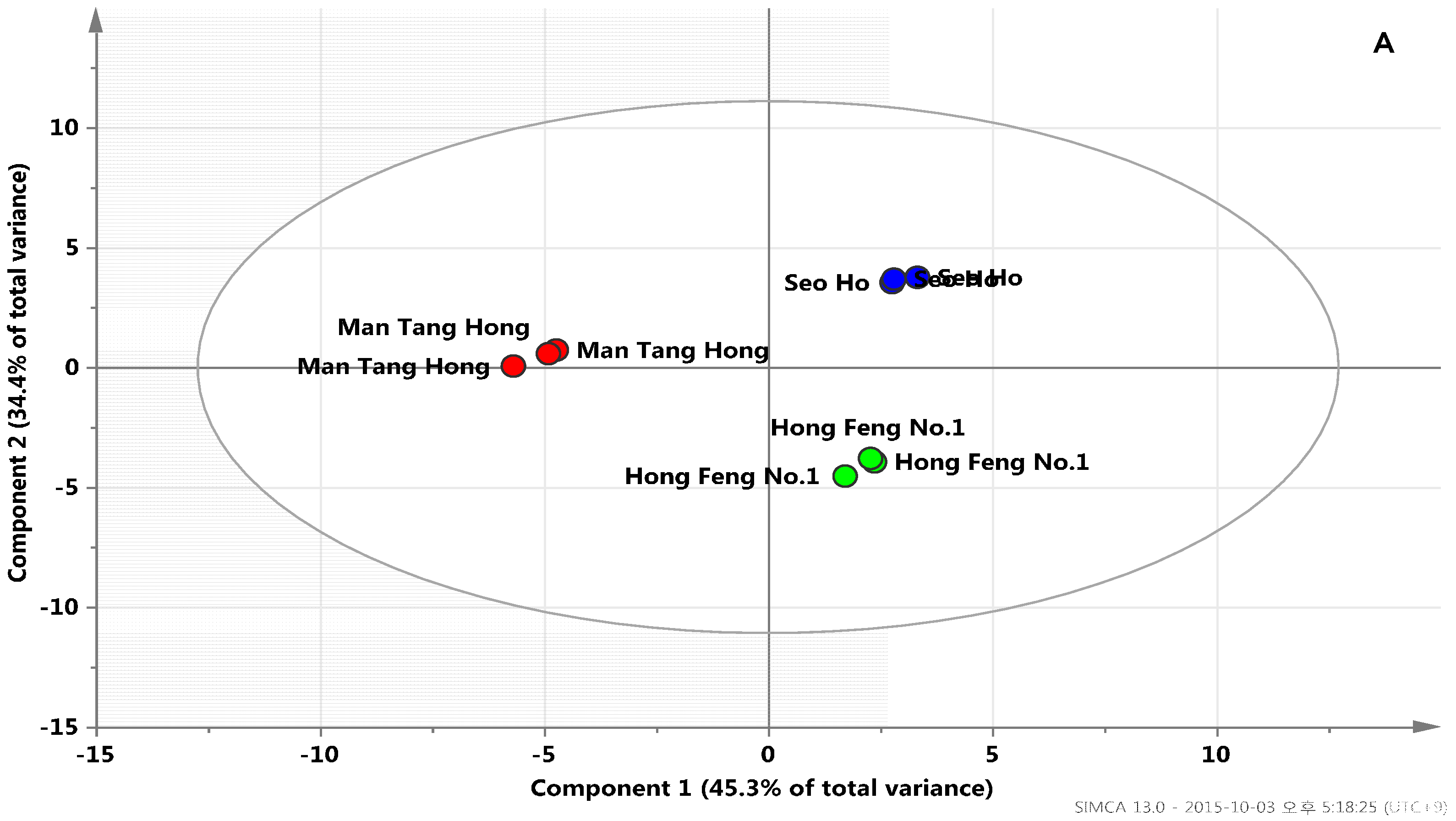 Figure 1
This is an open access article distributed under the
Creative Commons Attribution License
which permits unrestricted use, distribution, and reproduction in any medium, provided the original work is properly cited (CC BY 4.0).

Share & Cite This Article
MDPI and ACS Style
Park, C.H.; Baskar, T.B.; Park, S.-Y.; Kim, S.-J.; Valan Arasu, M.; Al-Dhabi, N.A.; Kim, J.K.; Park, S.U. Metabolic Profiling and Antioxidant Assay of Metabolites from Three Radish Cultivars (Raphanus sativus). Molecules 2016, 21, 157.
Note that from the first issue of 2016, MDPI journals use article numbers instead of page numbers. See further details here.
Related Articles
Comments
[Return to top]