Kinetic Spectrophotometric Method for the 1,4-Diionic Organophosphorus Formation in the Presence of Meldrum′s Acid: Stopped-Flow Approach
Department of Chemistry, University of Sistan and Baluchestan, P.O. Box 98135-674, Zahedan 9816744599, Iran
*
Author to whom correspondence should be addressed.
Academic Editors: Kerry Gilmore and Derek J. McPhee
Received: 6 August 2016 / Revised: 1 November 2016 / Accepted: 2 November 2016 / Published: 11 November 2016
Abstract
The kinetics of the reaction between triphenylphosphine (TPP) and dimethyl acetylenedicarboxylate (DMAD) in the presence of Meldrum's acid (MA) for the generation of the 1,4-diionic organophosphorus compound has been investigated using the stopped-flow and UV-VIS spectrophotometry techniques. The first step of the reaction between TPP and DMAD for the generation of (I
1
) in ethanol was followed by the stopped-flow apparatus. This step was recognized as a fast step. The reaction between the intermediate (I
1
) and MA showed first-order kinetics, and it was followed by the UV-VIS spectrophotometry technique. The activation parameters for the slow step of the proposed mechanism were determined using two linearized forms of the Eyring equation. From the temperature, concentration and solvent studies, the activation energy (Ea = 20.16 kJ·mol
−1
) and the related activation parameters (ΔG
‡
= 71.17 ± 0.015 kJ·mol
−1
, ΔS
‡
= −185.49 ± 0.026 J·mol
−1
and ΔH
‡
=17.72 ± 0.007 kJ·mol
−1
) were calculated. The experimental data indicated that the reaction was zero-order in MA and second-order overall. The proposed mechanism was confirmed with the observed kinetic data obtained from the UV-VIS and stopped-flow techniques.
View Full-Text
►

▼

Figures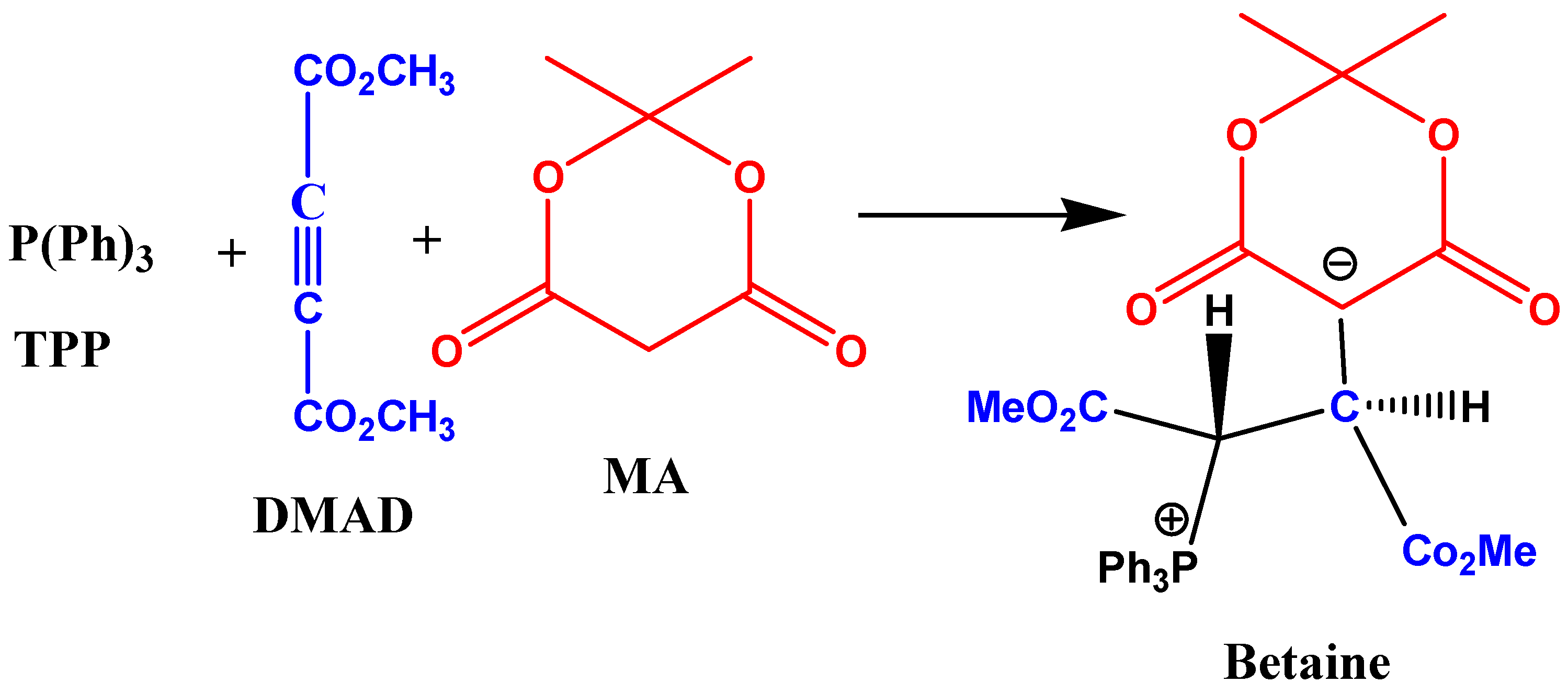 Figure 1
This is an open access article distributed under the
Creative Commons Attribution License
which permits unrestricted use, distribution, and reproduction in any medium, provided the original work is properly cited (CC BY 4.0).

Share & Cite This Article
MDPI and ACS Style
Ghodsi, F.; Habibi-Khorassani, S.M.; Shahraki, M. Kinetic Spectrophotometric Method for the 1,4-Diionic Organophosphorus Formation in the Presence of Meldrum′s Acid: Stopped-Flow Approach. Molecules 2016, 21, 1514.
Note that from the first issue of 2016, MDPI journals use article numbers instead of page numbers. See further details here.
Related Articles
Comments
[Return to top]