Schisandrin B Induces Apoptosis and Cell Cycle Arrest of Gallbladder Cancer Cells
1
Department of General Surgery, School of Medicine, Shanghai Jiao Tong University, No. 1665 Kongjiang Road, Shanghai 200092, China
2
Laboratory of General Surgery, School of Medicine, Xinhua Hospital, Affiliated to Shanghai Jiao Tong University, No. 1665 Kongjiang Road, Shanghai 200092, China
3
Institute of Biliary Tract Disease, School of Medicine, Xinhua Hospital, Affiliated to Shanghai Jiao Tong University, No. 1665 Kongjiang Road, Shanghai 200092, China
4
The First Affiliated Hospital Nanchang University Emergency Unit, No. 17 Yongwai Road, Nanchang 330006, China
*
Authors to whom correspondence should be addressed.
†
These authors contributed equally to this work.
Received: 29 July 2014 / Revised: 13 August 2014 / Accepted: 18 August 2014 / Published: 27 August 2014
Abstract
Gallbladder cancer, with high aggressivity and extremely poor prognosis, is the most common malignancy of the bile duct. The main objective of the paper was to investigate the effects of schisandrin B (Sch B) on gallbladder cancer cells and identify the mechanisms underlying its potential anticancer effects. We showed that Sch B inhibited the viability and proliferation of human gallbladder cancer cells in a dose-, time -dependent manner through MTT and colony formation assays, and decrease mitochondrial membrane potential (ΔΨm) at a dose-dependent manner through flow cytometry. Flow cytometry assays also revealed G0/G1 phase arrest and apoptosis in GBC-SD and NOZ cells. Western blot analysis of Sch B-treated cells revealed the upregulation of Bax, cleaved caspase-9, cleaved caspase-3, cleaved PARP and downregulation of Bcl-2, NF-κB, cyclin D1 and CDK-4. Moreover, this drug also inhibited the tumor growth in nude mice carrying subcutaneous NOZ tumor xenografts. These data demonstrated that Sch B induced apoptosis in gallbladder cancer cells by regulating apoptosis-related protein expression, and suggests that Sch B may be a promising drug for the treatment of gallbladder cancer.
View Full-Text
►

▼

Figures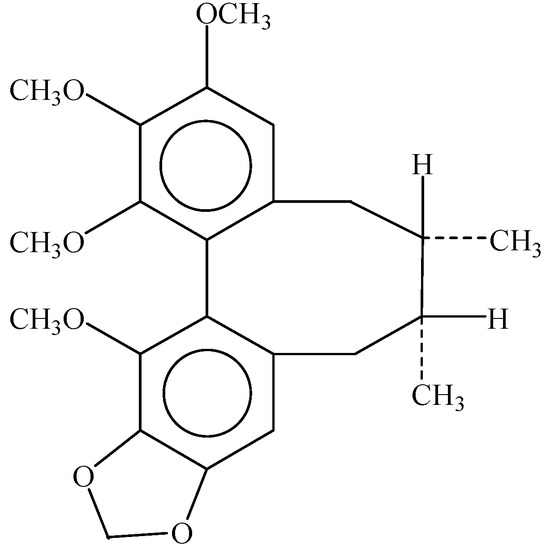 Figure 1

Share & Cite This Article
MDPI and ACS Style
Xiang, S.-S.; Wang, X.-A.; Li, H.-F.; Shu, Y.-J.; Bao, R.-F.; Zhang, F.; Cao, Y.; Ye, Y.-Y.; Weng, H.; Wu, W.-G.; Mu, J.-S.; Wu, X.-S.; Li, M.-L.; Hu, Y.-P.; Jiang, L.; Tan, Z.-J.; Lu, W.; Liu, F.; Liu, Y.-B. Schisandrin B Induces Apoptosis and Cell Cycle Arrest of Gallbladder Cancer Cells. Molecules 2014, 19, 13235-13250.
Related Articles
Comments
[Return to top]