DNA Condensation by Partially Acetylated Poly(amido amine) Dendrimers: Effects of Dendrimer Charge Density on Complex Formation
1
Department of Chemical Engineering, University of Michigan, Ann Arbor, MI 48109, USA
2
Michigan Nanotechnology Institute for Medicine and Biological Sciences, University of Michigan, Ann Arbor, MI 48109, USA
3
Department of Internal Medicine, University of Michigan, Ann Arbor, MI 48109, USA
*
Author to whom correspondence should be addressed.
Received: 1 August 2013 / Revised: 29 August 2013 / Accepted: 30 August 2013 / Published: 3 September 2013
Abstract
The ability of poly(amido amine) (or PAMAM) dendrimers to condense semiflexible dsDNA and penetrate cell membranes gives them great potential in gene therapy and drug delivery but their high positive surface charge makes them cytotoxic. Here, we describe the effects of partial neutralization by acetylation on DNA condensation using light scattering, circular dichroism, and single molecule imaging of dendrimer-DNA complexes combed onto surfaces and tethered to those surfaces under flow. We find that DNA can be condensed by generation-five (G5) dendrimers even when the surface charges are more than 65% neutralized, but that such dendrimers bind negligibly when an end-tethered DNA is stretched in flow. We also find that when fully charged dendrimers are introduced by flow to end-tethered DNA, all DNA molecules become equally highly coated with dendrimers at a rate that becomes very fast at high dendrimer concentration, and that dendrimers remain bound during subsequent flow of dendrimer-free buffer. These results suggest that the presence of dendrimer-free DNA coexisting with dendrimer-bound DNA after bulk mixing of the two in solution may result from diffusion-limited irreversible dendrimer-DNA binding, rather than, or in addition to, the previously proposed cooperative binding mechanism of dendrimers to DNA.
View Full-Text
►

▼

Figures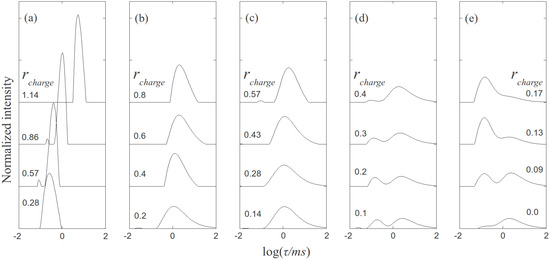 Figure 1

Share & Cite This Article
MDPI and ACS Style
Yu, S.; Li, M.-H.; Choi, S.K.; Baker, J.R., Jr.; Larson, R.G. DNA Condensation by Partially Acetylated Poly(amido amine) Dendrimers: Effects of Dendrimer Charge Density on Complex Formation. Molecules 2013, 18, 10707-10720.
Related Articles
Comments
[Return to top]