MYB Transcription Factors Regulate Glucosinolate Biosynthesis in Different Organs of Chinese Cabbage (
Brassica rapa

ssp.

pekinensis

)

1

Department of Crop Science, Chungnam National University, 99 Daehak-ro, Yuseong-gu, Daejeon 305-764, Korea

2

Department of Bio-Environmental Chemistry, Chungnam National University, 99 Daehak-Ro, Yuseong-Gu, Daejeon 305-764, Korea

3

Department of Well-being Resources, Sunchon National University, 413 Jungangno, Suncheon, Jeollanam-do, 540-742, Korea

4

Green Bio Research Center, Cabbage Genomics Assisted Breeding Supporting Center, Korea Research Institute of Bioscience and Biotechnology (KRIBB), Gwahangno 111, Daejeon 305-806, Korea

*

Authors to whom correspondence should be addressed.

Received: 23 May 2013 / Revised: 11 July 2013 / Accepted: 18 July 2013 / Published: 22 July 2013
Abstract
In this study, we investigated the expression of seven MYB transcription factors (a total of 17 genes that included Dof1.1, IQD1-1, MYB28, MYB29, MYB34, MYB51, and MYB122 and their isoforms) involved in aliphatic and indolic glucosinolate (GSL) biosynthesis and analyzed the aliphatic and indolic GSL content in different organs of Chinese cabbage (
Brassica rapa
ssp.
Pekinensis
).
MYB2
8
and
MYB2
9
expression in the stem was dramatically different when compared with the levels in the other organs.
MYB34
,
MYB122
,
MYB51
,
Dof1.1
,
and
IQD1-1
showed very low transcript levels among different organs. HPLC analysis showed that the glucosinolates (GSLs) consisted of five aliphatic GSLs (progoitrin, sinigrin, glucoalyssin, gluconapin, and glucobrassicanapin) and four indolic GSLs (4-hydroxyglucobrassicin, glucobrassicin, 4-methoxygluco-brassicin, and neoglucobrassicin). Aliphatic GSLs exhibited 63.3% of the total GSLs content, followed by aromatic GSL (19.0%), indolic GSLs (10%), and unknown GSLs (7.7%) in different organs of Chinese cabbage. The total GSL content of different parts (ranked in descending order) was as follows: seed > flower > young leaves > stem > root > old leaves. The relationship between GSLs accumulation and expression of GSLs biosynthesis MYB TFs genes in different organs may be helpful to understand the mechanism of MYB TFs regulating GSL biosynthesis in Chinese cabbage.
View Full-Text
►

▼

Figures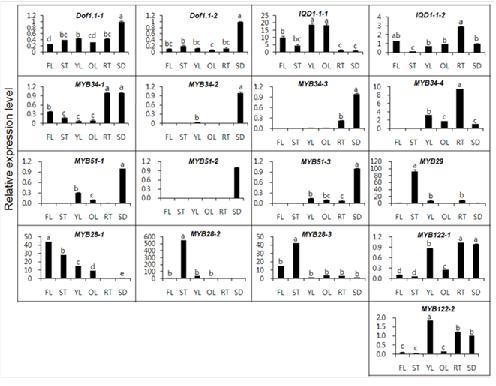 Graphical abstract

Share & Cite This Article
MDPI and ACS Style
Kim, Y.B.; Li, X.; Kim, S.-J.; Kim, H.H.; Lee, J.; Kim, H.; Park, S.U. MYB Transcription Factors Regulate Glucosinolate Biosynthesis in Different Organs of Chinese Cabbage (Brassica rapa ssp. pekinensis). Molecules 2013, 18, 8682-8695.
Related Articles
Comments
[Return to top]