Protective Mechanisms of Guanosine from
Solanum lycopersicum

on Agonist-Induced Platelet Activation: Role of sCD40L

1

Department of Clinical Biochemistry and Immunohematology, Faculty of Health Sciences, Interdisciplinary Excellence Research Program on Healthy Aging (PIEI-ES), Universidad de Talca, Talca 3460000, Chile

2

Centro de Estudios en Alimentos Procesados (CEAP), CONICYT-Regional, Gore Maule, R09I2001, Talca 3460000, Chile

3

Synthesis Laboratory, Chemical Institute of Natural Resources, Universidad de Talca, Talca 3460000, Chile

4

Institute of Plant Biology and Biotechnology, Universidad de Talca, Talca 3460000, Chile

*

Author to whom correspondence should be addressed.

Received: 9 May 2013 / Revised: 8 June 2013 / Accepted: 3 July 2013 / Published: 10 July 2013
Abstract
In the past 30 years, only three natural products have been sources of new drugs with antiplatelet activity. In this study, we have demonstrated for the first time that guanosine from
Solanum lycopersicum
possesses antiplatelet (secretion, spreading, adhesion and aggregation) activity
in vitro
and inhibition of platelet inflammatory mediator of atherosclerosis (sCD40L). According to ADP-induced platelet aggregation inhibiting, the total extract residue was fractionated by liquid chromatography/phase separation, affording an aqueous fraction. This fraction was subjected to repeated permeation over Sephadex LH-20 and semi-preparative TLC. The isolated compound finally obtained was identified as guanosine on the basis of its UV-spectra, HPLC and
1
H-NMR data. Guanosine concentration dose-dependently (1 to 4 mmol/L) inhibited platelet secretion and aggregation induced by ADP and collagen. Spread of human platelets on collagen in the presence of guanosine was fully inhibited. After incubation of whole blood with guanosine, the platelet adhesion and aggregation under flow conditions was inhibited concentration dependently (0.2 to 2 mmol/L). At the same concentrations that guanosine inhibits platelet aggregation, levels of sCD40L were significantly decreased. Guanosine is thus likely to exert significant protective effects in thromboembolic-related disorders by inhibiting platelet aggregation.
View Full-Text
►

▼

Figures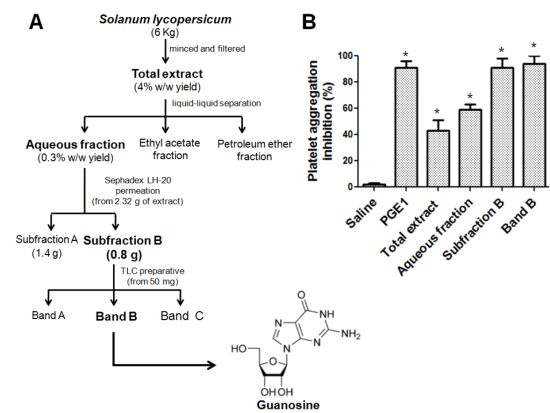 Graphical abstract

Share & Cite This Article
MDPI and ACS Style
Fuentes, E.; Alarcón, M.; Astudillo, L.; Valenzuela, C.; Gutiérrez, M.; Palomo, I. Protective Mechanisms of Guanosine from Solanum lycopersicum on Agonist-Induced Platelet Activation: Role of sCD40L. Molecules 2013, 18, 8120-8135.
Related Articles
Comments
[Return to top]