Hepatotoxicity Evaluation of Aqueous Extract from
Scutia buxifolia
1
Graduate Program in Pharmaceutical Sciences, Center of Health Sciences, Federal University of Santa Maria, Santa Maria, RS, 97105-900, Brazil
2
Graduate Program in Human Communication Disorders, Center of Health Sciences, Federal University of Santa Maria, Santa Maria, RS, 97105-900, Brazil
3
Graduate Program in Pharmacology, Center of Health Sciences, Federal University of Santa Maria, Santa Maria, RS, 97105-900, Brazil
4
Department of Clinical and Toxicological Analysis, Center of Health Sciences, Federal University of Santa Maria, Santa Maria, RS, 97105-900, Brazil
5
Department of Physiology and Farmacology, Center of Health Sciences, Federal University of Santa Maria, Santa Maria, RS, 97105-900, Brazil
6
Department of Industrial Pharmacy, Center of Health Sciences, Federal University of Santa Maria, Santa Maria, RS, 97105-900, Brazil
*
Author to whom correspondence should be addressed.
Received: 24 May 2013 / Revised: 16 June 2013 / Accepted: 17 June 2013 / Published: 28 June 2013
Abstract
Nowadays there is an increase in the number of people taking herbals worldwide.
Scutia buxifolia
is used for the treatment of hypertension, but little is known about its action on liver. Thirty-two Wistar rats were divided into four groups: control and groups treated during 30 days with 100, 200 and 400 mg of lyophilized aqueous extract of
S. buxifolia
(SBSB)/kg of body weight. This study was planned to explore hepatotoxic effect of SBSB, which was assessed by serum transaminases (ALT and AST). Thiobarbituric acid reactive substances (TBARS) levels were determined in liver, along with thiols content (NPSH), catalase (CAT) activity and, superoxide dismutase (SOD) enzymes. Histopathological studies of liver tissue were performed. Flavonoids and phenolics were quantified in SBSB by high performance liquid chromatography with diode array detection (HPLC/DAD). We did not observe alterations on redox status (TBARS, NPSH, CAT and, SOD) in the control and experimental groups. An increase on AST activity was only observed at 200 mg of SBSB, whereas ALT score was not affected by SBSB. Moreover, no morphological alterations were observed on the hepatocytes, matching the analysed biochemical parameters. This way, we conclude that SBSB was not toxic.
View Full-Text
►

▼

Figures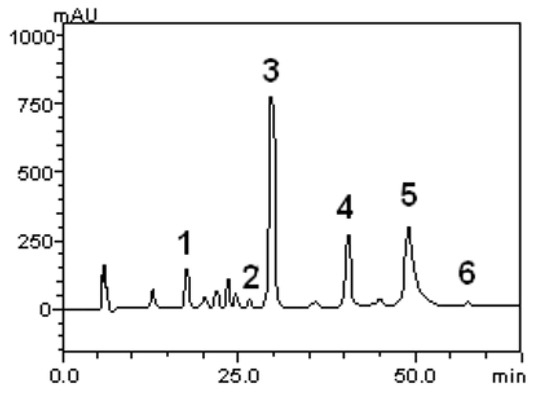 Figure 1

Share & Cite This Article
MDPI and ACS Style
De Freitas, R.B.; Rovani, B.T.; Boligon, A.A.; De Brum, T.F.; Piana, M.; Da Silva Jesus, R.; Veloso, C.F.; Kober, H.; Moresco, R.N.; Da Costa Araldi, I.C.; De Freitas Bauermann, L.; Athayde, M.L. Hepatotoxicity Evaluation of Aqueous Extract from Scutia buxifolia. Molecules 2013, 18, 7570-7583.
Related Articles
Comments
[Return to top]