Green Biosynthesis and Characterization of Magnetic Iron Oxide (Fe3O4) Nanoparticles Using Seaweed (
Sargassum muticum

) Aqueous Extract

1

Department of Chemistry, Faculty of Science, Universiti Putra Malaysia, 43400 UPM Serdang, Selangor, Malaysia

2

Department of Polymer Engineering, Faculty of Engineering, Shiraz Branch, Islamic Azad University, Shiraz 71993-3, Iran

3

Institute of Tropical Forestry and Forest Products (INTROP), Universiti Putra Malaysia, 43400 UPM Serdang, Selangor, Malaysia

4

Department of Medicine & Applied Biology Research Centre, Mashhad Branch, Islamic Azad University, Mashhad 917568, Iran

5

Department of Bioprocess Technology, Faculty of Biotechnology and Biomolecular Sciences, Universiti Putra Malaysia, 43400 UPM Serdang, Selangor, Malaysia

*

Author to whom correspondence should be addressed.

Received: 8 April 2013 / Revised: 14 May 2013 / Accepted: 15 May 2013 / Published: 21 May 2013
Abstract
The synthesis of nanoparticles has become a matter of great interest in recent times due to their various advantageous properties and applications in a variety of fields. The exploitation of different plant materials for the biosynthesis of nanoparticles is considered a green technology because it does not involve any harmful chemicals. In this study, iron oxide nanoparticles (Fe
3
O
4
-NPs) were synthesized using a rapid, single step and completely green biosynthetic method by reduction of ferric chloride solution with
brown seaweed (BS
, Sargassum muticum
) water extract containing sulphated polysaccharides as a main factor which acts as reducing agent and efficient stabilizer. The structural and properties of the Fe
3
O
4
-NPs were investigated by X-ray diffraction, Fourier transform infrared spectroscopy, field emission scanning electron microscopy (FESEM), energy dispersive X-ray fluorescence spectrometry (EDXRF), vibrating sample magnetometry (VSM) and transmission electron microscopy. The average particle diameter as determined by TEM was found to be 18 ± 4 nm. X-ray diffraction showed that the nanoparticles are crystalline in nature, with a cubic shape. The nanoparticles synthesized through this biosynthesis method can potentially useful in various applications.
View Full-Text
►

▼

Figures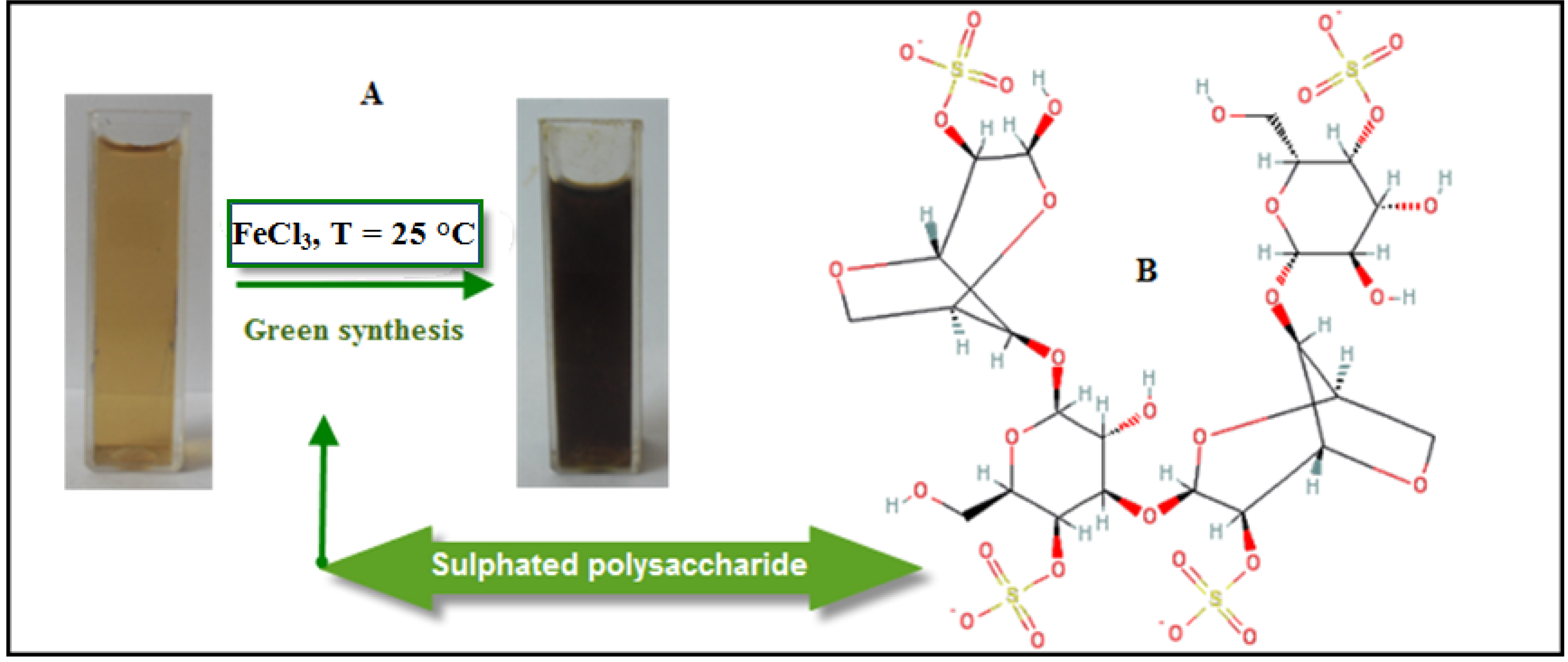 Figure 1
Related Articles

Share & Cite This Article
MDPI and ACS Style
Mahdavi, M.; Namvar, F.; Ahmad, M.B.; Mohamad, R. Green Biosynthesis and Characterization of Magnetic Iron Oxide (Fe3O4) Nanoparticles Using Seaweed (Sargassum muticum) Aqueous Extract. Molecules 2013, 18, 5954-5964.
Related Articles
Comments
[Return to top]