Chemical Composition, Antifungal and Insecticidal Activities of
Hedychium

Essential Oils

1

Thad Cochran Southern Horticultural Laboratory, USDA-ARS, 810 Hwy 26 W, Poplarville, MS 39470, USA

2

National Center for Natural Products Research, The University of Mississippi, MS 38677, USA

3

Natural Products Utilization Research Unit (NPURU), Thad Cochran National Center for Natural Products Research, USDA-ARS, University of Mississippi, MS 38677, USA

4

Department of Pharmacognosy, Faculty of Pharmacy, Anadolu University, Eskisehir 26470, Turkey

5

Botany and Microbiology Department, College of Science, King Saud University, Riyadh 11451, Saudi Arabia

6

Center for Medical, Agricultural, and Veterinary Entomology (CMAVE), USDA-ARS, 1600 S.W. 23rd Drive, Gainesville, FL 32608, USA

7

National Biological Control Laboratory, Biological Control of Pests Research Unit, USDA-ARS, 59 Lee Road, Stoneville, MS 38776, USA

8

Southern Regional Research Center, USDA-ARS, 1100 Robert E. Blvd, New Orleans, LA 70124, USA

*

Author to whom correspondence should be addressed.

Received: 17 February 2013 / Revised: 29 March 2013 / Accepted: 29 March 2013 / Published: 11 April 2013
Abstract
The antimicrobial properties of essential oils have been documented, and their use as "biocides" is gaining popularity. The aims of this study were to analyze the chemical composition and assess the biological activities of
Hedychium
essential oils. Oils from 19
Hedychium
species and cultivars were analyzed by gas chromatography (GC) and gas chromatography-mass spectrometry (GC-MS) techniques. The antifungal and insecticidal activities of these oils were tested against
Colletotrichum acutatum
,
C. fragariae
, and
C. gloeosporioides
, and three insects, the azalea lace bug (
Stephanitis pyrioides
), the yellow fever mosquito (
Aedes aegypti
), and the red imported fire ant (
Solenopsis invicta
).
Hedychium
oils were rich in monoterpenes and sesquiterpenes, especially 1,8-cineole (0.1%–42%), linalool (<0.1%–56%), a-pinene (3%–17%), b-pinene (4%–31%), and (
E
)-nerolidol (0.1%–20%).
Hedychium
oils had no antifungal effect on
C. gloeosporioides
, C. fragariae
,
and C. acutatum
, but
most
Hedychium
oils effectively killed azalea lace bugs. The oils also show promise as an adult mosquito repellent, but they would make rather poor larvicides or adulticides for mosquito control.
Hedychium
oils acted either as a fire ant repellent or attractant, depending on plant genotype and oil concentration.
View Full-Text
►

▼

Figures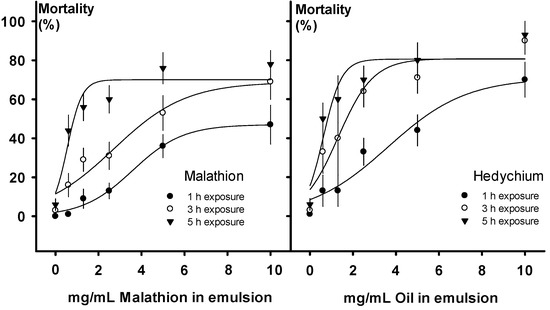 Figure 1

Share & Cite This Article
MDPI and ACS Style
Sakhanokho, H.F.; Sampson, B.J.; Tabanca, N.; Wedge, D.E.; Demirci, B.; Baser, K.H.C.; Bernier, U.R.; Tsikolia, M.; Agramonte, N.M.; Becnel, J.J.; Chen, J.; Rajasekaran, K.; Spiers, J.M. Chemical Composition, Antifungal and Insecticidal Activities of Hedychium Essential Oils. Molecules 2013, 18, 4308-4327.
Related Articles
Comments
[Return to top]