Fibrous Polymeric Composites Based on Alginate Fibres and Fibres Made of Poly-ε-caprolactone and Dibutyryl Chitin for Use in Regenerative Medicine
1
Department of Material and Commodity Sciences and Textile Metrology, Technical University of Lodz, ul. Żeromskiego 116, 90-924 Łódź, Poland
2
Department of Biomaterials, Faculty of Materials Science and Ceramics, AGH University of Science and Technology, al. Mickiewicza 30, 30-059 Krakow, Poland
3
Department of Cytology, Faculty of Pharmacy, CMUJ — Jagiellonian University Medical Collage, ul. Medyczna 9, 30-688 Krakow, Poland
4
Department of Physiotherapy, Faculty of Rehabilitation, University School Of Physical Education, Al. Jana Pawla II 78, 31-571 Krakow, Poland
*
Author to whom correspondence should be addressed.
Received: 20 December 2012 / Revised: 24 January 2013 / Accepted: 25 February 2013 / Published: 8 March 2013
Abstract
This work concerns the production of fibrous composite materials based on biodegradable polymers such as alginate, dibutyryl chitin (DBC) and poly-ε-caprolactone (PCL). For the production of fibres from these polymers, various spinning methods were used in order to obtain composite materials of different composition and structure. In the case of alginate fibres containing the nanoadditive tricalcium phosphate (TCP), the traditional method of forming fibres wet from solution was used. However in the case of the other two polymers the electrospinning method was used. Two model systems were tested for biocompatibility. The physicochemical and basic biological tests carried out show that the submicron fibres produced using PCL and DBC have good biocompatibility. The proposed hybrid systems composed of micrometric fibres (zinc and calcium alginates containing TCP) and submicron fibres (DBC and PCL) meet the requirements of regenerative medicine. The biomimetic fibre system, the presence of TCP nanoadditive, and the use of polymers with different resorption times provide a framework with specific properties on which bone cells are able to settle and proliferate.
View Full-Text
►

▼

Figures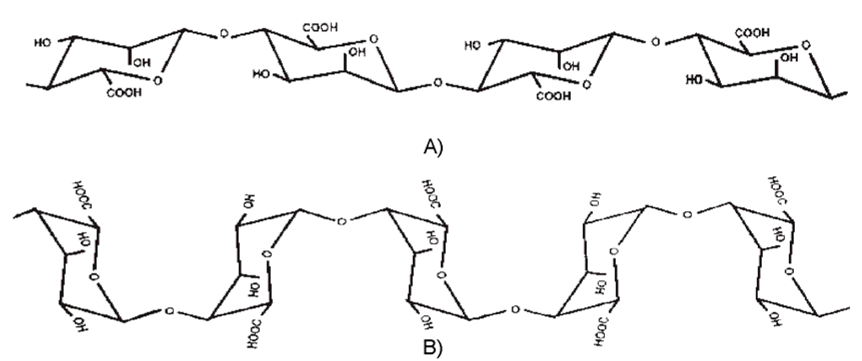 Figure 1

Share & Cite This Article
MDPI and ACS Style
Boguń, M.; Krucińska, I.; Kommisarczyk, A.; Mikołajczyk, T.; Błażewicz, M.; Stodolak-Zych, E.; Menaszek, E.; Ścisłowska-Czarnecka, A. Fibrous Polymeric Composites Based on Alginate Fibres and Fibres Made of Poly-ε-caprolactone and Dibutyryl Chitin for Use in Regenerative Medicine. Molecules 2013, 18, 3118-3136.
Related Articles
Comments
[Return to top]