The Novel [4,5-e][1,3]Diazepine-4,8-dione and Acyclic Carbamoyl Imino-Ureido Derivatives of Imidazole: Synthesis, Anti-Viral and Anti-Tumor Activity Evaluations
1
Department of Organic Chemistry, Faculty of Chemical Engineering and Technology, University of Zagreb, Marulićev trg 20, Zagreb HR-10000, Croatia
2
Slovenian NMR Centre, National Institute of Chemistry, Hajdrihova 19, P. O. B. 660, Ljubljana SI-1001, Slovenia
3
EN-FIST Centre of Excellence, Dunajska 156, Ljubljana SI-1001, Slovenia
4
Rega Institute for Medical Research, KU Leuven, Minderbroedersstraat 10, Leuven B-3000, Belgium
5
Department of Biotechnology, University of Rijeka, Radmile Matejčić 2, Rijeka 51000, Croatia
*
Author to whom correspondence should be addressed.
Received: 29 August 2013 / Revised: 5 October 2013 / Accepted: 17 October 2013 / Published: 30 October 2013
Abstract
In the present paper, we report on the synthesis, and
in vitro
antiviral and cytostatic activities of a series of novel imidazole[4,5-e][1,3]diazepine-4,8-dione (compounds
9
–
11
) and acyclic carbamoyl imino-ureido imidazole (compounds
12
and
13
) derivatives. These new type of chemical entities showed no significant activity on the broad spectrum of DNA and RNA viruses. Results of antiproliferative assays performed on a panel of selected human tumor cell lines revealed that only compounds
1
and
5
showed moderate and selective cytostatic effect against HeLa cells (IC
50
= 24 and 32 µM) with no concomitant cytotoxic effects on human normal fibroblasts (BJ). Importantly, an imidazole derivative containing a pyrrolidine moiety linked via an ethylenic spacer (
3
) showed a selective cytostatic effect toward cervical carcinoma (HeLa) cells (IC
50
= 9.5 µM) with no apparent cytotoxicity on human normal fibroblasts (BJ). This compound can be therefore considered as a potential anti-tumor lead compound for further synthetic structure optimization.
View Full-Text
►

▼

Figures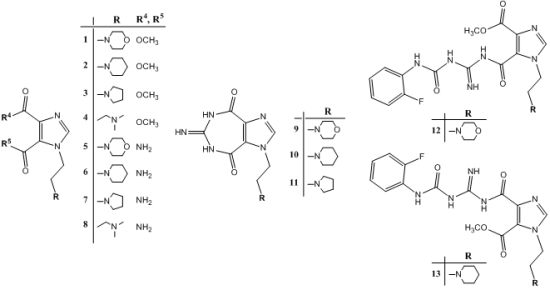 Graphical abstract

Share & Cite This Article
MDPI and ACS Style
Wittine, K.; Poljak, K.; Kovač, M.; Makuc, D.; Plavec, J.; Balzarini, J.; Martinović, T.; Pavelić, S.K.; Pavelić, K.; Mintas, M. The Novel [4,5-e][1,3]Diazepine-4,8-dione and Acyclic Carbamoyl Imino-Ureido Derivatives of Imidazole: Synthesis, Anti-Viral and Anti-Tumor Activity Evaluations. Molecules 2013, 18, 13385-13397.
Related Articles
Comments
[Return to top]