Effects of Velvet Antler with Blood on Bone in Ovariectomized Rats
1
School of Medicine, College of Medicine, Taipei Medical University, 250 Wu-Hsing Street, Taipei City 11031, Taiwan
2
Orthopedics Research Center, Taipei Medical University Hospital, 252 Wu-Hsing Street, Taipei City 11031, Taiwan
3
Department of Anatomy, Chang Gung University, 259 Wen-Hwa 1st Road, Kwei-Shan Township, Taoyuan County 33302, Taiwan
4
Department of Microbiology, Immunology and Biopharmaceuticals, College of Life Sciences, National Chiayi University, No. 300 Syuefu Rd., Chiayi City 60004, Taiwan
5
Department of Food Science, National Quemoy University, No.1, Daxue Rd., Jinning Township, Kinmen County 89250, Taiwan
6
School of Pharmacy, College of Pharmacy, Taipei Medical University, 250 Wu-Hsing Street, Taipei City 11031, Taiwan
7
Graduate Institute of Pharmacognosy, College of Pharmacy, Taipei Medical University, 250 Wu-Hsing Street, Taipei City 11031, Taiwan
*
Author to whom correspondence should be addressed.
Received: 18 June 2012 / Revised: 28 August 2012 / Accepted: 3 September 2012 / Published: 5 September 2012
Abstract
In traditional Chinese medicine (TCM), both velvet antlers (VA) and VA blood can tonify qi, essence, and marrow, nourish the blood, and invigorate bones and tendons. In TCM, the combination of VA and VA blood is believed to have superior pharmacological effects. Scientific evidence supporting the traditional therapeutic preference for redder antler is needed. The effectiveness of the combination therapy of VA middle sections (VAMs) and VA blood (VAM-B) was first examined in promoting proliferation of mouse osteoblastic cells (MC3T3-E1). The anti-osteoporotic activity of VAM-B (ratio of VAM:VA blood = 1:0.2) was evaluated with ovariectomized (OVX) rats at a dose of 0.2 g/kg. In VAM-B-treated OVX rats, the body weight decreased 10.7%, and the strength of vertebrae and the femur respectively increased 18.1% and 15.4%, compared to the control. VAM-B treatment also recovered the estrogen-related loss of the right tibial trabecular bone microarchitecture. Alkaline phosphatase (ALP) significantly decreased, but estradiol did not significantly change in serum of VAM-B-treated OVX rats. We also provide an effective strategy to enhance the anti-osteoporotic activity of VAM. In conclusion, our results provide scientific evidence supporting the traditional therapeutic preference of redder antler and indicate that VAM-B is a potential therapeutic agent for managing osteoporosis.
View Full-Text
►

▼

Figures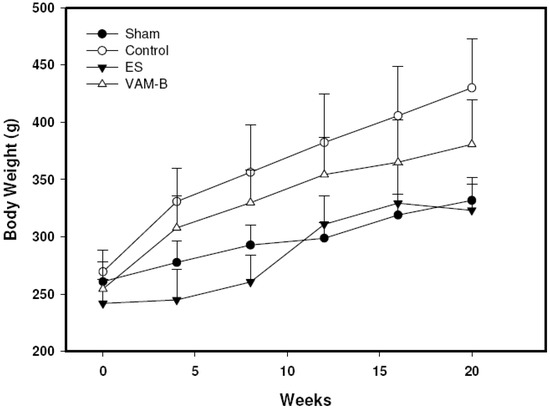 Figure 1

Share & Cite This Article
MDPI and ACS Style
Tseng, S.-H.; Sung, H.-C.; Chen, L.-G.; Lai, Y.-J.; Wang, K.-T.; Sung, C.-H.; Wang, C.-C. Effects of Velvet Antler with Blood on Bone in Ovariectomized Rats. Molecules 2012, 17, 10574-10585.
Related Articles
Comments
[Return to top]