Synthesis and Antimicrobial Activity of Some New Pyrimidinone and Oxazinone Derivatives Fused with Thiophene Rings Using 2-Chloro-6-ethoxy-4-acetylpyridine as Starting Material
1
Chemistry Department, Girls College of Science, King Khalid University, Abha 9004, Saudi Arabia
2
Pharmaceutical Chemistry Department, College of Pharmacy, King Saud University, Riyadh 11451, Saudi Arabia
3
Pharmaceutical Chemistry Department, Drug Exploration & Development Chair, College of Pharmacy, King Saud University, Riyadh 11451, Saudi Arabia
4
Applied Organic Chemistry Department, National Research Center, Cairo, Dokki 12622, Egypt
*
Author to whom correspondence should be addressed.
Received: 19 September 2012 / Revised: 9 November 2012 / Accepted: 12 November 2012 / Published: 19 November 2012
Abstract
A series of pyridines, pyrimidinones, oxazinones and their derivatives were synthesized as antimicrobial agents using citrazinic acid (2,6-dihydroxyisonicotinic acid) as a starting material. α,β-Unsaturated ketones
3a
–
c
were condensed with cyanothio-acetamide in the presence of ammonium acetate to give 2-cyanopyridinethiones
4a
–
c
, which were reacted with ethyl chloroacetate to yield the corresponding cyano esters
5a
–
c
. The esters
5a
–
c
were cyclized by action of sodium methoxide to aminoesters
6a
–
c
, which were aminolyzed with ammonia to corresponding aminoamide derivatives
7a-c
. Also, the esters
6a
–
c
were hydrolyzed with NaOH to the corresponding sodium salt
8a
–
c
, which were treated with acetic anhydride to afford 2-methyloxazinones
9a
–
c
. The latter compounds were treated with ammonium acetate to afford 2-methylpyrimidinones
10a
–
c
, followed by methylation with methyl iodide to yield 2,3-dimethyl-pyrimidinones
11a
–
c
. The antimicrobial screening showed that many of these compounds have good antibacterial and antifungal activities comparable to streptomycin and fusidic acid used as reference drugs.
View Full-Text
►

▼

Figures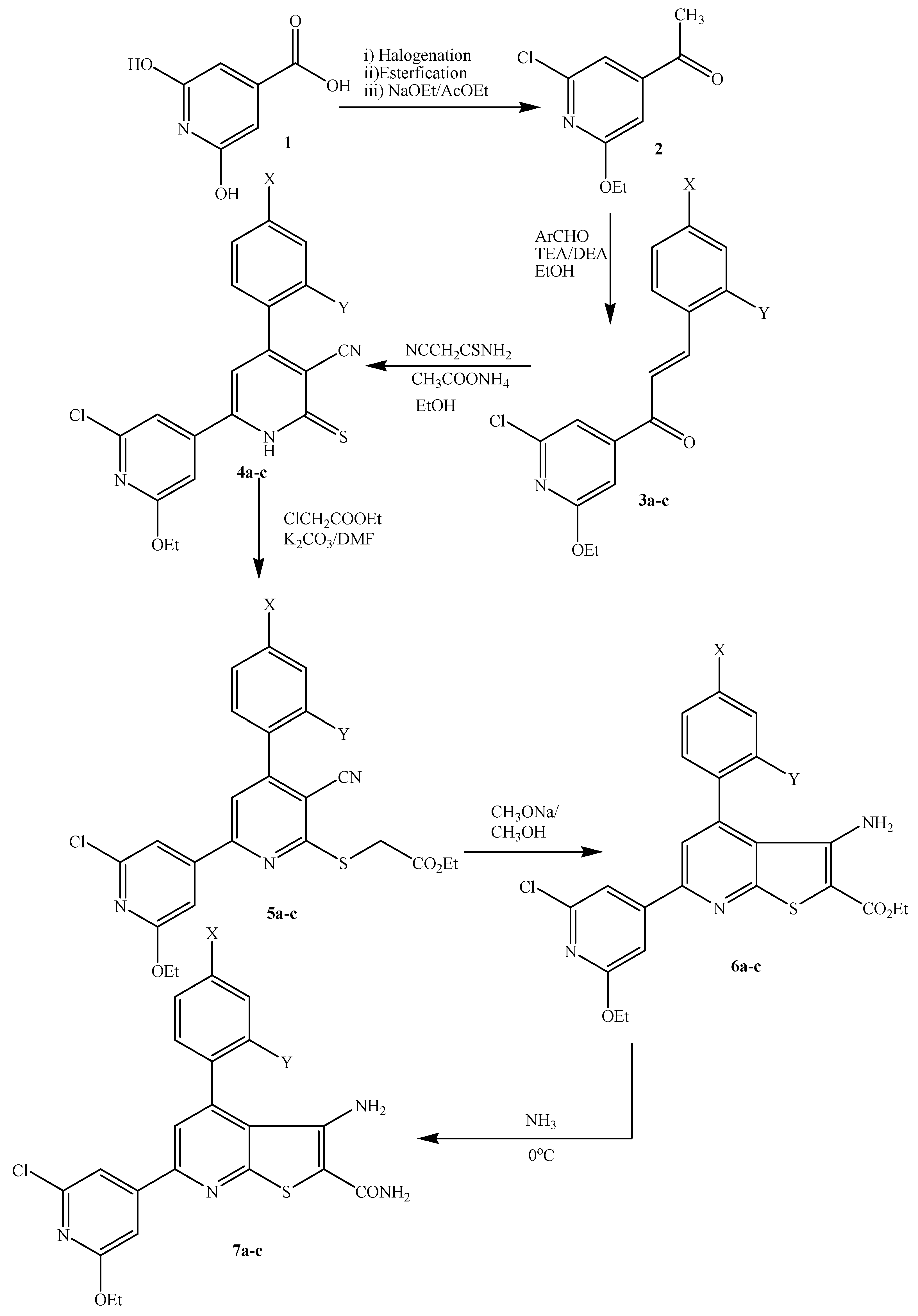 Scheme 1

Share & Cite This Article
MDPI and ACS Style
Hossan, A.S.M.; Abu-Melha, H.M.A.; Al-Omar, M.A.; Amr, A.E.-G. Synthesis and Antimicrobial Activity of Some New Pyrimidinone and Oxazinone Derivatives Fused with Thiophene Rings Using 2-Chloro-6-ethoxy-4-acetylpyridine as Starting Material. Molecules 2012, 17, 13642-13655.
Related Articles
Comments
[Return to top]