Investigation of the Biological Properties of (Hetero)Aromatic Thiosemicarbazones
1
Department of Organic Chemistry, Institute of Chemistry, University of Silesia, PL-40006 Katowice, Poland
2
Institute of Physics, University of Silesia, PL-40007 Katowice, Poland
3
Department of Chemical Drugs, Faculty of Pharmacy, University of Veterinary and Pharmaceutical Sciences, Palackeho 1/3, CZ-61242 Brno, Czech Republic
4
Research Institute for Pharmacy and Biochemistry, Lidicka 1879/48, CZ-60200 Brno, Czech Republic
5
Department of Ecosozology and Physiotactics, Faculty of Natural Sciences, Comenius University, Mlynska dolina Ch-2, SK-84215 Bratislava, Slovakia
6
Institute of Chemistry, Faculty of Natural Sciences, Comenius University, Mlynska dolina Ch-2, SK-84215 Bratislava, Slovakia
7
Department of Clinical Microbiology, Charles University Medical School and Teaching Hospital, Sokolska 581, CZ-50005 Hradec Kralove, Czech Republic
*
Author to whom correspondence should be addressed.
Received: 8 October 2012 / Revised: 7 November 2012 / Accepted: 8 November 2012 / Published: 14 November 2012
Abstract
Two series of thiosemicarbazone-based iron chelators (twenty-seven compounds) were designed and synthesized using a microwave-assisted approach. Quinoline and halogenated phenyl were selected as parent scaffolds on the basis of a similarity search. The lipophilicity of the synthesized compounds was measured using HPLC and then calculated. Primary
in vitro
screening of the synthesized compounds was performed against eight pathogenic fungal strains. Only a few compounds showed moderate activity against fungi, and (
E
)-2-(quinolin-2-ylvinyl)
-
N
,
N
-dimethylhydrazine-carbothioamide appeared to be more effective than fluconazole against most of the fungal strains tested. Antiproliferative activity was measured using a human colon cancer cell line (HCT-116). Several of the tested compounds showed submicromolar antiproliferative activity. Compounds were also tested for their activity related to the inhibition of photosynthetic electron transport (PET) in spinach (
Spinacia oleracea
L.) chloroplasts. The structure-activity relationships are discussed for all of the compounds.
View Full-Text
►

▼

Figures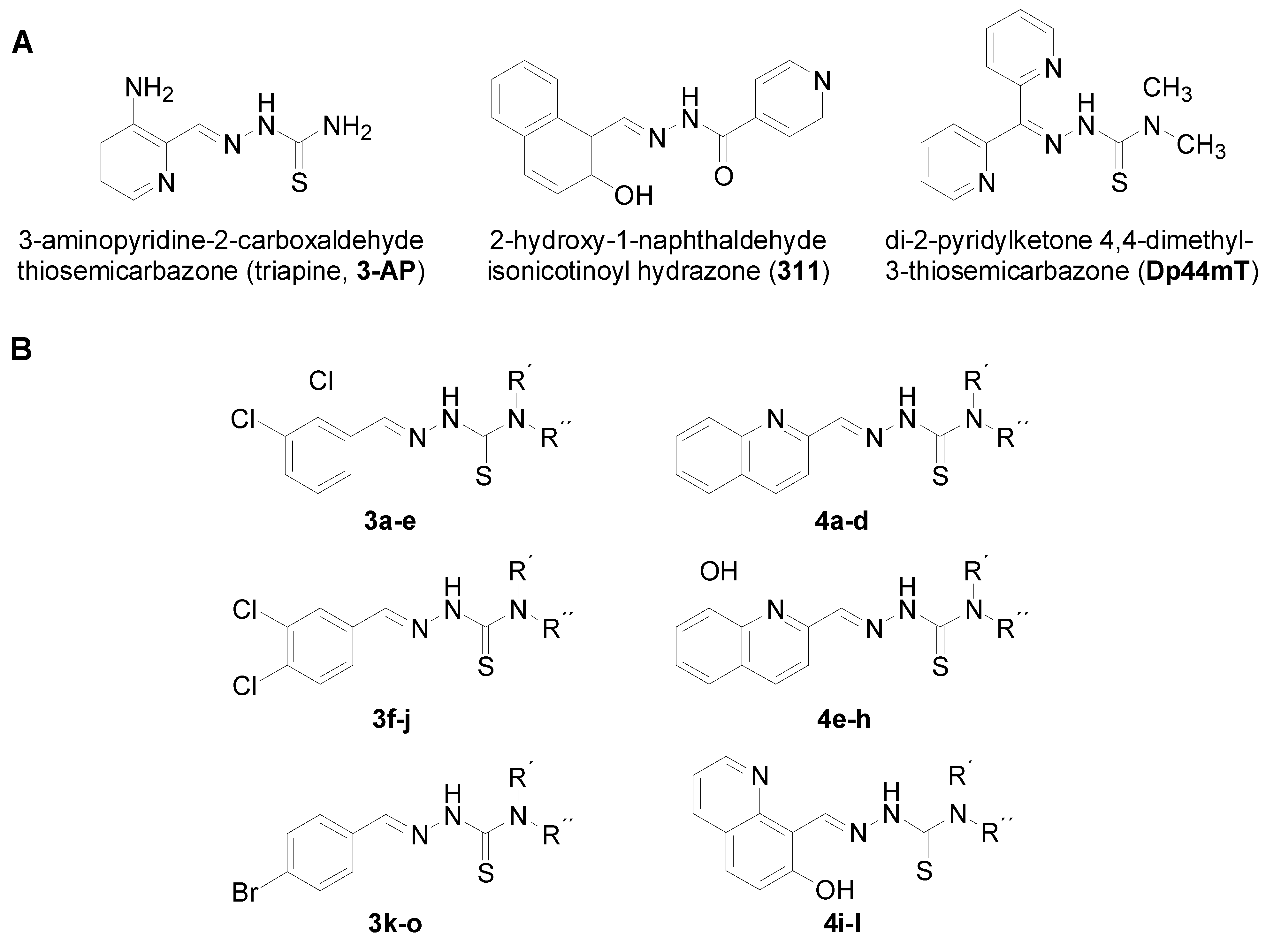 Figure 1

Share & Cite This Article
MDPI and ACS Style
Serda, M.; Mrozek-Wilczkiewicz, A.; Jampilek, J.; Pesko, M.; Kralova, K.; Vejsova, M.; Musiol, R.; Ratuszna, A.; Polanski, J. Investigation of the Biological Properties of (Hetero)Aromatic Thiosemicarbazones. Molecules 2012, 17, 13483-13502.
Related Articles
Comments
[Return to top]